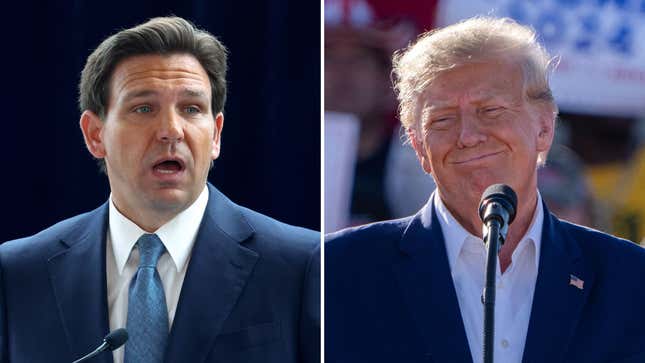 On Thursday evening, we learned that Donald Trump will be the first sitting or former president in history to be indicted for a crime for orchestrating hush-money payments to Stormy Daniels in 2016. And there are still several other criminal investigations in the works! Now comes the good stuff: Will Trump surrender to the Manhattan district attorney's office or will he have to be extradited from his new home state of Florida, which happens to be led by his top political rival for the 2024 race? Either way, it will be messy.
Ted Cruz Won't Commit to Pleasuring a Man to End World Hunger
Florida Gov. Ron DeSantis (R) hasn't yet announced that he's running for president (though it's obvious he's running), but people expect him to do so once the state legislature wraps up in May. So the current front-runner getting indicted sounds like good news for Meatball Ron! But in order to win the Republican primary, DeSantis would need a huge chunk of Trump's supporters to vote for him, and they may not look kindly upon the governor handing him over to Manhattan District Attorney Alvin Bragg.
As the New York Times noted when news about the impending indictment first began swirling earlier this month, this is an "unenviable dilemma" that puts DeSantis in "an awkward political position":
In the unlikely event that the former president refuses to surrender, he would put Gov. Ron DeSantis of Florida, his leading but undeclared rival for the Republican nomination, in an awkward political position. Under law, the role of Mr. DeSantis would be essentially ministerial and he would have few legal options other than approving an extradition request from New York.

Still, if New York prosecutors sought Mr. Trump's extradition, Mr. DeSantis would face an unenviable dilemma. He would be compelled to choose between authorizing an arrest warrant for Mr. Trump and inflaming his base, or attempting in some way to aide his Republican rival, and possibly face legal action as a result.
DeSantis has apparently made his choice, tweeting Thursday that he won't extradite in this case, though he threaded that needle by not naming Trump and throwing in some antisemitism by invoking George Soros—so this is already a mess. (Given DeSantis's long tweet here, it appears that the governor subscribes to Elon Musk's Twitter Blue. Lol, lmao, etc.)
It appears DeSantis will try to toe the line of keeping Trump voters happy by not signing the arrest warrant, while still making it about his own fight against the "political agenda" of Democratic prosecutors.
It's going to be delicious watching DeSantis do this little dance while attempting to uphold his political agenda.