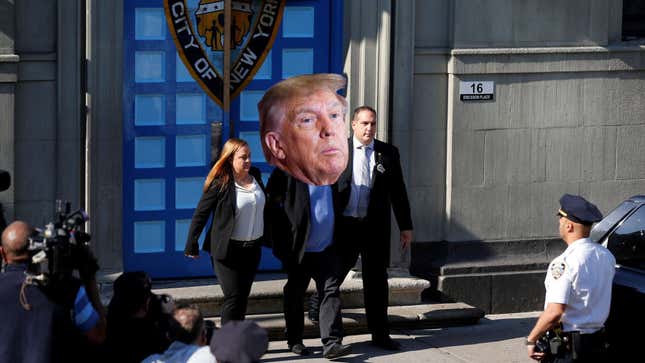 In case you somehow haven't heard, it definitely looks like two-time popular vote loser and twice-impeached former President Donald Trump is about to be charged with a crime. That means we are thrillingly close to seeing Mr. Trump—the pathologically lying, sexual-assaulting, daughter-thirsting, racist former reality TV star and steak salesman—perp-walked into a police precinct and having his mug shot released to the world. Those who reveled in Harvey Weinstein's perp walk will understand the kind of rush I'm talking about. As the kids say: We deserve. *tears well in eyes while sipping from Orange Hitler mimosa*
Infamously Thin-Skinned Man Joins Twitter's Board
The crime in question relates to a $130,000 hush-money payment to former porn actor Stormy Daniels in the weeks before the 2016 election. Trump's former fixer and lawyer Michael Cohen allegedly paid Daniels to keep quiet about an affair with Trump, while Trump allegedly reimbursed Cohen but called it "legal fees" in his books. Manhattan District Attorney Alvin Bragg is pursuing the case.
I would personally prefer the perp walk and the mug shot to be for his other, bigger crimes—his "mishandling" of classified documents, his failed attempts to change the 2020 election results in Georgia, and, of course, inciting the January 6th insurrection—but this will do for now. Perfect is the enemy of good, as the saying goes.
No former or sitting President has ever been charged with a crime, so that sort of explains why this investigation of an alleged crime from MORE THAN SIX YEARS AGO didn't move faster. You can also see why a man facing at least three (3) other criminal investigations may want to run for president again—because winning, or even just running, allows him to claim that such probes are a part of a Political Witch HuntTM and won't you, a true MAGA patriot warrior, rush him $50 to fight back?
That's not far off from what he claimed on Truth Social over the weekend, when he told his supporters he expected to be arrested on Tuesday and urged them to protest on his behalf. He later sent out a fundraising email.
The Tuesday arrest didn't happen, as Trump has to be indicted by a Manhattan grand jury before any arrest would occur. But we are here waiting, Donnie, with bated breath.
Update, 3:15 p.m: Trump's campaign has raised more than $1.5 million since Saturday, according to Fox News. Whether that's true or not, the grifting continues.