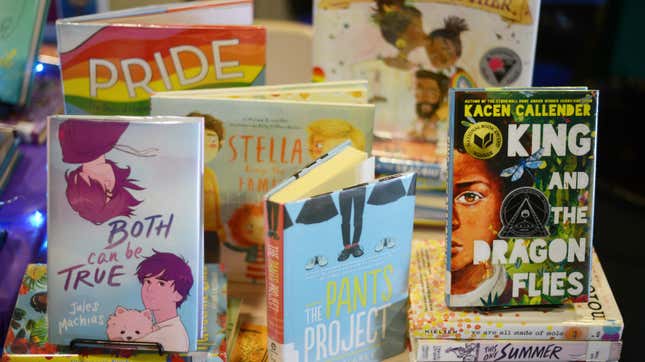 Two pretty cool things happened in Texas over the weekend: Country star Kelsea Ballerini co-hosted the CMT Awards and used the stage to make salient statements on Tennessee's drag ban and the recent mass shooting at Nashville's Covenant School; and a federal judge ruled that at least 12 books that had been removed from Llano County public libraries for containing LGBTQ+ and racial content must be returned to those shelves within 24 hours.
Taylor Lautner Doesn't Even Remember Saying 'Bella! Where the Hell Have You Been Loca?'
On Saturday, Judge Robert Pittman ruled in the favor of seven individuals who, in April 2022, sued county officials, claiming the books' removal violated their constitutional rights. That series of books included titles like Caste: The Origins of Our Discontents by Isabel Wilkerson, They Called Themselves the K.K.K.: The Birth of an American Terrorist Group by Susan Campbell Bartoletti, and Being Jazz: My Life as a (Transgender) Teen by Jazz Jennings.
The books were first taken off shelves when Republican lawmakers and community members claimed they were "inappropriate" and "pornographic filth," due mostly to the fact that they featured narratives of marginalized and LGBTQ+ people. The suit, filed in the US District Court for the Western District of Texas in San Antonio, accused county officials of removing and restricting the books from the public library system solely "because they disagree with the ideas within them."
According to one email from a community member and a defendant in the suit, Bonnie Wallace (a woman who's since become Vice Chairman of the Llano County library board), went so far as to consider involving local pastors in the battle against the books: "Perhaps they can organize a weekly prayer vigil on this specific issue....May God protect our children from this FILTH."
Co-defendants, who countered that the books had simply been eliminated as part of a "weeding" process that's part of the library system's policy, include: Llano County Judge Ron Cunningham, county commissioners Jerry Don Moss, Peter Jones, Mike Sandoval, and Linda Raschke; library system director Amber Milum and four members of the Llano County library board, Wallace, Rochelle Wells, Rhonda Schneider, and Gay Baskin. Per CNN, not one responded to requests for comment.
"Whether or not the books in fact qualified for 'weeding' under the library's existing policies, there is no real question that the targeted review was directly prompted by complaints from patrons and county officials over the contents of these titles," Pittman wrote in his ruling.
Now, before you can let out a yeehaw, the defendants have already filed an appeal in response to the ruling and are reportedly being represented by Jonathan Mitchell, the architect of Texas abortion ban and the anti-PrEP lawsuit that has effectively eliminated insurers' responsibility to cover the HIV prevention drug as well as cancer screenings, mammograms, and some including screenings for gestational diabetes and preeclampsia. So conservatives are clearly gearing up for a fight.
According to PEN America, Texas boasted the most book bans in the country last year: 713. Here's hoping this one won't prevail.