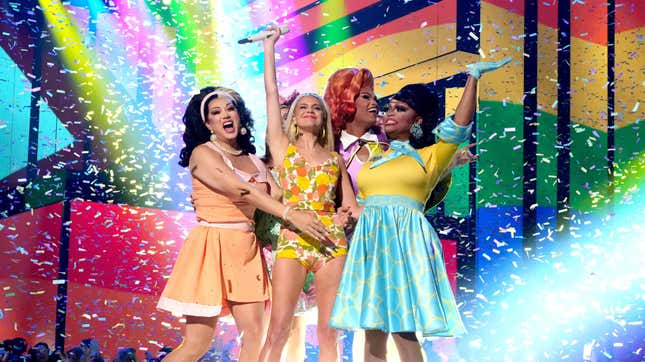 At Sunday's CMT Music Awards, country star Kelsea Ballerini's performance featured RuPaul's Drag Race alums Manila Luzon, Kennedy Davenport, Jan Sport, and Olivia Lux, a rather bold rebuke of the current moral panic surrounding drag shows that is sweeping the U.S., particularly in red states. (Tennessee's recent drag ban, is one such example, though it was overturned Friday by a federal judge. Ballerini hails from Tennessee.) After the show, Ballerini tweeted a thank-you note to her back-up queens.
Taylor Lautner Doesn't Even Remember Saying 'Bella! Where the Hell Have You Been Loca?'
Ballerini, who survived the 2008 shooting at Central High School in Knoxville, Tennessee, also opened the ceremony with a tribute to last week's shooting at Nashville's Covenant School. "Tonight's broadcast is dedicated to the ever-growing list of family's friends, survivors, witnesses, and responders whose lives continue to forever be changed by gun violence," she said in part. "I pray deeply that the closeness and the community that we feel through the next few hours of music can soon turn into action — like, real action — that moves us forward together to create change for the safety of our kids and our loved ones."
---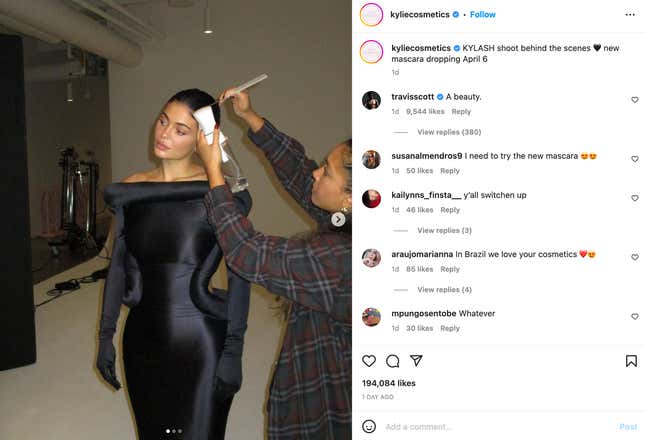 Good news for those invested in the on-again-off-again romantic antics of Kylie Jenner and Travis Scott: He recently said something nice to her in public. The comment—"A beauty."—was left Saturday on a behind-the-scenes pic of Jenner hawking a new mascara (did you know she sells mascara called KYLASH???).

"It came true," someone who cares may be saying to themselves right now. "AAAAAAAAAAAAAAAAAAAAAAAAAAAAAAAAAAAAA," and, "didnt u cheat on her" (he very poorly denied having done so), are definitely things people said in the hundreds of responses under Scott's comment. Scott, it should be noted, rarely uses social media (his last Instagram post dates back to December) so even such a terse statement feels imbued with meaning. Or maybe nothing means anything, and we are so starved that anything that might mean something feels significant. It's a hard thing to detangle, but luckily, all we have is time to do so.

Though Jenner and Scott have stayed relatively quiet about their status, it was widely reported in January that they had split...again. In fact, an anonymous Us Weekly source framed the split as part of an overall pattern for the two, who have two children together. "Kylie and Travis are off again, they were supposed to spend the holidays together, but she went to Aspen to be with her family and friends up there," they said at the time. "This has happened so many times before, they're known to be on again off again, but always remain friends and great coparents."
Who knows what's in the cards for these crazy kids? Guess we'll just have to stay tuned as they issue pithy statements on social media and via tabloids' anonymous sources. Back and forth forever!
---