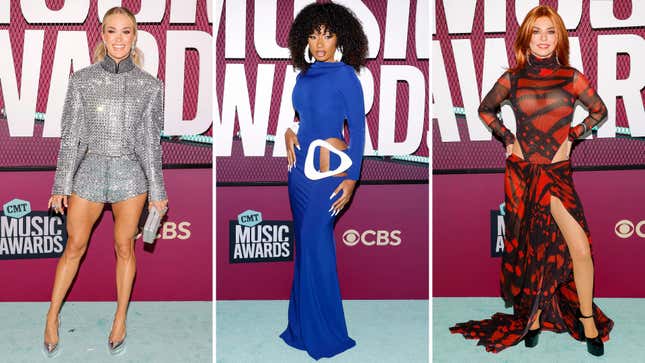 There are awards ceremonies for country music; there are awards ceremonies for music videos; and then there are awards ceremonies for country music videos. Sunday night's CMT Awards, hosted by Kane Brown and Kelsea Ballerini, celebrated the best in the yeehaw audio-visual performances. Hats were as high as that sweet lonesome sound, and, in true Western fashion, the nominees were cloaked in rhinestones.
These auxiliary awards shows always have the funniest mix of fashion: Some folks are decked out as grand as the Ole Opry, while others look like they've rummaged their Texas uncle's closet for a bolo tie. I love going through these red carpet arrival photos because I occasionally get introduced to up-and-coming artists like The BoykinZ. But, in general, I get a sense that the current state of pop-country music artist monikers seems to all be AI-generated variations of the name "Kelsey."
Enjoy the looks we've lassoed into this here slideshow!