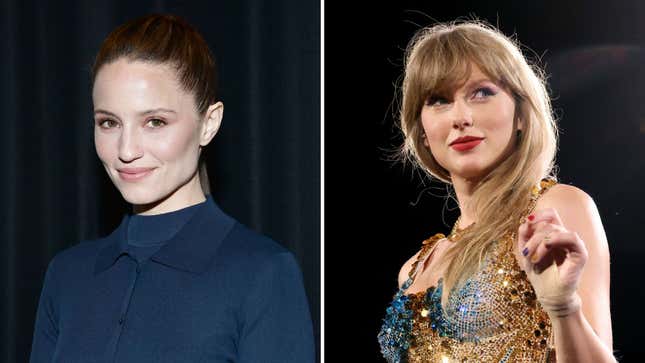 If you've dipped even a toe into the glittering depths of Gaylor theory, the idea of Glee actor Dianna Agron and Taylor Swift as once-upon-a-time rumored girlfriends should come as no surprise. But after more than a decade of speculation—whispers! gossip! queer yearning!—the lavender haze has lifted to reveal…well, honestly it's still a little hazy, but it's still a little lavender too! Godspeed.
Taylor Swift's Rep Thinks You Need to Calm Down About Her Private Jet
While Swift has been keeping busy on her record-breaking Eras tour, Agron spoke to Rolling Stone Sunday in a wide-ranging interview about navigating fame in the early aughts, Glee's drama-laden cast, and—brace yourselves—the potential existence of #Swiftgron. In the liner notes for the song "22," which was released in 2012, Swift had listed Agron's name, leading fans to believe that there was something more than friendship going on between them at the time. Was Agron the real romantic inspiration behind the song, Rolling Stone asked?
"Me? Oh, if only!" Agron, 37, responded. "That's more because of a friendship than being the inspiration for the song. But I would not be the person to ask about that. I cannot claim that!"
"How do you feel about the way that friendship was covered in the media? You two were shipped," the writer, Marlow Stern, followed up.

"Shipped?" Agron asked.

"You two were made out by the media and some fans to be in a relationship," Stern said.

"That is so interesting," the actor replied. "I mean, there have been many stories about my dating life that are so wildly untrue. That's funny."

Now, not to be dramatic, but none of Agron's answers were direct negations of a romantic relationship. The words "I did not have a romantic relationship with Taylor Swift" never, at least clearly, left her mouth. Now would also be an appropriate time to admit that I, too, am marginally convinced that Taylor is in some way queer (I mean come on…the cats? Ask a lesbian about the cats), and slightly cryptic interviews like this one only fuel my fan fic fever dreams.
For those unfamiliar, Gaylor, as explained by our resident expert Caitlin Cruz, is "a cluster of distinct yet overlapping suppositions about Swift's sexuality (bi, pan, queer, fluid?) that hinges upon her purported romantic partners (models, actresses, musicians, friends?) and lyrical clues discovered within her music (a lotta pronoun changes, themes of yearning and secret love)." On the heels of her reported breakup with ex-fiancee Joe Alwyn, Swift has been linked to The 1975's problematic Matty Healy. Instead of continually getting her heart broken by morally questionable men, wouldn't it be nice if Taylor took this time to reconnect with old "friends" like Agron?
A girl can dream. For now, I'll let Swift and Agron keep breadcrumbing me.