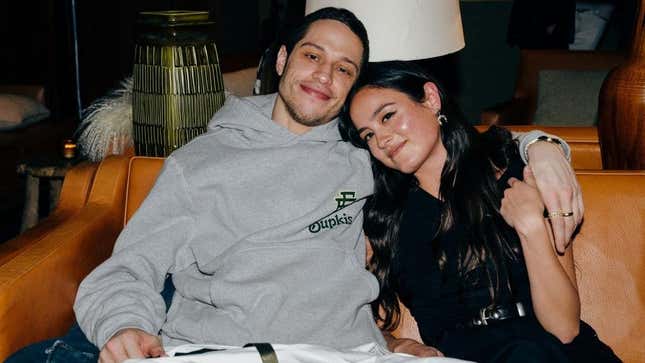 Seasons come and go not unlike Pete Davidson's much-publicized, often ill-fated relationships. And like clockwork, with the end of summer and the return of the pumpkin spice latte, on Thursday, reports surfaced that Davidson and his Bodies Bodies Bodies co-star, Chase Sui Wonders, broke up after just under a year of dating.
Pete Davidson Leaves Job at the Girlfriend Factory
And what an almost year it's been. They were first linked in the fall of 2022, with some overlap with Davidson's highly photographed outings with Emily Ratajkowski. But by the end of 2022, Davidson and Wonders seemed to go exclusive, and, perhaps naively, I really thought these two crazy kids would make it! They certainly weathered a lot together, like, say, quite literally driving into a house together or going to war with PETA when they were seen buying a dog for Davidson's mother together. And, upon performing a deep dive into Wonders' Wikipedia page, as any diligent netizen might, I learned they had something in common: comedy! As an undergrad, Wonders was a writer for Harvard's humor publication, The Harvard Lampoon.
Seeing as Davidson's relationship with Kim Kardashian sparked a good amount of internet meditation about WTF these two even talked about, I admittedly found it refreshing to see Davidson spend some time with someone he seemingly shared more with.
But apparently, even that—having something to talk about together—wasn't enough. "He's single again," a source told People of Davidson. "He's out and about and doing really well." The news comes a couple of months after Davidson checked himself into rehab to work through mental health struggles, though it's not clear when, exactly, the relationship ended.
I'll say it: I'm sad! I was rooting for them, if for no other reason than that I frequently found myself feeling irrationally bad for Wonders when, over the last several months, another high-profile celebrity break-up or divorce happened, inevitably leading to a smattering of dumb jokes on Twitter. The duration of Davidson and Wonders' relationship saw a unique amount of major splits, from Canadian PM Justin Trudeau and his wife Sophie, to the implosions of Sofia Vergara and Davidson's ex Ariana Grande's marriages. Through it all, over and over, Twitter told us, "Pete Davidson has the opportunity to do the funniest thing of all time right now."
My reading of this beloved running gag is that, in the cultural consciousness, Davidson is just perpetually single. All the time. Ad infinitum. It doesn't really matter whether he is or isn't, he just is. His relationship with Wonders seemed decently serious. But as far as the public was concerned, whenever a newly single female celeb emerged, Davidson, himself, was single and a prospective rebound BF. I've also theorized that, as one of Davidson's less famous girlfriends (at least compared to Grande, Kardashian, Kate Beckinsdale, Kaia Gerber, Margaret Qualley, or Phoebe Dynevor), Wonders was probably easier for social media users to dismiss. (Or maybe "Pete Davidson will date anyone!!!" is just a really funny joke and people will pretend he's single no matter who he's dating! IDK!)
I can only hope that Wonders is a better or at least more mature person than I am because I don't even know how I would feel or what I might do if the internet was perpetually making jokes about my boyfriend rushing across the border to Sophie Trudeau's house post-divorce or automatically materializing on the arm of the latest newly single famous woman. Now, alas, Wonders and Davidson's relationship is no more, and I'm left mourning it more than I have any other celebrity split in a long time because it was never given the ~respect~ or at least the acknowledgment it deserved. They were cute together! But apparently, just not cuter than the made-up meme of Davidson with literally any other newly single woman.