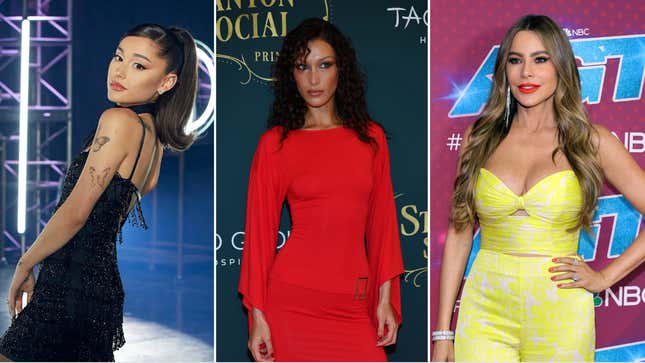 Bella Hadid and her boyfriend of two years, art director Marc Kalman, are the latest celebrity couple to quietly split, according to Entertainment Tonight, with news of their breakup joining a growing list of high-profile uncouplings reported this week. Their split—which apparently took place during the spring, as Hadid wanted to take "time off" to focus on treating her Lyme disease—comes amid news of Ariana Grande and her husband Dalton Gomez's separation and impending divorce, as well as Sofia Vergara and her husband Joe Manganiello. (Grande and Dalton were married for two years, and Vergara and Manganiello for seven.)

Don't Feel Bad if You Can't Achieve the 'Clean Girl Aesthetic'
Love is clearly dead, and it's all very sad. Except… is it??? Or is it just another Hot Girl Summer?
Let's review the evidence, shall we? Vergara's Modern Family co-star and IRL friend Julie Bowen commented on a recent bikini pic of Vergara on her Instagram, "This is what single and 🔥 looks like!!!❤️❤️❤️❤️❤️" (When are we getting a spin-off show of these two??) Earlier this week, reports surfaced that Vergara and Manganiello separated over his desire to have kids, which clashed with her not wanting to have kids.
And as of Thursday, just days after reports about Grande and Gomez's separation and follow-up reports that Gomez has already been seeing other people for months now, TMZ reported Grande is now dating her Wicked co-star Ethan Slater, of SpongeBob the broadway show fame.
Also this month, Kyle Richards and Mauricio Umansaky of Real Housewives of Beverly Hills fame announced their split, joined by former New York City Mayor Bill de Blasio and wife Chirlane McCray, who also revealed they're separated and seeing other people—but are continuing to cohabitate in their Park Slope townhouse, because of course. Euphoria darlings Hunter Schafer and Dominic Fike announced their split earlier this month, too, along with Billy Porter and his husband of six years, Adam Smith. There is clearly something in the water right now as rich, beautiful, very famous people who were once in love all of a sudden can no longer seem to stand each other.
It is, indeed, a cruel world—and a fast one, too. There's little time to mourn love lost, to sit idly by amid tabloid reports about your ex moving on—not when you have a co-star with the raw animal magnetism of SpongeBob himself, and your fellow MILF friends hyping you up in your Instagram comments.
This is all to say, Bella Hadid, you are in perfectly fine company this summer. Not all of us can have what Ryan Gosling and partner Eva Mendes seem to have, as we can infer from his endless torrents of loving words about the mother of his children throughout the Barbie press tour. And not all of us can have the storybook, Vogue spread, destination wedding of newlyweds Dylan Sprouse and Barbara Palvin. But if nothing else, we can all have ourselves a little hot girl summer, and take comfort in the tabloids reminding us it's rough out here for everyone.