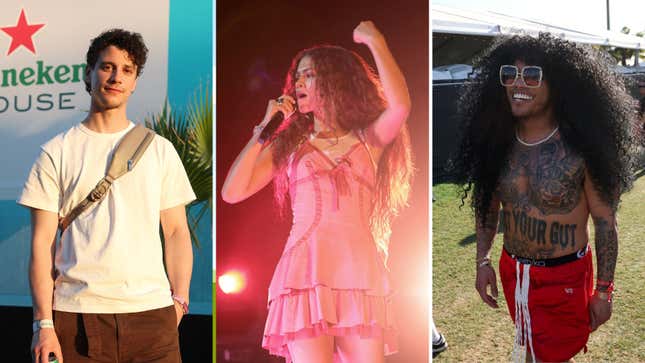 What do a retired billionaire, world's most infamous mom-ager, and a 42-year-old sugar baby have in common? They all apparently…wanted to see Bad Bunny apologize to Harry Styles at Weekend 2 of Coachella?
Unfortunately, I am not entirely joking. Over the weekend, a slew of celebrities—albeit, a much smaller crowd who didn't get the memo that Weekend 1 is when all the supreme spon-con hits—flooded the Coachella Valley for the festival's second go around before packing up their wilting flower crowns for the year. Among them was a haunted quartet composed of none other than Kris Jenner, her boo Corey Gamble, Amazon founder Jeff Bezos, and his girlfriend Lauren Sanchez.

If you'll recall from Sanchez's birthday dinner and the nondescript brownie Bezos presented to her at the very small, not-billionaire-sized soiree, Sanchez is friendly with the Kardashian clan: Kris was at the celebration along with Kimberly. Now, it appears Kris has finagled a double date with a combined net worth so high they could've just bought out Coachella for a private Bad Bunny performance (the Puerto Rican singer is dating Kendall Jenner for reasons that remain unknown). Bezos sported a butterfly shirt buttoned all the way down, while Kris seemed to get high on the fact that her daughter is dating a Coachella headliner. THE CLOUT!

Off to the desert we go, again, to wax poetic about celebrities wearing expensive things with one in 10 odds of actually looking cool! Again!