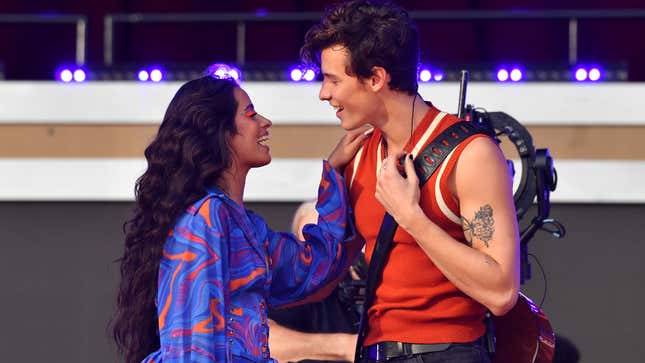 By now you know the tune: First comes love, then comes a jointly announced breakup that begins, "Hey guys...," then comes a reunion at Coachella some one-and-a-half years later. Or so the song goes for Shawn Mendes and Camila Cabello, who were spotted (and filmed in multiple contexts) hanging out this weekend during the music festival. Mendes and Cabello, who dated for more than two years, announced their breakup via social media in November 2021. And now look where they are—together! At Coachella!
Some gifs and videos of them chilling in the crowd began surfacing Friday...

And then the big one of the kiss:
Page Six described the reunited pair as "packing on the PDA" and engaging in a "steamy kiss." That's not far off—it's less about the actual kiss to me (brief, apparently tongueless) than it is the way that Cabello leans into him after the dismount, as if she doesn't want the moment to end. As if she never wanted it to in the first place. (FWIW, I have no idea what actually goes on in this person's mind.)
Back when they were together, the pair seemed extremely ostentatious about their love (or whatever it was), and here they are again, being affectionate on camera. The more things change, the more they stay the same! Between their breakup and their reunion, they were spotted with other people—for him, a 51-year-old chiropractor named Dr. Jocelyne Miranda; for her, Lox Club CEO Austin Kevitch. And now, whether driven by their fiery loins or collective nose for a good story, they're back in each other's arms and headlines, at least for a fleeting moment. You can't knock the craftsmanship.
---
After conducting her career as though she were a children's act (imagine Raffi with whipped cream shooting from his nipples), Katy Perry really threaded the needle recently when she had North West and some of her friends onstage in Vegas. Perry led them in a dance and encouraged them to do cartwheels. Whee!
Get used to watching North West having such access and opportunity simply because it's her birthright. This is our future and the world we live in.
---