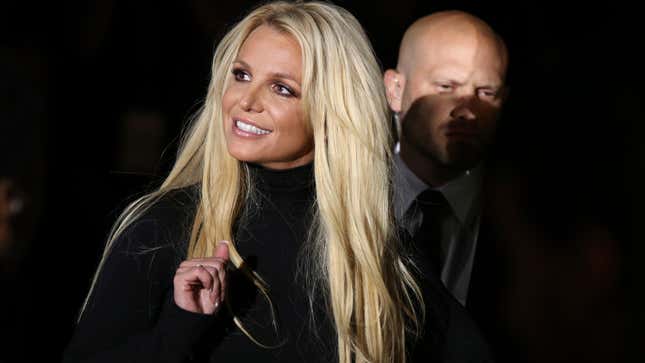 Well, it's actually happening. Britney Spears' long-awaited, at one point reportedly delayed memoir now has a title—The Woman in Me—and a release date: October 24. Spears got a reported $15 million for a book, which is described by the press release as "a brave and astonishingly moving story about freedom, fame, motherhood, survival, faith, and hope."
People first reported the news, and has a picture of the book's cover, which features a picture of Spears that appears to have been taken well over a decade ago. Quoting the press release, the magazine said that the memoir will detail "for the first time her incredible journey (and) strength at the core of one of the greatest performers in pop music history," and that it "illuminates the enduring power of music and love — and the importance of a woman telling her own story, on her own terms."
Jennifer Bergstrom, a senior vice president at Gallery Books (the Simon & Schuster imprint that picked up The Woman in Me) told People: "Britney's compelling testimony in open court shook the world, changed laws, and showed her inspiring strength and bravery...I have no doubt her memoir will have a similar impact — and will be the publishing event of the year. We couldn't be more proud to help her share her story at last." At a hearing in 2021 regarding her now-terminated conservatorship, Spears testified that she'd been implanted with an IUD and was administered lithium against her will. About her father, she said: "The control he had to hurt his own daughter, he loved it. I worked seven days a week...it was like sex trafficking. I didn't have a credit card, cash or my passport." She was widely lauded for her courage and clarity following her conservatorship court battle.
The Woman in Me was described in an early report as "brutally honest" and "groundbreaking instant best-seller…without any self-pity." It's said to be so honest, in fact, that it was delayed after two major stars sent her publisher letters outlining legal concerns based on the book's potential content.
This is all conjecture and gossip, but as a celebrity memoir connoisseur, I couldn't be more excited for a potentially explosive, juicy account of Spears' life delivered in her inimitable voice. After 2022's banner year for the form, it's been a rough year for the celebrity memoir as the high-profile releases thus far have ranged from ho-hum (Elliot Page's Pageboy) to god-awful (Paris Hilton's Paris: A Memoir). But with planned tell-alls from Sly Stone (Thank You (Falettinme Be Mice Elf Agin), October 17), Barbra Streisand (My Name is Barbra, November 7), and now Spears, 2023 may pull through yet.