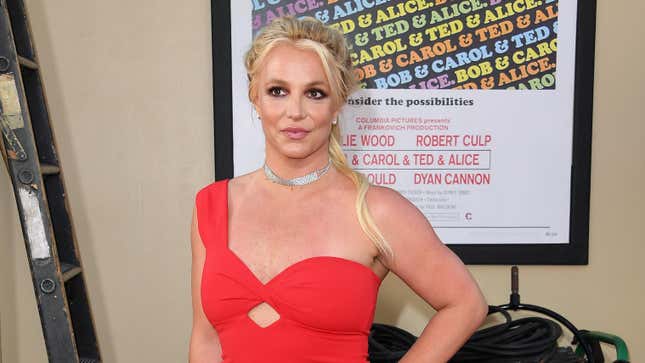 The promise of Britney Spears' "explosive" upcoming memoir may have at least a couple of A-listers fearing for their reputations.
Britney Spears Escapes Family Drama By Going to First Bar
According to a new report in the Sun, the release of Spears' highly anticipated book has been delayed after lawyers for two "major Hollywood stars" sent letters to Simon & Schuster detailing legal concerns over the potential content of the memoir. The book was set to be released this fall, but is now reportedly on hold as the publisher seeks counsel from its internal legal team. "There is no movement at the moment and there are concerns over when it will eventually be able to come out," a source told The Sun.

"Britney is brutally honest in the book—there are a lot of nervous A-listers," the source added. "Strongly worded legal letters have been sent to the publishers by people who know Britney and who fear what she has written." (It is unclear whether the Sun reached out for comment or not, but reps for Simon & Schuster and Spears did not return Page Six's follow-up requests for comment.)
Legal jargon aside, let's get to the good gossip: Those two Hollywood stars quaking in their boots? Apparently, they had previously unreported "affairs" with Spears and were spooked upon hearing that Britney was set on writing a "brutally honest" book that might include her airing out a significant amount of dirty laundry.

"There's a fair amount of throwing people under the bus, talking about past relationships, some of whom will be revealed for the first time ever," the source said. "Britney lived her life in the public eye, but there are relationships and people she had encounters with who she managed to keep under the radar, including some massive film star names and people from the music world."

Though we already know about Britney's relationship with Justin "fuckboi" Timberlake, the sky's the limit in terms of whose reputation Britney might be set on blowing up. In that vein, here are a few individuals I would personally love to see thrown under Britney's bus: Brad Pitt (though his reputation is already in freefall), Chris Pratt (what if the whole God-fearing thing was a LIE?!), or any of Hollywood's notorious wife guys.

As we previously reported, Britney's $15 million book deal is set to cover the singer's struggle with mental health, her public breakup with Justin Timberlake, and the devastating impact of her conservatorship. The pop star has been writing the book with the help of ghostwriter Sam Lansky.

"Britney wants this to be her moment she talks to the world, to tell her side of the story and set the record straight," the Sun's source said.

You hear that, high-powered Hollywood lawyers? Tell your slimy celebrity clients there's no more hiding under a rock. A new era is upon us, and it belongs to Britney, bitch.