Darian Darling is living her dream life in her dream house—that is, her very own life-size Barbie Dreamhouse. The all-pink home, as featured in Apartment Therapy in 2010, went quasi-viral, she remembers. In photos, you can see how stubborn it is in its girlhood, with figurines of Betty Boop and Marilyn Monroe, pink-stained pillows, and in the corner, Darling's life-size Barbie mannequin. Unlike the original, this Barbie's swimsuit is pink.
Darling, a makeup artist, is somewhat of a pink evangelist. She loves the sweeping rosy texture of blush, a product she insists never goes out of fashion as she applies it liberally to the cheeks of her clients. Darling bonded with one such client, drag queen Trixie Mattel, over their shared love of pink and all things Barbie, which they both still collect as adults ("I'm sure a therapist would have a field day with what exactly that means," Darling laughs). At the Barbie premiere this month, Trixie showed up most of the cast's pink carpet looks, surely in part because she, like Darling, didn't need Greta Gerwig's campy film to discover pink's subversive side.
"In the '80s, going to the Toys 'R' Us Barbie aisle that was floor-to-ceiling hot pink…it gave me tingles," Darling told Jezebel. "Barbie had this heightened idea of femininity and beauty…this unapologetic, almost unattainable, aspirational glamour, which as a kid I just loved, but especially as a trans child."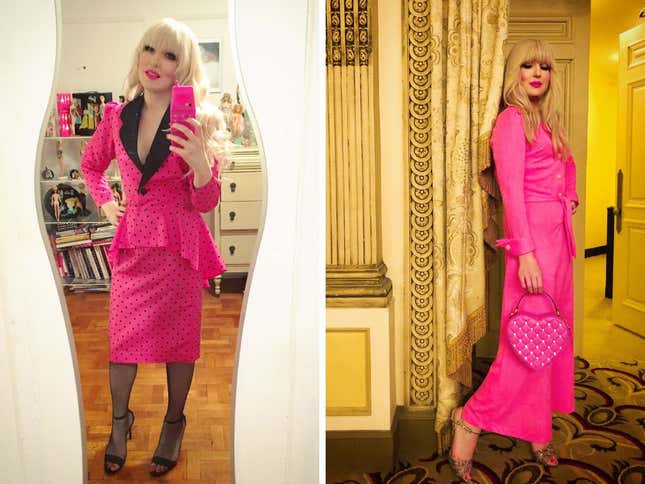 For Darling, drag's exaggerated use of personas, makeup, and color mirrors Barbie's cartoon-ish attempts at womanhood. That hot pink unites them is kismet, though it isn't the sole reason she's decked her life in pink. "I do love the camp and humor of it," she said. "And I love that it pushes people's buttons…that it is polarizing and aggressive."
Regardless of the name it takes on—shocking pink, Schiaparelli pink, bimbo pink, or Barbie pink—this hot pink hue has worked its way into some of our most visible cultural venues. It veils the nipples of It Girls, struts down Valentino runways, and appears in TikTok holes of aesthetics past. For some, it is a loaded shade that may forever stir up less-than-sweet memories of an impossible girlhood sold in a fuschia cardboard box. But others, like Darling, turned to it for comfort long before the Barbie movie began advertising a life lived boldly in pink.
---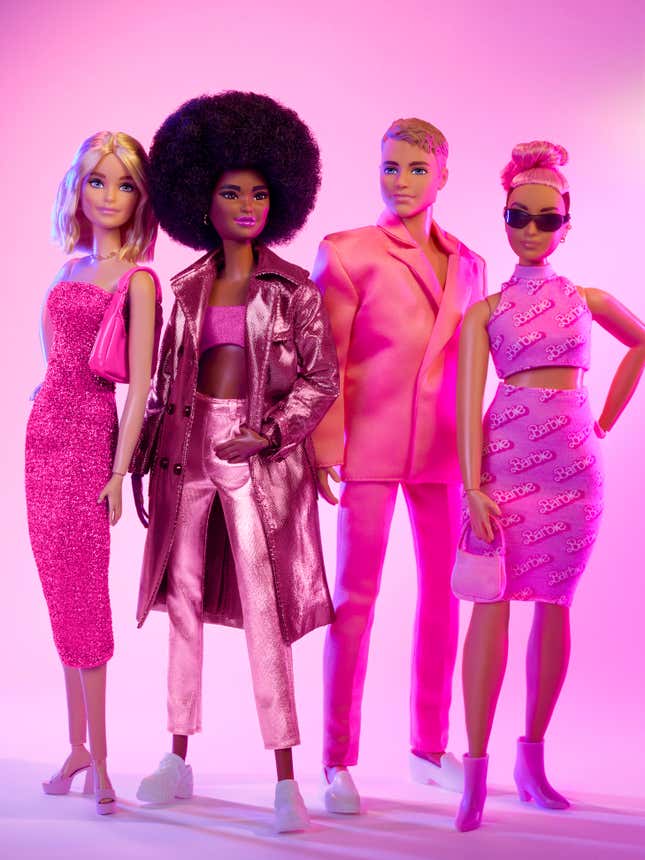 Pink is an exercise in contradictions, delicate and violent in the same breath. Though its origins are murky, some sources point to the 17th century use of the term "pinks" to describe flowers with jagged petals—carnations, sweet williams, and maiden pinks among them. But "to pink" had another meaning: to stab.
In 1931, fashion designer Elsa Schiaparelli captured those contradictions when she invented a new pigment by mixing magenta with a bit of white. "The color flashed in front of my eyes," Schiaparelli said. "Bright, impossible, impudent, becoming, life-giving, like all the lights and the birds and the fish in the world put together." Later, Darling points out, Yves Saint Laurent described the same color as "having the nerve of red…an aggressive, brawling warrior pink."
Today's hot pink has retained its biting spirit, which is, in part, why it's a key tenet of fashion designer Madison Chamberlain's brand identity. Her core customer base, which she describes as "nontraditional brides," comes to her for her over-the-top pink gowns and pink, ostrich feather veils, as if to throw daggers at the rest of the bridal industrial complex.
"Pink is just such a dopamine hit of a color," Chamberlain told Jezebel. "But in a way, pink is also the most pushed extreme…the boldest color you can get. The only natural associations we have with it are flamingos and flowers like mountain pinks and hydrangeas, so in a lot of ways, it feels unnatural. And I like that about it."
Chamberlain points to her hot pink Madonna ruffle veil, for which she pulled inspiration from Vegas show girls and the Madonna Inn. Littered with hearts, like moths drawn to a light, "it has this very forced sense of girly-ness: over the top, overly sexualized, overtly in your face," she described. "This pink is like the most extreme version of what girliness could be, almost mocking or laughing at it in a way, while totally embracing it."
Mattel's head of design for Barbie, Kim Culmone, told Jezebel that Barbie pink—the brand's signature Pantone color, PMS 219—became "very prominent in the Barbie design language" in the '70s. As is now toy lore, the first Barbie was modeled after German call girl and gag gift doll Bild Lilli, and hit the market in a striped, black-and-white swimsuit in 1959. Around 1972, shocking pink showed up in Barbie's wardrobe, when Mattel introduced the Best Buy Fashion line. By 1976, Barbie dolls were packaged in full hot pink and paired with the now-quintessential "bubble" font. Culmone cites 1977's Superstar Barbie as one of the first head-to-toe pink looks, as well as Beauty Secrets Barbie, a doll designed by Kitty Black Perkins, who also designed the first Black Barbie.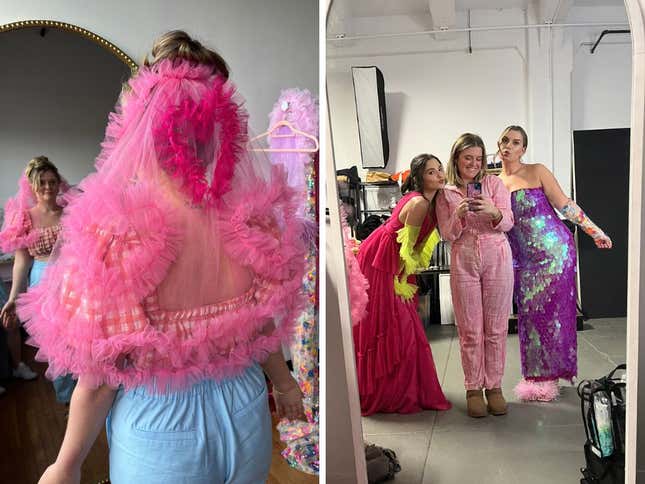 Like most things heavily associated with girlhood and forced femininity, hot pink embodied a fraught, gendered past—in some ways representing the worst of what men wanted women to be—and Barbie's adoption of the color further complicated that past. But it wasn't until the 1950s that pink took on a "girly" persona: Valerie Steele, director of the Museum at the Fashion Institute of Technology, told The Atlantic that pink was once "considered slightly masculine as a diminutive of red," which was a "warlike" color.
In 1953, first lady Mamie Eisenhower arrived at her husband's inaugural ball in a pink gown peppered with 2,000 rhinestones, prompting headlines like "Our Mamie Is in the Pink." Gentlemen Prefer Blondes' Marilyn Monroe, Jackie Kennedy, and Grease's Pink Ladies followed suit, as did the manufacturers of baby clothes. Jo Paoletti, in her book Pink and Blue: Telling the Boys from the Girls in America, later asserted that second-wave feminists connected the color pink to traditional girliness—so effectively, noted Anna Broadway in The Atlantic, that they might've "inadvertently helped solidify the pink-woman connection...not because they rejected the color as feminine per se, but as childish." And as Barbie got more "pink and shiny and glittery" over the years, Steele said, "she also became significantly more infantile looking, with a younger, smilier face."
The mayhem around Gerwig's movie, it seems, has cemented Barbie's marriage to pink. Gerwig told Architectural Digest that in creating her cotton-candied vision for Barbieland, she didn't want to "forget what made me love Barbie when I was a little girl." All that pink construction, production designer Sarah Greenwood noted, caused an international shortage of Rosco Paint's hot pink shade: "The world ran out of pink."
Like Gerwig, Chrissa Sparkles, known to friends and family as Chrissa Villanueva, has a soft spot for the juvenility of pink—the color that lit up her '90s baby childhood through Girl Talk, Mall Madness, Polly Pockets, and Hello Kitty. Both her fashion designs and her pilates studio are now decked out in what she describes as a "bubblegum pink that borders on an orchid shade…almost like Pepto-Bismol pink," and she feels "naked" if she leaves the house without it.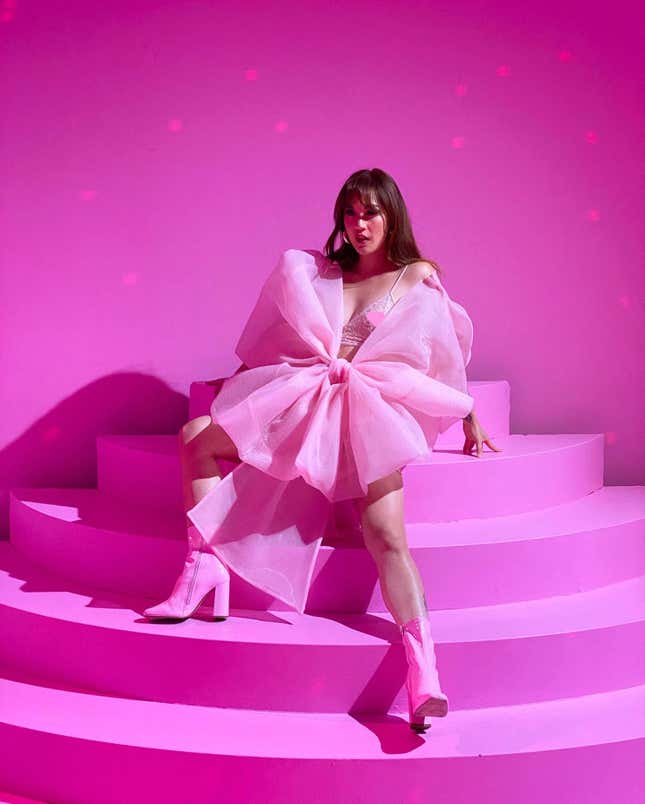 Villanueva could scoff at pink's immaturity as do many grown women, but she chooses, instead, to give herself "permission to play." Her parents didn't immigrate to the U.S. from the Philippines and work "their fucking asses off" just so she and her siblings could live and dress like wallflowers. Dressing in pink, she finds, is a privilege her mother didn't have when she first moved to the States. But with financial stability came bright colors: Her mom has started wearing her favorite kelly green slacks again, paired with a fuchsia pink button-down and a yellow tank-top underneath. It was the same for Villanueva when she went through a divorce last year. The more she let go, the more she bled pink-pink-pink.
"I found out that my divorce was final the weekend that the Little Mermaid came out, and I cried under my [heart-shaped disco ball] blasting Taylor Swift's album for days. I was like, of course I would be like the girl at prom who didn't win prom queen, so she looks beautiful and has mascara running down her face, crying in the middle of the dance floor," she recalled. "That would be the way that I would process my grief: under a disco heart with pink lights everywhere."
That Villanueva finds cinematic potential in her pink melancholia is a function of the color's dramatization. From But I'm a Cheerleader and Legally Blonde to Josie and the Pussycats and She-Devil, hot pink has been used on screen with an Anna Nicole Smith-esque wink. Because it was preferred by '90s mega-girl brand Lisa Frank and leading bimbo Angelyne, it may be seen as the color of vapid beach babes more likely to quote The Real Housewives than Marxist theory. Then again, you can't write off Lisa Vanderpump with her Villa Rosa pet swans and hot pink pussy bow blouses; she's now one of the richest, and pinkest, of all the housewives.
---
"Remember when pink was déclassé?" fashion writer Véronique Hyland mused in 2016 about the sudden ubiquity of millennial pink. "There's still an implicit divide between women who lean into honest-to-God pink and all that it implies, and women who are allergic to that kind of thing."

Becca O'Neal, a comedian and writer, is not allergic to that kind of thing. She wore head-to-toe Barbie pink in her last Comedy Central special as a statement about comedy's "boys club." And in the footsteps of Aaliyah, who O'Neal says loved to experiment with color, she's been dying her hair pink for years. Onstage or not, it's a proven strategy: Shirk the respectability angle, and double down on femininity within institutions that do not see the value in it. And then, go pinker.
"I used to have a joke that I dressed like a background dancer on a children's Christian hip-hop show. Then I leaned into the high femme thing, and people do respond to me differently," O'Neal told Jezebel. "I feel like I can sneak in a lot more anti-establishment, subversive, leftist, radical politics stuff when the look is more femme. I lean heavily into the pink, to mask what I'm really up to."
"We've heard quite enough [from male comedians]," she added. "I just want to make sure I'm heard, too."
The hatred of pink, or the mass dismissal of it as thoughtless and brain-warped, only speaks to the limits of our imagination. Through pink, women and queer folks have clarified their existence in the world. It's the color of fantasy, symbolic of a corporatized version of girlhood, sure, but a girlhood so many young people desired and never had.
Vincent Cecil, a transmasc nonbinary graphic artist, harbored a certain fascination with the Barbie Dreamhouse growing up. As for the doll's signature hue? Cecil admits he had "a typical late '90s, early 2000s" disdain of pink.
"When you're younger and you're trans, but you don't realize it yet, you're like, 'Oh, I don't want to do all these super girly things. That doesn't fit me,'" he told Jezebel. "Years later, now that I'm transitioning, I'll wear a pink dress, I don't really care. It's just at that first stage, the only way you know to show that you don't fit into femininity is by rejecting everything that has to do with it."
Now that Cecil is firm in his identity, he has no problem using euphoric pops of pink to bring his mostly black workstation to life. When we spoke in June, he already had his hot pink outfit secured for when Barbie hit theaters, the day of his birthday. And, he's admitted to himself that he probably liked pink all along, judging by the pink backpack and pink guitar he'd picked out when he was little.
"Embracing pink is a nice visual callback to my feminine side, while still going about my name change and choosing my pronouns and whatnot," Cecil said. "It's a very nice way to tell myself it's okay to still have that feminine part of you and be happy about it. That's my one special way…of including and appreciating the past."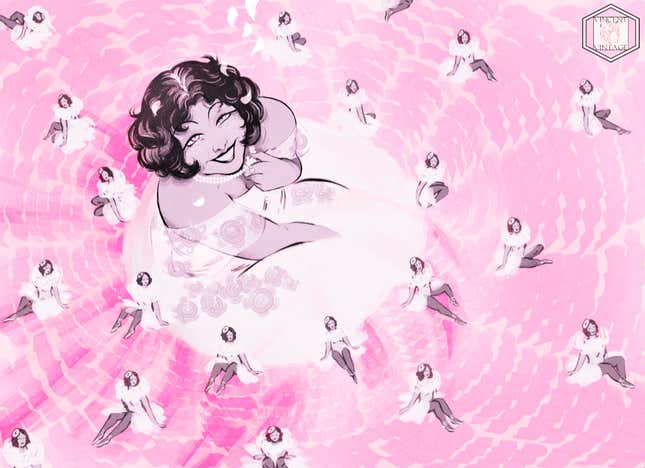 Gabrielle Alexa Noel, a software engineer and sex and relationships educator, has turned to the girly power of pink in pivotal moments again and again: The day she got accepted into coding bootcamp, she set out on an urgent mission to find a wardrobe fit for "the Elle Woods of software engineering."

"I feel like so much of the Black experience, especially when you're growing up, is a denial of femininity in Black girls. So, I've always wanted to be the ultra-feminine person to push back," she said. "I think because of the Powerpuff Girls, and of course, Barbie, pink represented a girl boss form of leadership, but nonetheless, it was a certain type of leadership that I wanted to emulate… I always aspired to pink."
Noel no longer subscribes to Barbie's late-capitalist obsession with work ("She had hyper jobs… Like, when we put all the toys together, it was an entire city where Barbie was doing absolutely everything, poor thing!"), gravitating instead towards the bimbo school of thought. But as her persona became increasingly intertwined with pink, Noel found it served as a barometer in her relationships; the more she practiced polyamory, the rosier things got.
"My past boyfriends in monogamy very much policed my outfits and had me throw out things that were pink that they didn't find appropriate… The push to meet patriarchal expectations, but not in a way that is too hyper-feminine, was so interesting," she said. "I don't really have that in polyamory now. When I was in relationships where I was free to be expressive, my style got significantly more pink."
It was as if, Noel noted, she was permitted to look good enough to attract a mate, but not so bold as to cause a ripple in the fabric of polite society, where oat milk neutrals reign supreme. Even her current girlfriend's mother has taken offense to Noel's pink Yitty bodysuit, opting once to bring Noel a change of clothes a black-and-white dress from Zara—to a nephew's birthday party.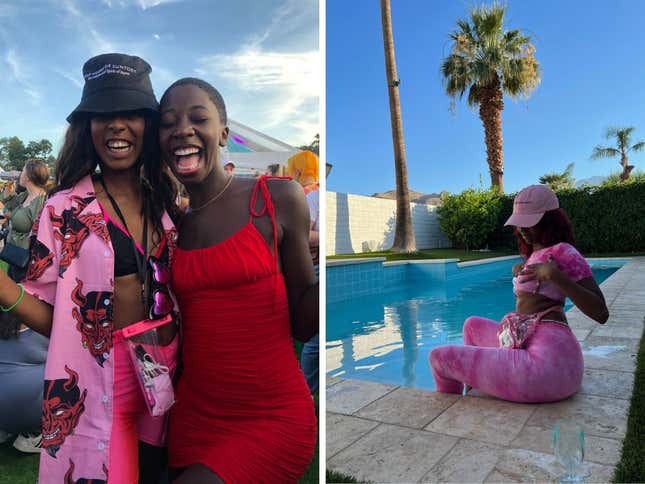 Another exercise in contradictions, a color mocked for its childishness is also a provocateur. Pink is like Barbie herself, sexed up and sexless, a children's doll whose curves aren't far off from the proportions of Playmates. Pink can be found in our most unerotic body parts—the palm of a hand, the bed of a fingernail, ligaments if you were to pull back the skin—but also at centers of desire: rosy labia, nipples, and tongues.

And then, there are those not so enchanted by pink's coquettishness—like Barbie cast member Kate McKinnon, who saw herself not as a Barbie growing up, but as "an inflatable lobster." The color is sort of like that for essayist, critic, and art historian A.V. Marraccini, who selected hot pink for the cover of her new book We the Parasites, a commentary on the cultural critic as parasite itself.
"I wanted a color that was almost bloody in that Achillean way, but queer and unashamedly, wholly girly," she told Jezebel. "The book is pretty gross, so we wanted something that felt like what happens in nature: When you see bright colors, it's a warning sign."
Marraccini says her choice of pink—eosinophil pink—was primarily driven by its association with tapeworms. The pathology stain of pink dye lights up a protein within the tapeworm, making it visible under a microscope. Though, as much as eosinophil pink fulfilled her parasitic critic metaphor, Marraccini also needed a color emblematic of a "fierceness that was mine."
"We take something that has been used as a stereotype, that has been used as a flattening device for women and femininity, for sort of vaguely queer or disco-oriented men, and turn it into something with depth and interest," Marraccini said. "I see pink as part of the culture of voguing and Paris is Burning. Pink triangles are this color of pink. It seemed like something that had become ours."
To Marraccini, Barbie couldn't handle that sort of rebellion—in the same way a pink pussy hat can't take on more than a one-dimensional, white feminist version of rage.
"The Barbie-verse of pink was the sensibility of all normies…for the little girls who didn't run around and play with worms or build spaceships. For my little childhood brain, Barbie hot pink was for girls who weren't imaginative enough to tell their own stories," she said. "That said, if they made a Sad Marxist Critic With Too Many Degrees Barbie, I would buy the shit out of them. Her feet would have to be permanently stuck in Doc Martens, or something more vaguely dike-y. Besides, hot pink feels very lickable. I kind of want to eat it, like candy."
Barbie was never much for her. She is, after all, a doll: a pile of limbs at which we toss our ambitions and hangups. But hot pink will always be its own story.