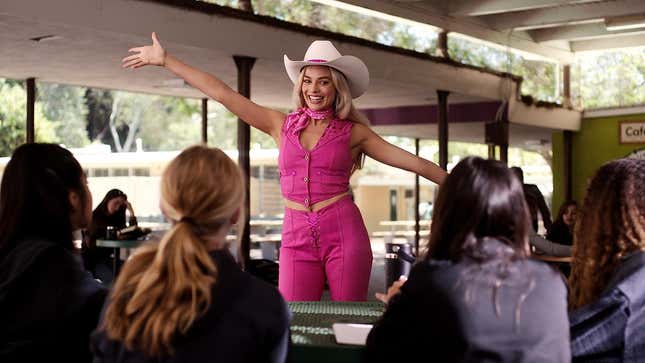 For those inclined to interrogate the interplay of pop culture and, uh, regular culture, Barbie has long been a towheaded conundrum. Is she good or evil? Given her vocational dexterity, does she serve as an inspiration for young girls? Is it true that, in the words of narrator Helen Mirren in the new movie Barbie, "Because Barbie can be anything, women can be anything?" Or, given her impossible measurements and perpetuation of restrictive Western beauty standards, has she been making women feel bad about themselves since she was invented?

Well, if there's one thing that Barbie is, it's multifaceted, and Greta Gerwig's clever Barbie allows her to be both a gift and a curse. Gerwig, who directed and co-wrote with Noah Baumbach, not only has Barbie's duality figured out, she has figured out how to animate plastic, rendering a nearly 65-year-old piece of IP onto her canvas. Gerwig manages both reverence and mockery without coming off mealymouthed as she surveys Barbie's past, the universe created for the dolls, and the implications of a through-the-looking-glass society in which women dominate every industry and the men are afterthoughts. (Ken was, after all, developed and released in 1961 specifically to be Barbie's boyfriend.) What emerges is an easy-on-the-eyes meditation on patriarchy that doesn't feel like a live-action Twitter thread or an undergrad seminar, mostly because it's comfortable with many right answers and concerned with contextualizing how many, many children have played with this toy. While the overly safe Super Mario Bros Movie from earlier this year took its IP so seriously it was like a remedial history lesson, Barbie is a worthwhile movie about a brand. Women can do it all.
The trailers do a very good job of setting the scene: Barbie (Margot Robbie, whose tendency toward blankness is, at last, an asset) lives in Barbieland alongside many other Barbies. ("Hi, Barbie!" "Hi, Barbie!") When, during a dance party one night, she mentions thinking about death, the record scratches and her world shifts; her deviation from the script has created a "rift in the continuum that is the membrane between Barbieland and the real world," according to the drawn-on and hair-chopped Weird Barbie (Kate McKinnon). The presumed little girl playing with Robbie's Barbie—referred to throughout as Stereotypical Barbie, as in, according to her, "I'm like the Barbie you think of when someone says, 'Think of a Barbie'"—has gotten emo, and Robbie is tasked with traveling to the real world to find her in an attempt to repair the tear. This will also stop the cellulite that has begun to creep over Barbie's thigh. "That's gonna spread everywhere, and then you're gonna start getting sad and mushy and complicated," Weird Barbie tells her. "NO!" howls Barbie in response.
Ken (Ryan Gosling) hides in Barbie's pink convertible, which she discovers on her drive as she sings the Indigo Girls' "Closer to Fine." She begrudgingly allows him to join her in the real world; Stereotypical Barbie's most pronounced trait is a mild disdain for Ken ("Barbie has a great day every day, but Ken only has a great day if Barbie looks at him," recites Mirren). Once there, they take very differently to the attention they immediately draw. "I feel kind of ill at ease, like…I don't know a word for it, but I'm conscious but it's myself I'm conscious of," says Barbie after being catcalled at Venice Beach. "I'm not getting any of that," responds Ken. "I feel what can only be described as admired but not ogled and there's no undertone of violence." "Mine very much has an undertone of violence," says Barbie. (Light spoilers ahead.)
Gerwig wisely spends maybe a fifth of the movie in the fucked-up real world—the vast majority of time is spent in Barbieland, which is a feast for the eyes if you like pink and plastic and grew up in the United States near a television. And it only takes a short while in the real world for innocent Barbie to learn that she's reviled, courtesy of a dressing down by the girl she suspects has been playing with her, Sasha (Ariana Greenblatt), and for Ken to learn about the performance of masculinity. (Gerwig treats us to a rapid montage featuring Sylvester Stallone, Bill Clinton, presidents on money, and guys high-fiving from respective plank positions.) More importantly, he's exposed to patriarchy, which he defines as "where men and horses run everything." At times the screenplay plays like shit-posting in the most delightful way, as it refuses to take anything—even undeniable oppressive forces—too seriously. Or at least, not too seriously to endlessly roast. At Mattel headquarters, where she eventually is smuggled when suits realize she's out in the real world, Barbie notes that there are no women in charge. The CEO (Will Ferrell) tells her, "We had a woman CEO in the '90s and we had another one…at another time." An intern named Aaron (Connor Swindells) chimes in at one point: "I'm a man with no power—does that make me a woman?"
Ken brings back patriarchy to Barbieland, which he eventually rechristens Kendom Land. It catches on like a lighter to synthetic hair. "I like not having to make any decisions. It's like a spa day for my brain forever," Physicist Barbie (Emma Mackey) observes. Alongside Sasha, who begrudgingly travels to Barbieland with her Mattel employee mother Gloria (America Ferrera), the actual person who was playing with Barbie and endowing her with real-world ennui, Stereotypical Barbie and Weird Barbie begin an endeavor to turn the Kens' egos against each other and reprogram the patriarchy-wooed Barbies. To snap the gals out of it, they need to "give voice to the cognitive dissonance required to be a woman under the patriarchy," thereby robbing it of its power—or at least, so goes the movie's cathartic logic.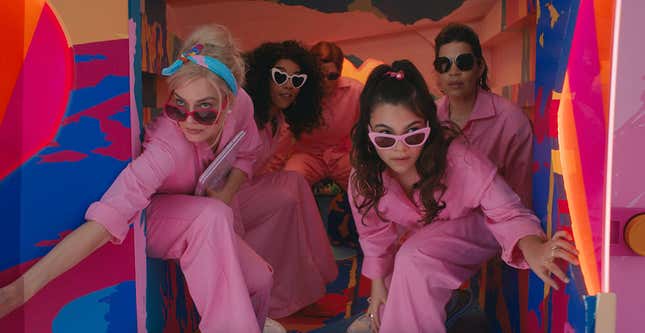 Barbie packs in a lot of plot and more feminist theory than most were probably expecting. Granted, the sense of internal logic used here is very loose. We're to believe that 2023 marked the first time anyone played with Barbie in a way that defied convention. Also, if real-world play affected Barbieland's reality, the dolls would be naked and pressed against each other a lot of the time. Alas, the PG-13 rating makes a plastic orgy impossible. (There are fun jokes about Ken's crotch and the notorious Earring Magic Ken, however.) The cast is diverse—there's a trans actor playing Barbie (Hari Nef), a Barbie in a wheelchair, Issa Rae as President Barbie, and Black actors (Ncuti Gatwa and Kingsley Ben-Adir) and a Chinese-Canadian actor (Simu Liu) playing Ken—but our main focus is on the white/blonde Barbie and Ken. Indeed, most people may think of these iterations when they think of Barbie and Ken, and the movie must represent the brand, but in doing so it does little to dispel the idea that the white people are the most important dolls in the Dreamhouse.

It's also undeniable that the Kens do represent a repressed class in Barbieland, and so their uprising (as overcorrecting as it is) is only logical. At the root of patriarchy is the notion of supremacy, which Barbie herself has absolutely upheld with her own fused-fingered hand, and merely flipping the binary would not be enough to solve the problem. But given how much men and their decisions have doomed this world, and given the fixedness of their power, you can see why it seems worth a try. Barbie argues that idealized play is a fine way to cope. It's a way to take your mind off things and aspire for better, which is, in a meta way, exactly what Gerwig is doing here.
This piece was written during the 2023 WGA and SAG-AFTRA strikes. Without the labor of the writers and actors currently on strike, the movie being covered here wouldn't exist.