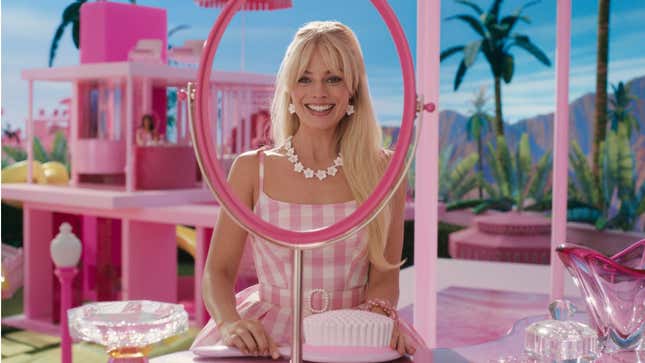 I was obviously already planning to see Barbie, if for no other reason than the fact that its marketing team has really outdone itself, ensuring that it will be the only film (besides Oppenheimer) that anyone can talk about for the rest of the summer. I thought maybe I'd wait for all the hullaballoo to die down and see it in a couple of weeks when it's easier to get tickets, or just wait for it to come out on streaming.
But then conservatives started getting really upset about the movie. Sen. Ted Cruz (R-Texas) insisted that it pushes Chinese propaganda on kids. Rep. Matt Gaetz's (R-Fla.) wife, Ginger, complained that Ken has "disappointingly" low testosterone in it. (To be clear, Ken is a doll that literally has no dick.) Conservative "thought leader" Ben Shapiro, who's admitted he's never made his wife wet, called it a "flaming garbage heap of a film." The National Review whined about Greta Gerwig's "jaded-feminist adult social messaging." And now, the Wall Street Journal's Kyle Smith (could there be a better name for a man mad about the Barbie movie?) has written a bitter review that finally pushed me over the edge into needing to see this film as soon as possible.
"While Barbie is discovering herself," Smith writes, "Ken learns that real society is male-dominated and uses the lesson to turn Barbieland into the Kendom—a bro paradise of brewskis and weight lifting. In his ideal state, 'Everything exists to expand and elevate the presence of men.' Spot the joke? I don't. 'Barbie' contains more swipes at 'the patriarchy' than a year's worth of Ms. magazine."
No offense to Ms., but any review that considers a magazine founded in 1971 to be the epicenter of current feminist thought is probably named Kyle Smith.
Smith continues: "As bubbly as the film appears, its script is like a grumpier-than-average women's studies seminar."
Firstly, any man who would characterize a women's studies seminar as "grumpy" is not the first person I'd assign to review Barbie. Secondly, to add context to these observations (as I admittedly haven't seen the movie), let's revisit Jezebel's own review of the film by Rich Juzwiak:
Gerwig manages both reverence and mockery without coming off mealymouthed as she surveys Barbie's past, the universe created for the dolls, and the implications of a through-the-looking-glass society in which women dominate every industry and the men are afterthoughts. (Ken was, after all, developed and released in 1961 specifically to be Barbie's boyfriend.) What emerges is an easy-on-the-eyes meditation on patriarchy that doesn't feel like a live-action Twitter thread or an undergrad seminar, mostly because it's comfortable with many right answers and concerned with contextualizing how many, many children have played with this toy.
Juzwiak concludes in the same review:
It's also undeniable that the Kens do represent a repressed class in Barbieland, and so their uprising (as overcorrecting as it is) is only logical. At the root of patriarchy is the notion of supremacy, which Barbie herself has absolutely upheld with her own fused-fingered hand, and merely flipping the binary would not be enough to solve the problem. But given how much men and their decisions have doomed this world, and given the fixedness of their power, you can see why it seems worth a try. Barbie argues that idealized play is a fine way to cope. It's a way to take your mind off things and aspire for better, which is, in a meta way, exactly what Gerwig is doing here.
Is Barbie a feminist triumph? Is it simply an enjoyable film that has feminist themes? I don't know yet, I'll decide when I see it. But will I burn my finger clicking the "buy ticket" button for this weekend now that a man at the Wall Street Journal got this mad about the movie? Absolutely.