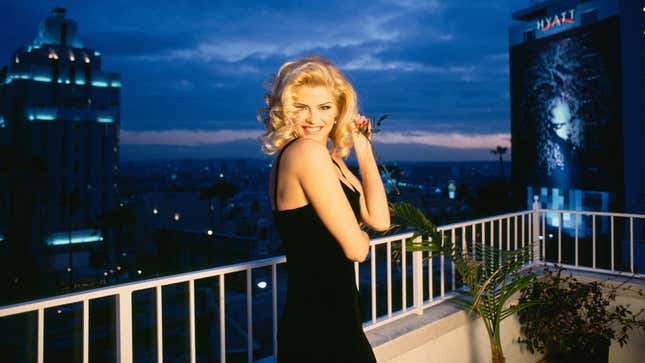 The year is 1993 and Anna Nicole Smith, a small town girl turned sudden superstar thanks to Playboy and Guess co-founder Paul Marciano, is on the phone. Her platinum hair is coiled into neat rows of curlers, lips lined in petal pink, and Texan lilt still unmistakable.

Jennifer Hudson Achieves EGOT Status, is True American Idol
"There's two major movies that want me at once and they're both shooting at the same time," she explains to the person on the other end, lazily doodling hearts and her son's name on a yellow legal pad. One of the films in question is Chuck Russell's The Mask. "It's got Jim Carrey in it...that funny guy," she says. "I love the script, but the thing is, they offered me...I have a lead role, the lead girl role...this is embarrassing," she continues. "They offered me $50,000."
"Business," Smith sighs, placing the phone back in its cradle. She's dismayed but resigned. The role will go to Cameron Diaz and land her on the A-list as one of Hollywood's go-to leading ladies. Smith, however, will book only bit parts as "blonde woman in club," or, worse yet, crude caricatures of herself. As it's been revealed time and again, she was quite adept at embodying the latter.
Anna Nicole Smith: You Don't Know Me, premiering May 16 on Netflix, attempts to discern where Anna Nicole Smith ends and Vickie Lynn Hogan (her birth name) begins. However, if one was hoping for a definitive answer, they won't get it. The two-hour documentary, directed by Ursula Macfarlane (Untouchable, The Lost Sons), traces the tragic trajectory of the model, actress, and, for better or worse, tabloid magnet with the aid of archival footage, private photographs, and the sometimes quite stunning candor of family and friends. Smith's story is told with empathy—that is, until its final moments, when the documentary abruptly introduces contradictions about the woman whose likeness was once on the cover of every gossip rag in the grocery store checkout line. Frustrating as that is, I get it. There's a certain allure to not knowing Anna Nicole Smith.
As her family testifies throughout the documentary, Smith was a person motivated by attention right from the start as she came of age in the Bible Belt. Though it didn't take much for her to get it, Smith's native Mexia, population 6,876, was never going to satiate her. According to her uncle, Smith held ambitions far beyond the "life of deprivation" he describes as being part and parcel for the rural town. By her family's account, in addition to being adored, Smith desired the kind of independence that often accompanies immense wealth. Getting the hell out of Mexia, where she was the object of the affection of dozens of men, was the first step in manifesting that destiny.
"We would go to the mall, and I swear to you, there would be 50 men and boys walking behind us," her now-deceased mother, Virgie Arthur, recalls via voice recording. "Vickie was always beautiful. She was just born beautiful."
Though, as most things in Smith's life, her beauty had a way of complicating things—for starters, her relationships, as the documentary outlines. When she was a teenager, Arthur and Smith's relationship began to chafe, so much so that Smith moved in with her aunt and uncle, who were forced to nail her windows shut to prevent her from sneaking out to be with a 29-year-old man who was infatuated with her. By 17, Smith had dropped out of high school, married a co-worker at Jim's Krispy Fried Chicken, and given birth to her son, Daniel. The marriage didn't last—due mostly to her husband's jealousy. So, with sights set on Houston, she packed up her son and her dreams and finally left without looking back in 1986.
"I want to buy me a whole bunch of land," Smith said in an early interview. "And I want to create my own house and build it...and build a nursery because I want to have another child. I want to have a little girl."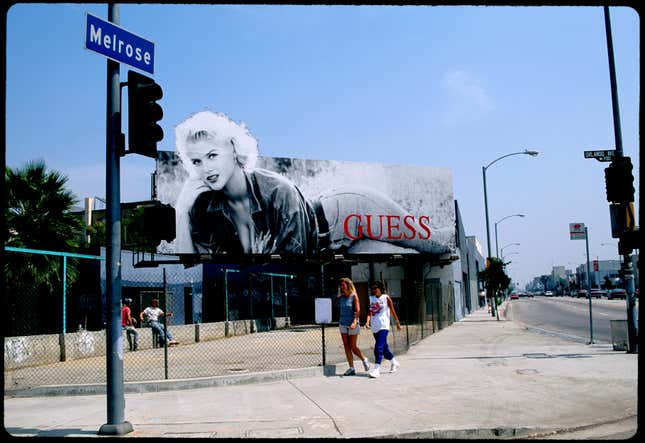 All of this, of course, sounds like the same origin story we've heard of Smith before. Enter Melissa "Missy" Byrum, Smith's former friend, personal assistant, and apparently, lover. By Byrum's account, the buxom blonde was not just a heteronormative hottie hanging on the arms of older men. That Smith was privately bisexual is only the first of seemingly ceaseless bombshells from Byrum, who's also written a book recounting their time together. In fact, of everyone in the documentary, she provides the lion's share of enthralling anecdotes about Smith. Byrum speaks plainly about their introduction as co-workers at the Executive Suite, a strip club in Houston ("She couldn't dance. She looked like an emu trying to fly."); their friendship ("When we got together, it was combustible. Shit happened."); and their romantic relationship ("I was her first female lover, I guess. I was definitely in love with her.").
It was Byrum who was beside Smith as she established seniority in the Executive Suite, and Byrum who assumed the role of Smith's assistant and live-in caretaker for her son as her modeling career began to take off. Byrum also got one of the most intimate views of Smith's relationship with the 86-year-old billionaire oil tycoon J. Howard Marshall II, who she recalled was hellbent on marrying Smith right after they met at the Executive Suite. But Smith denied him until she felt she'd achieved success in her own right.
"'I'm not going to marry you until I've made a name for myself, because I don't want people calling me a gold digger,'" Byrum recalls Smith informing him. Still, Marshall helped with making the right connections on her behalf. Not long after they began a relationship, she would nab her first Playboy cover.
In a particularly noteworthy account from Marilyn Grabowski, the Playboy photography editor who made Pamela Anderson a cover girl three years prior to Smith, she describes meeting a winsome albeit timid Smith with little else in hand than a record—Marilyn Monroe's "Diamonds Are a Girl's Best Friend." She could barely pose in front of a camera, until Grabowski played said record. Smith, she said, gave the performance of a lifetime. The Guess Jeans campaigns, film offers, and comparisons to her idol Monroe soon followed.
"Fame finds people and won't let 'em go," Grabowski dolefully tells us. Fame, as it happened in Smith's case, did not let go. As soon as Smith became a household name due largely in part to dogged—borderline depraved—paparazzi attention, it seems celebrity's embrace became a chokehold. Especially as tragedy in Smith's personal life struck, first in the form of a reunion with her long-estranged father, Donald Hogan, and younger half-brother Donnie.
"She wasn't getting along with her mother. That's why she got ahold of our father," Donnie says. "Everybody wants to look up to somebody."
Byrum reveals that Smith, at the height of her fame, hired a private investigator to find her father, who she hadn't seen for 24 years, and flew him and Donnie to Los Angeles for a visit. What began as an optimistic experience for Smith, however, became the first of many blows.
"She told me her father tried to have sex with her," Byrum relays of the short-lived reconciliation. "She had all these ideas in her head about what he was like and she was just so, so disappointed."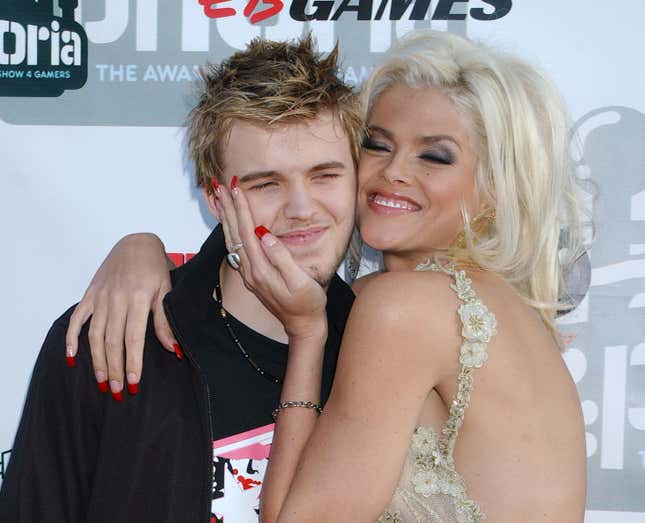 Not long after, she and Byrum fell out as Smith's prescription drug use became more frequent. "My friend that loved me wasn't there anymore," Byrum tearfully recalls of Smith's early struggles with addiction. Then, in 1995, Smith's second husband Marshall died. Many can recall the lengthy trial that ensued and became an exercise in humiliation for Smith, who was portrayed by media—and Marshall's son, Pierce—as an insatiable glutton who had the gall to demand money she didn't earn. Those who don't know her story as intimately are still likely to believe Smith wasn't just a gold digger, but a successful one—a reputation we're repeatedly told she sought to avoid. Only, Smith didn't receive one red cent from Marshall's estate, worth $1.6 billion, as his son made certain despite his late father's insistence on taking care of Smith and her son.

"It wasn't a sexual, 'Baby, oh baby, I love your body' type of love," Smith told the court. "It was a deep, 'Thank you for taking me out of this hole, and thank you for saving my life and my son's life…' That's the kind of love that me and my husband had for each other."
"She kept looking for someone else to save her," Smith's attorney, Kelly Moore, recalls of the time. From this moment—about little more than halfway through the documentary—to the end, Smith's sorrows mount and mount to near-suffocation. Her struggles with addiction worsened, as did public scrutiny surrounding everything from her weight, to her dwindling finances and futile attempts to better them (The Anna Nicole Show, Trimspa), to her often erratic behavior.
All of it builds to Byrum's final revelation in the documentary's last eight minutes: In short, that some of Smith's purported origin story—that she was a teenage runaway who'd fled poverty, abuse, and a totalitarian mother—was an exaggeration. Byrum describes watching an interview with Smith made public weeks before she died of an accidental drug overdose in 2007, shortly after the birth of the daughter she had long wanted. In it, Smith alleged physical and sexual abuse perpetrated by her mother, Virgie Arthur, and stepfathers.
"I was shocked, because I knew that was not her childhood coming out of her mouth. That was my childhood," Byrum says. "That was exactly what happened to me in the way that I relayed it to her."
"The only person that I ever remember coming to her rescue was her mother over and over and over," she adds. Other family members, too, affirm Byrum's account. "They did talk to each other behind the scenes, and they cared about each other," Donald Hart, Smith's other half brother, says.
But what's presented by the documentary as perhaps the most damning refutation comes directly from Arthur in an interview before she died in 2018. Arthur lamented frustration with her daughter for painting a negative—and by her assertion, inaccurate—portrait of her childhood.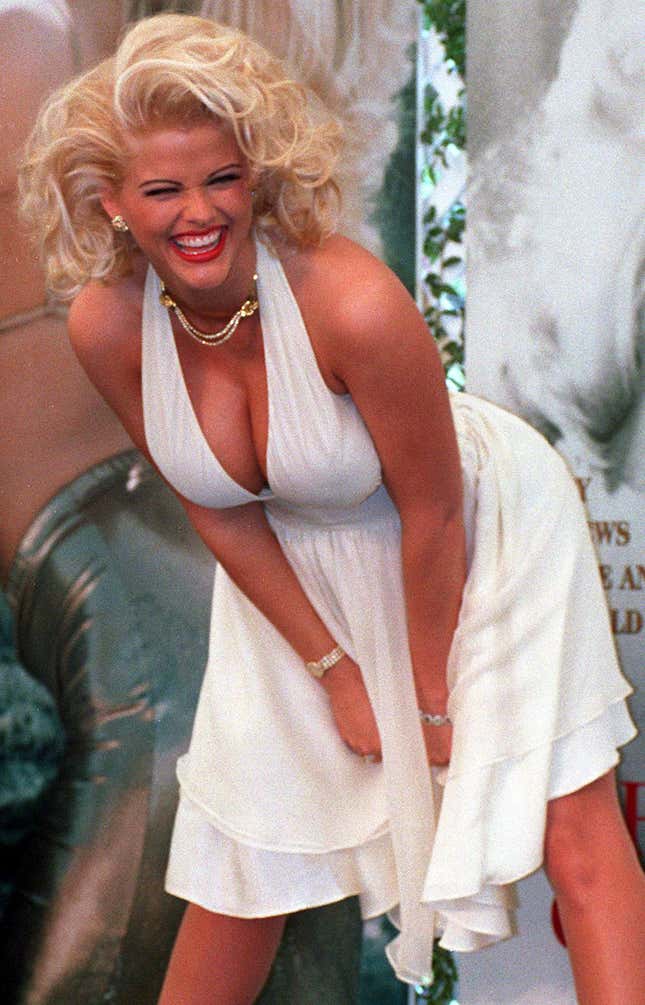 "'I wish you could just understand that I make more money telling sad stories than I do telling good stories,'" Arthur said Smith told her when confronted. "'If it's something really bad, I make 50 times the amount of money than I make if it's good.'"

Frankly, it's maddening that You Don't Know Me didn't just begin here. There's a chance Smith was telling the truth, and yet, her account of alleged abuse doesn't seem to be handled in the way it deserves, given that only Byrum and certain members of her family are able to speak to the accusations. Worse yet is that they're presented in a way—buttressed between multiple disputes and just before the credits roll—that instantly encourages doubt. It's especially disappointing considering a particularly staggering moment earlier in the documentary sees Donnie learning that their father had tried to have sex with her after they reunited. His knee jerk reaction is one of disbelief, despite the fact that elsewhere in his interview, he refers to their father as "a monster," and alleges his father once told him he'd raped his wife's younger sister when she was still a child.
"My dad? Assaulted her? That would be like him. But is it true? It couldn't be. I was there every step of the way," he initially asserts. Then he takes a beat. "But you know, I wouldn't put it past him. I guess I wasn't there all the time."
You Don't Know Me is Blonde-esque in that it fails to care why Smith might've felt the need to lie even before achieving fame, and later, infamy. In fact, there are so many allusions to Smith's self-identified spiritual kinship with Monroe that one can't help but wonder if the filmmakers are prompting us to ask whether she borrowed more from the icon than her platinum curls to cash in and curry favor; more specifically, an origin story—one punctuated by childhood trauma, exploitation, and a demise so singular to Hollywood it could spawn a hundred documentaries just like this one. If that's true, then the irony is that Smith needn't have. Her life was already pretty fucking sad.