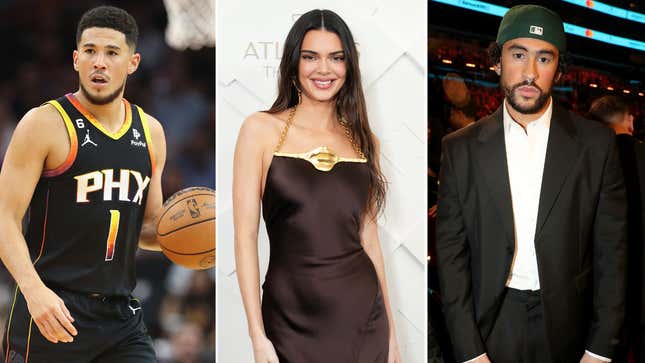 Devin Booker appears to be—as some fans have put it—"in his feelings."

As of Tuesday afternoon, the Phoenix Suns player seems to have unfollowed ex-girlfriend Kendall Jenner amid rumors that she's in the throes of a hot new romance with Bad Bunny. These rumors started last week amid unverified fan reports that the two were seen making out at a club. But by Monday, People confirmed Jenner and the musical tour-de-force (also known by his legal name, Benito Antonio Martinez Ocasio) were, and I quote, "hanging out" and *gasp* "having fun." In 2023, that is the height of modern romance.
Fans have speculated that Booker must be especially upset as he's unfollowed not just Jenner, but her best friend Hailey Bieber—he and Jenner notably went on many a double date with Hailey and Justin, so it seems someone's quite committed to purging all memories of a past romance. In contrast, Jenner still appears to be following Booker, meaning she either hasn't yet clocked one less Instagram follower among her nearly 277 million, or she's opting to win the break-up by publicly rising above the pettiness.
It's not clear exactly when the two broke up after first going public in early 2020. Jenner dedicated a pretty romantic birthday post to Booker at the end of October, but by mid-November, sources confirmed their split to People. "Both have incredibly busy schedules right now with their careers and they've decided to make that a priority," one said. Another told the magazine the exes "have a lot of love and respect for each other and wish only the best." But clearly, despite how months have passed, the wound is still raw enough for Booker to be unable to stomach following along as Jenner embarks on a new relationship (situationship?).
G/O Media may get a commission
25% Off
Coleman SaluSpa Inflatable Hot Tub Spa
As we speak, mass riots are breaking out across the internet in response to Jenner and Bad Bunny emerging as a new hot couple, namely because the latter is the most wanted man in the world and, at least on Twitter, Jenner is better known as the human embodiment of the "go girl give us nothing" meme. It goes without saying that Jenner is conventionally hot, but what seems to have the internet in a furor is that she is consistently dating the most universally coveted, and, in some cases, interesting men in the world, and she's doing so without a trace of spice or personality. Her all-star roster of exes, which, mind you, I would commit atrocious crimes for, includes Harry Styles, Michael B. Jordan, A$AP Rocky, Booker, and, of course, part-time NBA player and full-time Instagram model Ben Simmons. Jenner can now, apparently, add Bad Bunny to the list.
What I will say is that the public reaction to revelations about Jenner's apparent pursuit of Bad Bunny is essentially what my reaction to Jenner dating Booker for nearly three years was. Outrage. Despair. Envy so all-consuming and visceral that merely seeing photos of the two together physically hurt. The kind of yearning that makes you follow and unfollow and re-follow and unfollow.
As I've, for some reason, been allowed to express on numerous occasions, I am in love with this man, and his apparent emotional breakdown over Jenner moving on only solidifies my certainty that I and I alone could treat him right. If I thought the vulnerability and humanity he displayed in his crushing (arguably humiliating!) loss to the Dallas Mavericks in May intensified my love for Booker, seeing him essentially, publicly in tears over Jenner takes all of my feelings to another level. I'm not above admitting I have a thing for sad men—and between this and his recent, weeks-long "severe" groin injury, Booker seems sadder than most. He needs a hug. He needs Applebee's. He needs someone capable of posting with the thirst and vigor of his 2012 self. He needs me. And so, I am once again writing: Devin Booker, you shouldn't be alone tonight.