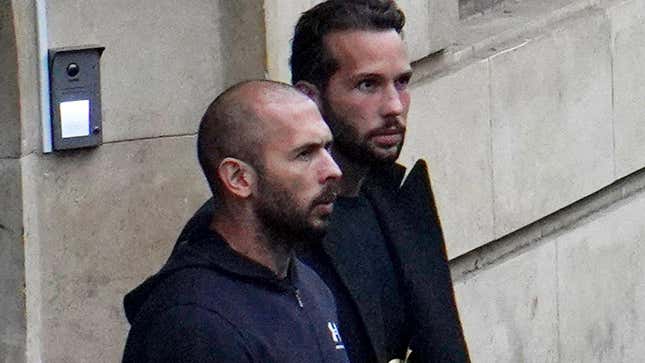 Andrew Tate and his brother, Tristan, have filed a lawsuit against a Florida woman and British woman, alleging that the women falsely accused the brothers of trafficking and imprisoning them in Romania, the Associated Press reported on Friday. The Tates claim these allegations led to their arrest last December and their subsequent three-month stint in Romanian jail on charges of rape, human trafficking, and forming a criminal gang to sexually exploit women. The Tates were released on house arrest at the end of March; it's not yet clear when their case will go to trial.
Andrew and Tristan Tate are suing the Florida woman, her parents, the British woman, and a male friend of the Florida woman for $5 million in damages in Palm Beach County, where the unnamed Florida woman resides. They claim the women's allegations cost them their freedom and millions of dollars in income from their varying social media, podcasting, and business ventures.
"At no point did the Tate brothers engage in human trafficking," the lawsuit states. The Tates' attorneys also claim the Florida woman "is a serial liar" who "exploits vulnerable, often wealthy men with good intentions for sexual, financial and emotional profit."
According to the suit, Tristan Tate met the Florida woman on a dating app in 2021 while he was in Florida, and the two began a sexual relationship before he returned to Romania two weeks later. They kept in touch via text and, in April 2022, Tristan flew her out to Romania—"in the spirit of fun and adventure," the lawsuit notes—to help her pursue a modeling career, the lawsuit says.
The lawsuit claims that when she arrived, she spent a few days at one of the brothers' Romanian estates, and she and all women staying there had full freedom to come and go as they pleased. According to the brothers, while staying with them, the Florida woman met the British woman and the two attempted to defraud the Tate brothers for $200,000. When this was unsuccessful, the Tates claim the two women then conspired with the Florida woman's male friend and her parents to contact the U.S. embassy and falsely report the Tates for trafficking.
It's unclear at this time whether the brothers will also take legal action against the five other women who have accused them of human trafficking.
In sharp contrast with the claims made in the Tates' lawsuit, the Romanian crime agency DIICOT alleges that Tate and his associates lured seven victims (including the Florida woman and the British woman) to Romania on false pretenses by deceiving them into thinking they were in romantic relationships. Upon arriving at the brothers' Romanian estate, the women were allegedly subjected to physical violence and sexual exploitation, which includes being forced to work for the brothers' webcam business.
In addition to these allegations, while Andrew Tate was imprisoned in Romania earlier this year, multiple reports emerged detailing allegations of rape and gender-based violence perpetrated by him. In 2015, he was investigated by U.K. police after being accused of rape by three women and assault by another. And in June, Tate received a legal letter from four women accusing him of sexual assault and physical violence and warning him of forthcoming legal action in London's High Court.
Despite Tate's frequent, often very dramatic proclamations of his innocence (and allusions to a Matrix-like conspiracy against him), his own social media posts and very public explanations of how his businesses run function as evidence against him. His social content has often endorsed or glorified violence against women, and Vice has noted that descriptors of his business model on his website sound a lot like the definition of human trafficking.
It's not uncommon for men—especially famous men—accused of abuse to take legal action against the women accusing them, and portray themselves as the real victim. Still, Tate's suit against two of the women who have accused him of trafficking is especially concerning given his massive platform and fan base of young men and boys who have proven highly susceptible to his specific brand of misinformation.