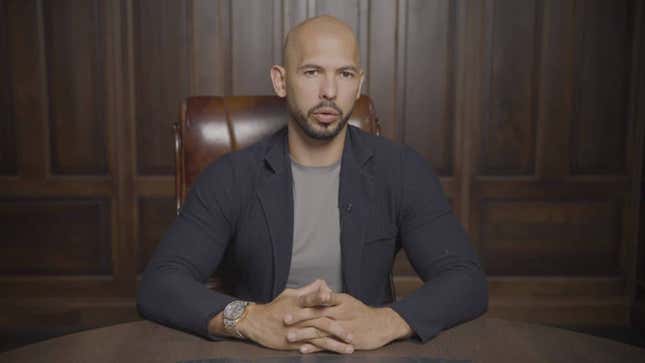 Two women have told Vice World News that Andrew Tate, the viral misogynist influencer detained on human trafficking and rape charges in Romania last week, beat and assaulted them and other women in the U.K. seven years ago, while they were working for his webcam business out of an apartment where many of them lived with Tate. One of the women, identified by the pseudonym "Sally," says Tate regularly strangled her and other women who were recruited to his webcam business. Another woman, identified as "Helen," says Tate raped her one night, which Sally claims to have witnessed.

Revisiting the Ethically Dubious Singing Show, Superstar USA
Both women decided to go to the Hertfordshire police in 2015, but police ultimately took four years to direct their case to the Crown Prosecution Service (CPS)—the agency that determines whether there is a realistic chance of conviction—and CPS declined to prosecute Tate.
Helen told Vice that she received a letter from CPS telling her that the agency wouldn't charge Tate due to voice notes between the two women. According to Helen, in the voice notes, the women described drinking heavily during the incidents when they say Tate attacked them. The women say the voice notes between them from the time have since been deleted, and they were unable to share them with Vice.
According to Vice, at the time that Sally and Helen reported Tate to police in 2015, it was still common for police to demand that people reporting sexual assault turn over their phones so police could search for incriminating private messages. The U.K. government has since pushed for police departments not to pressure people reporting assaults to share their data.
In a statement, CPS said, "There were a number of evidential issues that led us to conclude our legal test was not met," prompting the agency's decision to not prosecute Tate. Helen and Sally say that the lack of accountability for Tate allowed him to rise to global super-stardom as an influencer teaching his violently misogynist ways to millions of men and teenage boys.
In 2016, while police were investigating Helen and Sally's claims, Tate was briefly a contestant on Big Brother. He was removed from the show around the same time that a video of him appearing to beat his girlfriend with a belt and slap her began to circulate, prompting many to believe this was the reason Tate was removed from the reality show. Tate claimed the activities in the video were consensual—but Vice reports that the ongoing police investigation into Tate stemming from Sally and Helen's reports was the actual reason he was removed.
Sally told Vice that Tate would routinely strangle and physically attack women in the apartment. "Me and another girl would wake up in the morning with these, like, red, I can only describe them as freckles around our eyes," she said. "It was from when he choked me so hard that my blood vessels had literally just burst."
Sally recalled that once, Tate walked into a room and said, "'Which one of you hoes am I going to strangle today?' I couldn't believe that that was our life, you know? But it just seemed really, really normal for us, even though it wasn't." She said she also "saw him smack girls with a belt," and claims that a poster on the walls of the workplace stated: "If there is ever a problem, if there is ever a glitch / Big Tate won't wait, straight slap a bitch."
One night, Sally says she came out of the shower to see Tate raping Helen. Helen previously shared the allegation in a TikTok last year, but she told Vice that it was taken down after being mass-reported by Tate supporters. Shortly after the assault, Helen left Tate's business, and Sally joined her about two weeks later.
"I just wanted to get out of that situation," Sally said. She claims Tate threatened to beat her up in a bathroom when she confronted him. "He said, 'Oh, I don't give a fuck if you call the police, I'm going to beat the shit out of you.' That's kind of when I knew, you know, I had to go with her."
Tate's lawyers have denied the women's allegations. "They wanted money because I fired them," Tate told Vice via his lawyer, as he remains in Romanian custody. "The police understood after the investigation that I am innocent and the police found messages from the girls' phones where they were talking between themselves and planning to lie about me."
Of course, Tate's own "business advice" and social media posts closely corroborate the women's claims. In some of his viral videos, he gives men advice on how to beat and strangle women. He claims women can't drive, are men's property, and "bear responsibility" for being raped. He says he moved to Romania specifically because the Me Too movement is less salient there. "This is probably 40 percent of the reason I moved to Romania, because in eastern Europe, none of this garbage flies," he said in one video.
Just one in 100 rapes in the U.K. result in a charge, per data from Rape Crisis England & Wales. Both women told Vice that cases like theirs dissuade survivors from going to police and blame Tate's rise to fame and massive platform on his ability to evade justice seven years ago.