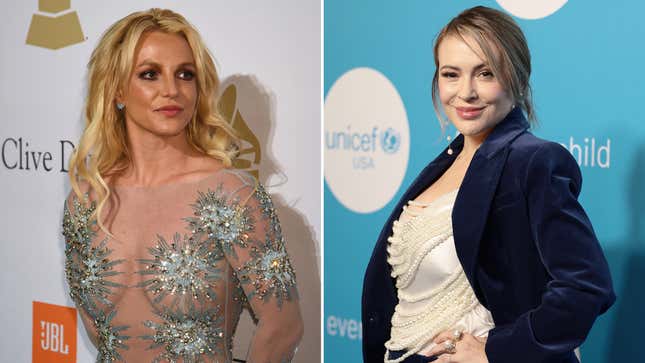 Days after obsessive fans made calls prompting police to perform a wellness check on Britney Spears at her house, Spears publicly addressed Alyssa Milano over an old, unhelpful tweet. On December 20, Milano tweeted, without any context or explanation, "Someone please go check on Britney Spears." At the time, fans were sharing baseless conspiracy theories that Spears was in danger, missing, or dead—citing their own unhinged over-analysis of her social media activities.
But by Wednesday afternoon, TMZ reports that Milano personally reached out and apologized to Spears for the tweet. According to the tabloid, it's not clear "if Britney reacted to Alyssa's apology, or what exactly Alyssa said in her message." In any case, it really seems like the damage is already done: In a Tuesday evening Instagram story, Spears shared a screenshot of Milano's tweet and wrote, "It saddens me to see things about me from people who don't know me!!! Ladies, we are supposed to be rooting for one another not pulling one another down!!!"
It's precisely this sort of circa-2012, surface-level, "women supporting women" feminism that Milano herself has built her entire ~activist~ brand around, and so I can only imagine that having Spears say this to her, of all people, was a gut punch. Spears also added that Milano's tweet "definitely feels like a form of bullying"—especially from "people who don't know me." Woof.
On Wednesday afternoon, TMZ reported that Milano personally reached out and apologized to Spears for the tweet. It's unclear if Britney responded.
G/O Media may get a commission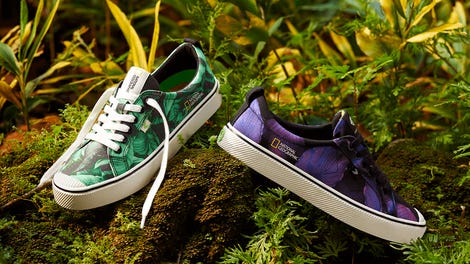 New New New
Cariuma + National Geographic
Apology or not, as my Jezebel colleague, Audra Heinrichs, put it: "One thing about Alyssa Milano? She will collect causes she knows nothing about." Clearly, Spears' wellness ever-so-briefly became Milano's cause du jour back in December, and I am really not surprised. Forever seared into my brain is Milano attempting to make herself the face of the abortion rights movement in 2019 when, instead of donating to and raising awareness about abortion funds, she insisted that the solution was a "sex strike." Cool! That is to say, of course, an "activist" of her caliber would self-insert into Spears' life.
Last week, Spears addressed her fans directly after police—and Spears—confirmed that they'd conducted a wellness check prompted by calls from Spears' "fans." In several viral TikToks, some of these self-identified fans recorded themselves appearing to call the Ventura County Sheriff's Office to express concern about Spears. "As everyone knows the police were called to my home based on some prank phone calls. I love and adore my fans but this time things went a little too far and my privacy was invaded," Spears wrote in a Thursday statement posted to Twitter. "The police never entered my home and when they came to my gate they quickly realized there was no issue and left immediately."
Spears further wrote that the aggressive speculation into her safety made her feel "like I was being gaslit and bullied," particularly as the wellness check "made it to the news and [was] portrayed again in a poor and unfair light by the media."
Until the end of 2021, Spears lived for 13 years under a conservatorship that surveilled and policed every aspect of her life and was justified by assumptions and narratives about her mental health. I cannot even imagine how invasive, violating, and possibly retraumatizing the wellness check and recent, needless media scrutiny about her mental health have been. Any contact with law enforcement for anyone can be triggering and dangerous enough, even without viral conspiracy theories and headlines following the same pattern of media coverage that ultimately led to Spears' conservatorship being created in the first place.
That the source of this harassment campaign is largely social media users who claim to be Spears' fans is especially jarring. As writer Gerrick Kennedy recently pointed out, it seems like "Britney's fans are harassing and stalking her in this manner, after proclaiming how badly they wanted her free."
In addition to Spears' Twitter statement last week and her Tuesday Instagram story addressing Milano directly, Spears also explained over the weekend that she'd temporarily deactivated her Instagram on numerous occasions because of the scrutiny and viral theories that her posts were fueling. "I shut down my Instagram because there were too many people saying I looked like an idiot dancing and that I looked crazy," she wrote. "Honestly I was doing my best but it disturbed me to see people freely talk about it on TV … yep it hurt my feelings."
That constant, insidious attacks on Spears are forcing her to constantly defend herself and hide from social media is heartbreaking and frankly gross. I cannot emphasize this enough: Britney is free, and now, the most helpful thing we can all possibly do for her is, to leave her alone.