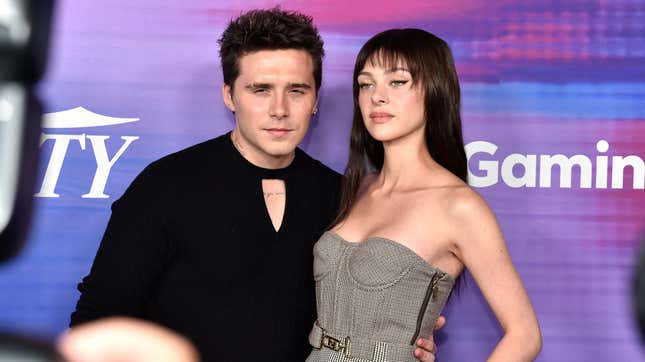 Remember when burgeoning chef, photographer, and stylist Brooklyn Beckham and his now-wife, Nicola Peltz, held a gallingly lavish wedding despite that fact that just one week earlier, hundreds of migrant workers protested "modern day slavery" and various human rights violations outside of her billionaire father's $23 million Palm Beach office? I do! Well, it appears their big day—shot exclusively by British Vogue—was preceded by even more drama and dickishness behind the scenes.

Infamously Thin-Skinned Man Joins Twitter's Board
Per a new lawsuit, Nicola's papa, Nelson Peltz (a penitent Trump supporter), claims he never received his $159,000 deposit (the cash he finds in his couch cushions, to be clear) back from his daughter and son-in-law's former wedding planners, Nicole Braghin and Arianna Grijalba of Plan Design Events (PDE), after the Peltzes fired them. I'll note that the planners were the couple's second (of three), after they axed A-list-adored Preston Bailey just six weeks before walking down the aisle. Why were Braghin and Grijalba fired, you might wonder? To paraphrase Peltz's attorneys: They couldn't hack the demands of a 500-person VIP guest list comprised of "numerous celebrities, athletes, dignitaries, and other influential individuals."
According to the filing, the Peltz family assumed Braghin and Grijalba would be able to pull off the bloated nuptials on a tight time schedule—but alas, they had some trouble, namely, as text exchanges show, in dealings with the bride-to-be. Submitted evidence features a slightly amusing back-and-forth about the attendance of Formula 1 driver Lewis Hamilton: Peltz, whom her dad describes as a "world-famous actress," claims Hamilton informed the couple he wasn't able to make it, yet the planners noted he'd rsvp'd yes. Gasp! Peltz deploys all-caps a few times before telling them, "I'm tired of catching mistakes on this rsvp list honestly."
"Peltz had presented them with the opportunity of a lifetime–to have their names associated with the wedding of two world-famous celebrities, which would undoubtedly propel PDE into wedding planning stardom," the suit reads. "In reality, however, it later became clear that PDE viewed this is as an opportunity to take advantage of Peltz by making material misrepresentations on both their website and in person regarding their experience, expertise, and capability of planning the wedding."

It gets worse. Peltz's attorneys later imply the planners "abused alcohol," stating that, "references to alcohol use and possible abuse were not unusual." One screenshot shows Arianna—listed in Peltz's phone as "Adrianna"—casually telling Peltz she was "going for a tequila." But Peltz's reply doesn't reflect much concern. "Yes queen!!!!!" she texted back.
"During their nine days of negotiations, PDE failed to book a single new wedding vendor, failed to finalize the terms of any agreements with any of the vendors that had previously been selected by Peltz and his family, and failed to attend previously scheduled meetings with Peltz," the suit claims.
On numerous occasions after the pair was fired on what the elder Peltz patriarch called "the day of reckoning," he purportedly asked for his meager deposit back, yet they refused to return it. Peltz, I should mention, is worth $1.4 billion dollars.
As someone whose most prized hobby is giggling at the spectacle of elite weddings—which always seem to end up just fine, by the way—I simply have to laugh.
---