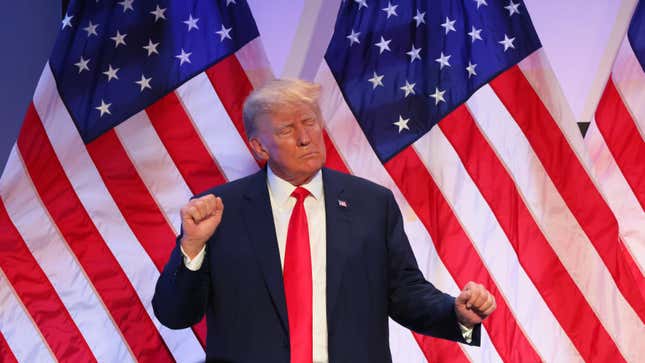 Twice-impeached former President Donald Trump was indicted Tuesday on four federal charges for inciting violence ahead of the January 6 insurrection at the Capitol. It's his second federal indictment in just 60 days; Trump was also indicted on June 9 for retaining classified documents at his Mar-A-Lago estate. So, yes, our boy is currently averaging a federal indictment per month.
Ted Cruz Won't Commit to Pleasuring a Man to End World Hunger
The specific charges resulting from Special Counsel Jack Smith's investigation are: conspiracy to defraud the United States, conspiracy to obstruct an official proceeding, obstruction of and attempt to obstruct an official proceeding, and conspiracy against rights.
Of course, earlier this year, the Manhattan District Attorney indicted Trump on charges related to a $130,000 hush-money payment to former porn actor Stormy Daniels. And there's yet another ongoing investigation into his failed attempts to get Georgia officials to call the state in his favor in the 2020 election; Fulton County District Attorney Fani Willis said her office will announce charging decisions by September 1. Trump is also, of course, facing a second defamation suit from the writer E. Jean Carroll after he mocked her on air during a CNN town hall. The jury in the first suit found Trump liable for sexual abuse and awarded Carroll $5 million in damages.
Trump previewed the news on Truth Social, per reporter Andrew Feinberg. Trump wrote: "I hear that Deranged Jack Smith, in order to interfere with the Presidential Election of 2024, will be putting out yet another Fake Indictment of your favorite President, me, at 5:00 P.M. Why didn't they do this 2.5 years ago? Why did they wait so long? Because they wanted to put it right in the middle of my campaign."
Trump's claim that prosecutors are trying to sabotage his campaign is best viewed in the context of the fact that the Department of Justice has concluded that sitting presidents can't be charged with crimes. At least one presidential hopeful had the guts to call a spade a spade: Former Congressman Will Hurd said at a dinner in Iowa that "Donald Trump is not running for president to represent people that voted for him in 2016 and 2020. Donald Trump is running to stay out of prison." Hurd was booed off the stage.
Trump remains the frontrunner for the 2024 Republican nomination despite—or perhaps because of—his multiple indictments. He's consistently polling more than 30 points ahead of the next closest candidate, Florida Gov. Ron DeSantis (R).
If past is prologue, this latest indictment could just make Trump poll even higher.