If you could, please try to remember the year 2012. The summer Olympics were held in Londontown and the United Kingdom's best export (excluding Paddington, Winnie the Pooh, and any adorable bears, really) the Spice Girls reunited to perform at the closing ceremony. It was really something, chuck full of mini coopers and grrrl power, but apparently not enough for some because the past six years of these incredibly rich ladies' lives have been punctuated with "reunion?" questions from press and fans alike.
In my mind, they just did that, but that wasn't a tour and everyone craves more. On Thursday, Mel B—Scary Spice if you're nasty—paid The Late Late Show a visit and confirmed to host James Corden that, yes, a proper Spice Girls reunion tour is in the works, but the tour slowed when Victoria Beckham (Posh Spice) pulled out—"We'll see about that one. But us four are definitely going on tour. She [Beckham] may join us for a few. She better do," said Mel B. We've heard this one before.
March 2013
Following the success of their Olympic performance, Scary, Baby, Ginger and Sporty Spices gear up for a reunion tour. Posh does not. A source allegedly tells the Daily Record, "She has nothing but love and respect for all of the girls and the journey they went on together." Boo.
May 2015
Ginger Spice gets married; only Scary Spice and Baby Spice attend. No real drama—Victoria Beckham and Sporty Spice were out of the country and couldn't attend. But if you really cared, you'd be there, you know?
G/O Media may get a commission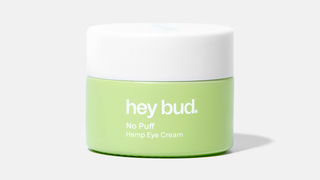 15% off
Hey Bud - No Puff Hemp Eye Cream
July 2016
The three best Spice Girls—Scary, Ginger, Baby—reunite under the name GEM (their birth names Geri, Emma and Mel B) and allegedly work! on! new! music! with their old producer Eliot Kennedy. Once again, where the hell are Sporty and Posh?
October 2016
Posh tells the Sunday Times Style section that she really doesn't wanna reunite, okay?:
"I think I learnt a lot from the Spice Girls, most importantly how you can have everything one minute and then lose it the next. I've been given a second chance, so I'm not going to lose it again... What we did in the Spice Girls was so special. If they sang Spice Girls songs I think I might be a bit sad."
Spice Girl songs? Sad? Hmm.
February 2018
The Spice Girls announce an official reunion to Variety with the following statement:
"The time now feels right to explore some incredible new opportunities together... We all agree that there are many exciting possibilities that will once again embrace the original essence of The Spice Girls, while reinforcing our message of female empowerment for future generations."
...Later February 2018
According to TMZ, the Spice Girls' original manager Simon Fuller is apparently "organizing the tour because he enjoys the girls and the group." TMZ also reports that the Spice Girls will NOT do a Las Vegas residency, even though it's a perfect idea and I'd be there in a second.
June 2018
Mel B. tells Today co-host Hoda Kotb that a Spice Girls reunion tour is in the works:
"I still do [love performing]. I'm the only one that keeps on saying, 'We're gonna be performing,' which we are gonna be performing. Finally they got it together."
September 2018
Back to where we started—Mel B tells Corden it's on.
For what it's worth, no one has checked on Posh in a few days, so perhaps she's changed her damn mind again. For now, I am slamming my body down and I am winding it all around.