Accosted by the roving cameramen of TMZ outside the Grove on Monday, Shameless star William H. Macy agrees with Emmy Rossum that she should get equal pay.

When asked by TMZ about the negotiations in which his co-star is currently embroiled, Macy took time out of his Christmas shopping to politely educate the cameramen about the Equal Rights Amendment. "They wrote the Equal Rights Amendment in 1927, it didn't get passed until 1972. It still hasn't been approved by all the states. It's about fucking time, don't you think?"
For those of you who watch Shameless, you're certainly aware that Rossum does a bang-up job of portraying Fiona, the head of a dysfunctional mess of a family that also includes Frank, a drunk deadbeat dad, played by Macy. They are co-stars and therefore deserve parity. But, Hollywood works in ways that are inscrutable and decidedly unfair, and so Rossum makes less. Hence the contract dispute and the show's production being put on hold while they work this out.

"She works as hard as I do, she deserves everything," he says, before waving nicely to the camera and walking away. Good guy, that one. Let's see if anything actually comes of it.
[TMZ]
---
Kanye West took a meeting with a bad man today for reasons best filed to "who knows" and "ugh." Us Weekly has that hot exclusive on why that happened: apparently Kanye views Donald Trump, the aforementioned bad man, as a "celebrity who is able to influence the greatest office in the world, not as a politician."
G/O Media may get a commission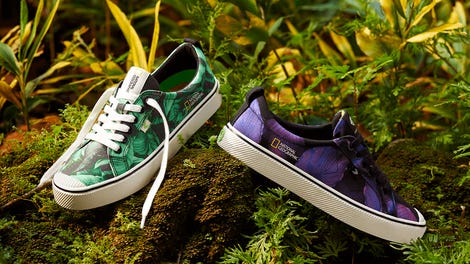 New New New
Cariuma + National Geographic
Great. Really great. Good. Awesome. Glad we had this chat.
When the "insider" who is certainly not Kris Jenner was asked about how his wife, Kim Kardashian felt about that whole thing, they said:
"Kim knew Kanye was coming on this trip. She's not surprised by this," the insider says. "Kim knew that Kanye supported Trump before this. Kim and Kanye definitely differ on their opinions — obviously, she voted for Hillary."
Oh. Thank you. That was very illuminating.

---
Here's Joshua Jackson Pacey-ing his way through an interview with Ellen about online dating.
---