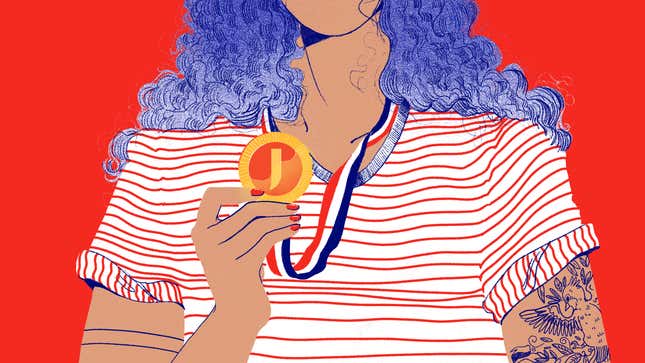 Dun dun dun dunnnn dun dun dun dun dun dunnnnn! Welcome to the second biannual (that means every two years) Jezebel Olympics, but first-ever Jezebel Winter Olympics: Cool Girl Edition, presented not by NBC, but by us, Jezebel.
In 2016, some of you watched as Jezebel competed in its first ever Very Relatable Olympics, in which staffers struggled to throw trash into a trash can, make a tweet go viral, and rile up a fanbase. This year's tournament will test not our competitors' relatability, but instead, how, like, chill they are.
The Cool Girl Olympics will see which of our staff is the Coolest Girl, using metrics given to us by television, books, movies, men talking, and women apologizing, including: being naturally beautiful without wearing makeup (but actually wearing makeup), loving Jonathan Franzen (have you read his sex scenes? So realistic and hot), knowing the difference between a whiskey and a whisky and why that fucking matters!!!, and housing a rack of ribs with a full mouth of unsmudged lipstick.
G/O Media may get a commission
25% Off
Coleman SaluSpa Inflatable Hot Tub Spa
Here is your opening ceremony:
Now, please welcome your 2018 Jezebel Olympic teams. Please—make allegiances, join fandoms, compliment competitors on how much cooler they are than other girls; they really get it, you know?
Team Beer: Kelly Stout, Prachi Gupta, Hazel Cills
Team Wings: Phoebe Bradford, Julianne Escobedo Shepherd, Kelly Faircloth, Rich Juzwiak
Team Football: Madeleine Davies, Clover Hope, Ellie Shechet
Team Franzen: Stassa Edwards, Aimée Lutkin, Megan Reynolds