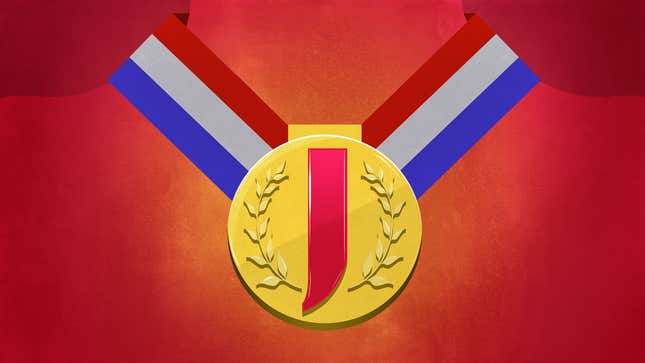 It's rare to find a blogger who has both intellectual and physical prowess (at least in ball sports), and Thursday's competition made it clear that ours have a blind spot when it comes to aim.
Taylor Lautner Doesn't Even Remember Saying 'Bella! Where the Hell Have You Been Loca?'
The event was trash can basketball, in which competitors were challenged to sink as many baskets (using a foam basketball) into a recycling bin in ten shots. As would be expected, several of the men (helpfully) took it upon themselves to iron out issues of game construction which I had neglected.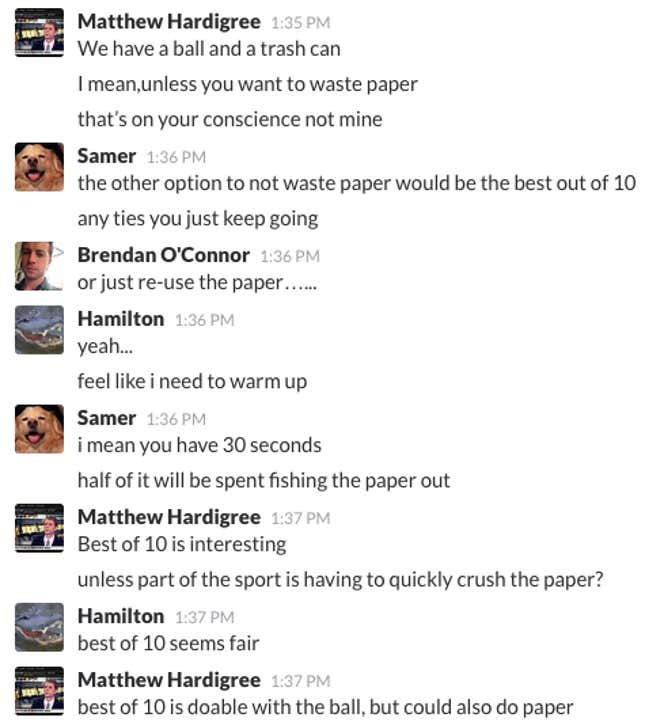 Still, the results were not necessarily indicative of interest in game play.
Team Sex's Clover Hope, who has been a dominant force in this week's events, managed to make zero baskets. When asked about her lackluster performance, she later said, "I hate everyone."
Team Deadmodo's Matt Hardigree, who had been practicing all morning, sunk his first and seventh shots, earning a score of two. Team Fashion's Kate Dries also made two baskets, despite near constant heckling from her rivals, solidifying the two teams' tie for the bronze medal.
Team Celebrity's Bobby Finger, who only reluctantly participated in the games since the rest of his team was out of the office, and who said when he learned of the instructions, "What am I, a sporter?" had a great performance. He made three of his 10 shots to earn a silver medal.
But Team Gawker's Hamilton Nolan—who requested the event in the first place—was unbeatable after sinking five of his 10 shots into the recycling bin with ease. On Thursday, he was the Michael Phelps to Clover Hope's Ryan Lochte.
Following the competition, it was suggested that Team Sex would have done much better if Emma Carmichael, a former Division III basketball player, had competed, but she, too, was out of office. "Damn," Carmichael said. "It's my fault really."
Podium:
Gold medal: Hamilton Nolan, Team Gawker, score: 5/10.
Silver medal: Bobby Finger, Team Celebrity, score: 3/10.
Bronze medal: Kate Dries, Team Fashion and Matt Hardigree, Team Deadmodo, score: 2/10.
Failed to place: Clover Hope, Team Sex, score: 0/10.
Current Standings:
Team Celebrity: 1 Silver medal, 1 Bronze medal
Team Sex: 2 Gold medals
Team Fashion: 1 Silver medal, 3 Bronze medals
Team Deadmodo: 1 Gold medal, 1 Silver medal, 1 Bronze medal
Team Gawker: 1 Gold medal, 1 Silver medal, 1 Bronze medal