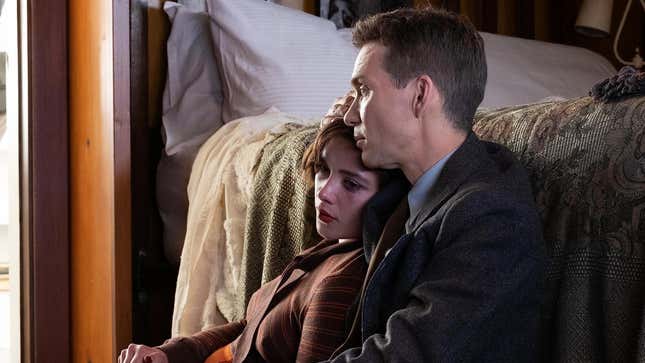 According to a report that originated with The Guardian and eventually made its way to the New York Post, Christopher Nolan's Oppenheimer "features prolonged nudity for [Cillian] Murphy and Florence Pugh." Notably, the Guardian writer, Charlotte Edwardes, states in the piece that she was "not allowed" to screen the film before writing her feature, which includes interviews with Murphy and Nolan. Well, I did see it before writing this, and I can confirm that it does not feature "prolonged nudity for [Cillian] Murphy and Florence Pugh"—at least, not in a particularly revealing way.

Murphy plays J. Robert Oppenheimer, "the father of the atomic bomb," and Pugh is Jean Tatlock, the doctor with whom Oppenheimer was romantically involved both before and after his marriage to Kitty Harrison in 1940. We see Oppenheimer and Tatlock meet at a Communist Party USA soiree and engage in some banter that's extremely Old Hollywood in its zippiness and innuendo:
Tatlock: …You sound uncommitted.

Oppenheimer: I'm committed to thinking freely about how to improve our world. Why limit yourself to one dogma?

Tatlock: You're a physicist. You pick and choose rules? Or do you use the discipline to channel your energies into progress?

Oppenheimer: I like a little wiggle room. Do you always tow the party line?

Tatlock: I like my wiggle room too.
Cut to fucking. They're nude, but the only naughty bits exposed are Pugh's boobs as she rides Murphy, cowgirl style. They break, chat, and his amazing mind is exposed when he reads Sanskrit from a book (her request) as she resumes riding him. Later in the movie, after Oppenheimer is married to Harrison (Emily Blunt), he meets with Tatlock and they have more sex and then a conversation. They're seated in chairs across from each other to chat, and the implication is that they're fully nude, though both have their legs rather severely crossed so that no genitalia is exposed. Who knows what's going on in those creases, in fact. This scene is, on one hand, "prolonged," but on the other, not quite the nudity we were promised, as they're mostly covered (albeit by their own nude bodies).
There's another brief nudity scene just after this, during a security hearing in front of the Atomic Energy Commission in 1954. (These hearings of Oppenheimer's, as well as the Senate hearings for Lewis Strauss' Secretary of Commerce cabinet nomination, form the movie's dual spines, as Oppenheimer regularly flashes back to relevant events based on the hearing discussions.) Oppenheimer's relationship to the Communist Party was heavily scrutinized during the hearings (which eventually lead to his security clearance being revoked), and so the topic of his affair with Tatlock, a card-carrying member of the party, came up. To represent the invasiveness and Oppenheimer's vulnerability, Nolan depicts Oppenheimer nude at the table where the commission is grilling him (again, full nudity is only implied, as we see him from the chest up). We cut to Tatlock riding him while facing him as he sits in his chair (they really loved that position). And that's about it. It's racy for Nolan, but unremarkable if you have an internet connection and the ability to Google sexual imagery.
Oppenheimer is rated R for "some sexuality, nudity, and language," but it's a soft R—about as soft as the dick we don't get to see. Pugh is good (when isn't she?), but her performance is brief, somewhere between a cameo and a bit part. This is true for many of the actors who pop up: Gary Oldman? Rami Malek? Kenneth Branagh? Matthew Modine? Josh Hartnett? Alex Wolff? Benny Safdie doing a Hungarian accent?!? It is a sausage fest—er, implied sausage fest.
More than that, Oppenheimer is a showcase for Murphy to deliver the performance of his career, a Tár-like tour de force in which his character's incredible mind is on display, and yet given its insurmountable vastness, he remains an enigma. As Safdie's Edward Teller says to him late in the movie: "Nobody knows what you believe. Do you?" Murphy gives Oppenheimer a palpable confidence that, along with his brilliance, allows him to lead the Manhattan Project. Yet the physicist remains conflicted, and his fears that he did more harm than good in developing the bomb take hold after it kills tens of thousands and destroys Hiroshima to an enthused domestic response.
The last of the movie's three hours is a cinematic rendering of "Am I the asshole?" The detonation of the bomb—equally glorious and ominous clouds of red and white—takes up only a few minutes and comes at the end of the second act. It's almost like Jaws, when you finally see the monster so late in the game. It's an incredible sequence, and the ginger handling of the bomb that occurs leading up to it, with strings slicing at the film's score, is legitimately suspenseful. Nolan delays the sound of the bomb as we watch it explode—for a minute or so, we only hear rustling, breathing, and a light score as the team watches their creation of destruction. And then—WHAM!—the bomb's sound floods in. Nolan uses this device just a few minutes later as Oppenheimer addresses an auditorium of admiring Americans, post-Hiroshima. The sound mostly falls out, and Oppenheimer looks around to see skin hanging off members of his audience, a hallucinatory vision of the atrocities his shared invention wreaked. And then—WHAM!—cheering and applause crash in, as defeating as the bomb itself.
All together, Oppenheimer is riveting and moves swiftly despite its talky nature (Jennifer Lame's editing is exquisite). Because it comes out Friday, the same day as Barbie, the "Barbenheimer" meme was invented as people joke about the right order to see two seemingly disparate movies. They're both extremely confident statements from visionary directors, and, to different degrees, they're about characters struggling to understand whether what they represent is good or bad for the world. Neither is big on easy answers. When asked about the Barbie/Oppenheimer rivalry, Murphy said, "My advice would be for people to go see both, on the same day. If they are good films, then that's cinema's gain." Yep, see both. Duh!
This piece was written during the 2023 WGA and SAG-AFTRA strikes. Without the labor of the writers and actors currently on strike, the movie being covered here wouldn't exist.