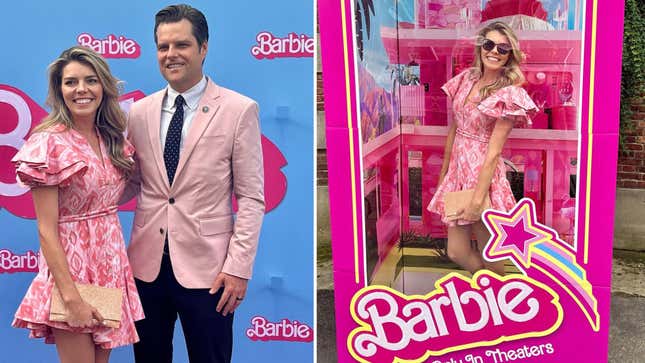 On Monday night, alleged sex trafficker and infamous frat boy Congressman Matt Gaetz (R-Fla.) and his wife, Ginger, walked the red carpet of a Barbie event. The appearance comes as Gaetz can't seem to shut up about how hot he thinks Barbie lead Margot Robbie is, while still managing to sprinkle transphobia into each creepy comment about her. But his wife apparently took deep offense to the film while otherwise enjoying their glamorous date.

Shortly after watching a screening of Barbie, Ginger suggested, via Twitter and Instagram, that people avoid the movie of the summer. "Thinking about watching the Barbie movie? I'd recommend sticking to getting outfit inspiration and skipping the theater," she captioned a photo of herself posing in a Barbie box.
"The Barbie I grew up with was a representation of limitless possibilities, embracing diverse careers and feminine empowerment," Ginger continued, which seems like a lot to project onto a literal doll. The movie, however, "neglects to address any notion or faith or family," she said.
Ginger did list some pros of the movie, including Robbie's acting and the film's "costume design" and "amazing soundtrack." But as for its cons, she specifies "disappointingly low T from Ken" and "unfair treatment of pregnant Barbie Midge."
It's hard to say what, exactly, Ginger was expecting from her moviegoing experience—how much testosterone did she expect Ken to have? And did she also expect some form of "pro-life" demonstration to cheer on a pregnant Barbie?
Ginger Gaetz isn't the only conservative up in arms about the movie. The National Review accuses Barbie of "obnoxious social messaging," while other Christofascist groups and outlets are complaining that the movie promotes the "trans agenda." (I haven't seen it yet—I hope it does!)
Frankly, takes like this from the worst people, for me, are highly effective marketing for the movie. Rolling Stone and Jezebel's Rich Juzwiak have written about the film's smart, topical injection of feminist themes. As Juzwiak puts it, this culminates in an "easy-on-the-eyes meditation on patriarchy that doesn't feel like a live-action Twitter thread or an undergrad seminar." That hardly sounds like the type of movie that would be enjoyable for a sect of people who see women as government baby-making machines.
If anything, Ginger Gaetz's glowing anti-endorsement makes me all the more certain I'll enjoy Barbie. But I'm left wondering why the Gaetzes were even present on any Barbie red carpet. I can think of few people with less respect for women's humanity and dignity than Matt Gaetz and the woman who, for whatever puzzling reason, agreed to marry him.