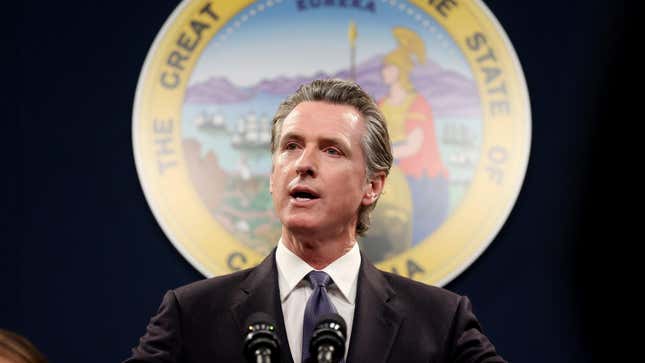 Walgreens' decision to capitulate to demands that it not dispense the abortion drug mifepristone in certain states has finally cost them. The state of California announced it will not renew its $54-million contract—which dispenses all medication to people detained in the state's massive incarceration apparatus—with the retail pharmacy chain. The contract renewal would have gone into effect on May 1.
Self Managed Abortions Explained
"This is an attempt to call the question 'Which side are you on? Whose side are you on?" Newsom told Politico, which first reported the news. "Are you going to just cower in the face of bullies? Are you going to just roll over?"
This fight began in January when the Food and Drug Administration announced a new rule that would allow retail pharmacies to dispense mifepristone (the first of two drugs commonly used during a medication abortion), as long as the pharmacy was willing to jump through administrative hoops for certification. CVS and Walgreens, the first- and second-largest retail pharmacy chains in the country, immediately announced their intentions to get certified.
In response, anti-abortion activists announced protests against both chains in a number of cities. At the end of January, about 50 anti-abortion protesters invaded Walgreens' annual shareholder meeting to "let them know blood will be on their hands." 

On Feb. 1, a group of 20 state attorneys general sent a letter to Walgreens threatening legal action if the chain obtained FDA certification and started to dispense the medication. The letter cites the Comstock Law, an 1873 law that makes it illegal to disseminate "obscene, lewd or lascivious" materials. The Department of Justice has already said that mailing, delivering, or receiving abortion pills isn't illegal; the state AGs just disagree with that interpretation.
Which brings us (almost) to the present day: At the beginning of March, Walgreens said it told all of the letter's signatories that it won't dispense mifepristone at physical locations in the AGs' states. You can read the letter the company sent to rightwing Kansas Attorney General Kris Kobach here.
Wading in and out of the abortion fight and drawing attention to itself made Walgreens an easy target. "We are deeply disappointed by the decision by the state of California not to renew our longstanding contract due to false and misleading information," a Walgreens spokesperson said in a statement to Jezebel. "Walgreens is facing the same circumstances as all retail pharmacies, and no other retail pharmacies have said that they would approach this situation differently, so it's unclear where this contract would now be moved. Our position has always been that, once we are certified by the FDA, Walgreens plans to dispense Mifepristone in any jurisdiction where it is legally permissible to do so, including the state of California.We will dispense this medication consistent with federal and state laws. Providing legally approved medications to patients is what pharmacies do, and is rooted in our commitment to the communities in which we operate."
By comparison, competitor CVS said it will pursue certification, and then basically stopped talking about abortion, since no pharmacies are yet cleared to dispense the medication.
Newsom told Politico that other relationships with the pharmacy giant will be evaluated by the state legislature. "We're the size of 21 states' populations combined," Newsom said. "So, we have, we believe, moral authority, but we also have formal authority and will exercise it in partnership with the legislature, and in the absence of that, through executive action."
Newsom said Walgreens' wishy-washy approach is what ultimately sealed its fate. "They were unwilling or incapable of doing anything more than repeating a statement that only reinforces the ambiguity," Newsom told Politico. "That made me conclude they're not serious about this, and we are."
Clarification: In a statement to Jezebel, Walgreens said it will comply with all local laws, including those governing the legality of abortion pills.