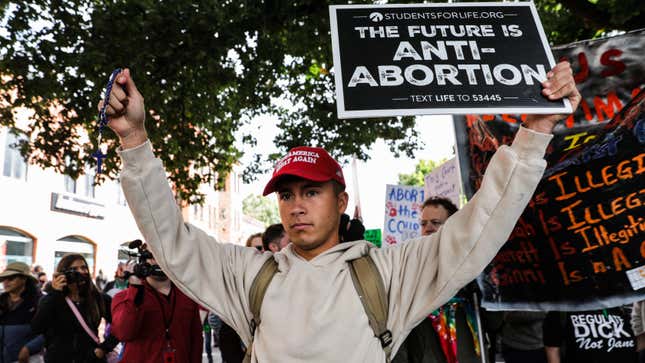 After the FDA announced last week it would allow retail pharmacies to carry the abortion drug mifepristone behind its counters, CVS and Walgreens said their pharmacies in legal jurisdictions would become certified to distribute mifepristone. This was, uh, obviously an affront to anti-abortion activists who are not letting the foot off the gas after getting the big thing they wanted at the Supreme Court.
Red Tape and Sexism Have Kept Abortions From Being Provided at OBGYN Offices
Progressive Anti-Abortion Uprising—the same group that claimed to have been given 115 sets of fetal remains from a medical waste truck—will be protesting at Walgreens and CVS locations in a range of cities across America on Saturday, Feb. 4. Members are hitting up the obvious sites—New York City, Washington, D.C., Los Angeles, and San Francisco—but the organic, protester-led format (think about how satellite versions of the Women's Marches were held around the country) means they'll also be protesting at retail pharmacies in Boston, Mass.; Austin, Texas; Detroit, Mich.; Pittsburgh, Penn.; Indianapolis, Ind.; Sioux Falls, S.D.; Akron, Ohio; and Portland, Oregon, as of publication.
The group says the protests will have the same vibe as sidewalk "counseling" that anti-abortion activists do in front of abortion clinics to harass providers and patients. "We want people to be uncomfortable going into a CVS that has a demonstration going on and to consider going to a different pharmacy," Caroline Smith, a Progressive Anti-Abortion Uprising leader, told Politico. "We also want to put enough pressure on the companies to retract this decision and not get certified to sell abortion pills."
As Smith's statements says, retail pharmacies are not required to become certified, but activists saw it as heartening that two of the largest pharmaceutical chains chose to start the process. The group wants the protests to be a part of a national boycott and calling campaign to CVS, too. Walgreens and CVS have not issued statements about the upcoming protests.
The group is continuing the anti-abortion movement's use of hyperbolic language about murder and killing to promote the events. "Both pharmacy chains are in the process of converting their retail locations to become abortion businesses by selling and dispensing the abortion pill," PAAU posted on Facebook on Tuesday.

Though medication abortions make up more than half of abortions performed in America, it is highly unlikely that certified CVS and Walgreens will pivot their operations to being abortion clinics. Still, pharmacists are worried about the anti-abortion protests. After all, protests at clinics have been known to be injurious, if not just plain annoying. "The safety of pharmacy teams is really important, and that's something they're going to take into consideration when they decide whether or not to become certified," Ilisa Bernstein, the interim CEO for the American Pharmacists Association, told Politico. "In some communities, that may be more of a concern than others, but it is a concern."
Maybe the pharmacists are right to be concerned. Students for Life policy veep Kristi Hamrick said the activists are "much savvier" now. "If Walgreens wants to learn anything from more than 50 years of our abortion activism, it's that we will not give up," Hamrick told Politico.
But I do question how long and just how many anti-abortion crusaders will be willing to stand out in front of enough random CVS stores to get the corporation's attention? The reason abortion clinic protests worked (and still work, even post-Roe) is that they are directly targeting patients. The goal (beyond abolition of abortion) is to make sure everyone has to walk past those protesters at an abortion clinic if they ever actually have an abortion.
Now, people will have to walk past these inflammatory fetus signs and prayer groups as they enter a Walgreens to pick up toothpaste. If that's how these activists want to waste their time, so be it.