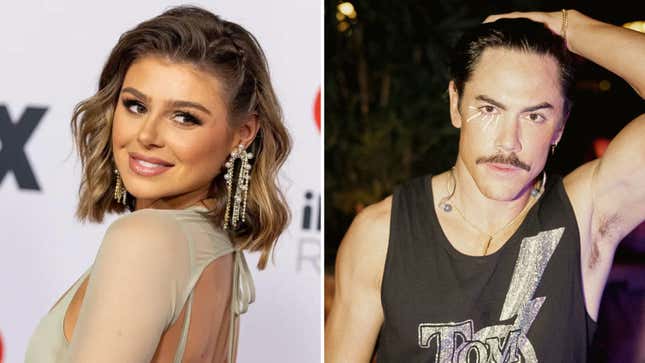 Late Wednesday night Raquel Leviss once again addressed #Scandoval. Now, everyone (including my bodega guy) is well aware this is not her first comment on the matter. Earlier that day, she issued a four-paragraph apology in an exclusive to Entertainment Tonight, claiming the "months-long affair" with co-star and noted "cyst male," Tom Sandoval, was due in part to an "addiction" to "being and feeling loved." Apparently, that wasn't sufficient for Leviss. You know what they say about C-list celebrity statements...they're simply not legit unless they're penned on a notes app.

Leviss took to Instagram to share that her "feelings for Tom" were spawned from a "loving friendship" and "have always been sincere." I don't think that required confirmation but go off, I guess.
"Knowing how many people we hurt, I need to understand my choices and learn to make better ones," she continued. Again, not necessary but OK. "I need to take care of my health, work on self growth and take time to be ok with being alone."
She concludes the statement by saying that, while she cares for Sandoval and doesn't want to "label anything or predict what lies ahead," she currently needs to heal. Uh-huh. Notably, Sandoval appeared to "like" the post. This could be a reach, but is anyone else feeling like Leviss will lay low as the remainder of the season airs, and then make her return at the reunion to announce that she and Sandoval are madly in love?
Her second statement arrived just hours after onscreen boss Lisa Vanderpump appeared on Watch What Happens Live and somewhat defended Leviss and Sandoval (or, "Scandoval" as the series matriarch hilariously repeated in place of his actual birth name): "I think these are people that are living their life in a public forum, which is very difficult," she told Andy Cohen. "There's so much infidelity in the world. It's not like they murdered anyone."

However, she also spoke on behalf of Scheana Shay who, in new documents filed by Leviss (including photos), was officially accused of serving up a knuckle sandwich to the "Bambi-eyed bitch" in defense of her longtime friend and co-star—and Sandoval's former partner—Ariana Madix.
"I think she slapped her around the chops," Vanderpump divulged. "But you know what, her feelings would be running really high because Ariana was her best friend for like 12 years."
"You forget it's not just the show," she continued. "They were together working four or five years before the show. They grew up together. She very much kind of has Ariana's back."
Shay has not yet publicly addressed Leviss' black eye—however, friends of Shay have alleged that Leviss is faking it...
May the Bravo gods help us all as we continue to chug from the firehose that is #Scandoval.
---