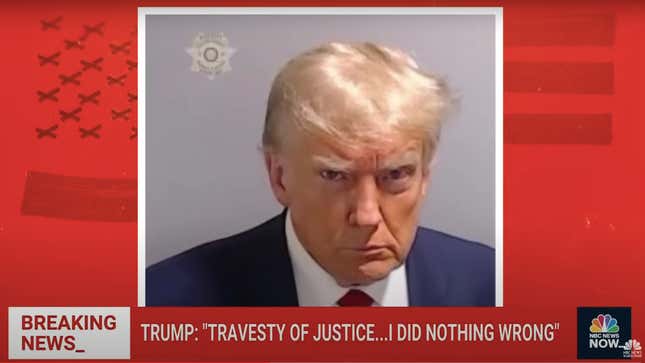 Way back in March, before Donald Trump's first criminal indictment, I wrote about how great it would feel to see his perp walk after the stunning amount of crimes he's seemingly committed in broad daylight. And now, five months that have felt like five years later, we finally have a mug shot of the former president—the first in U.S. history—and all I feel is dead inside.
Ted Cruz Won't Commit to Pleasuring a Man to End World Hunger
It's true that before Trump, no former or sitting President had ever been charged with a crime, let alone had their mug shot taken, so this is technically momentous news. But gazing at that photo—stemming from the fourth indictment over election interference in Georgia—I felt about 30 seconds of catharsis and brief waves of amusement and satisfaction before I remembered that he's still crushing all of his competitors in the Republican presidential primary. So far, none of his indictments have harmed him with conservatives, and they may have even helped him consolidate support. They'll certainly help him raise money, as he's already using his own mug shot to do on Elon Musk's X (yes, he's back).
The depressing reality is that Trump could not only become the GOP nominee again, but could also win the 2024 election. Biden is not looking exceedingly strong in polls at the moment, and idiotic third-party campaigns involving Cornel West and possibly Sen. Joe Manchin (D-W.Va.) could lead this country to a redux of 2016, where Trump loses the popular vote but wins the Electoral College by fewer than 100,000 votes.
Trump is dumb and awful but also sometimes smart, and this spray-tanned bag of putrid hate knows that he can use the indictments and the mug shot specifically for his martyr narrative. In some ways, it's pretty funny that Republicans were too scared to impeach this asshole, remove him from office, and bar him from ever holding federal office again so that they wouldn't have to have as the face of their party a career criminal and accused rapist who's been indicted four times. But now a little more than a year out from the 2024 election, I'm already exhausted and terrified.