Last night's episode was so romantic!
Perhaps it is not technically a romance — more of a sick, twisted hostage situation — but Franklin and Tara are hilarious together. Or perhaps it's just Franklin. "Hookah, hookah, it's a water pipe!" Sure, yes, okay, their relationship is no good and very bad, but meanwhile, she's getting gorgeous nightgowns and tons of one-on-one attention!
Jesus had better continue to be patient and persistent, as he was when he asked out Lafayette. Because there are some paranoid trust issues going on. Hooker, get your shit together! Jesus is hot.
Other highlights:
Terry Bellefleur getting emotional about moving in with Arlene.
Arlene: "I never thought it would happen again… and again, and again, and that other time."
Jason bored, doing paper clip limbo. The funny part is, he was probably only in the office for about an hour. So he lost his mind fairly quickly. He's the character you know you should hate, because he's a dirty dog who's dumb as a doorknob. And yet! Nothing but love.
Especially when he takes his shirt off.
G/O Media may get a commission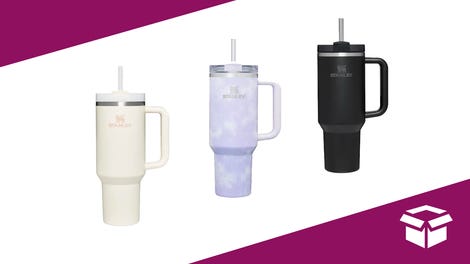 Up to 45% off
Stanley Cup Sale
Tara escaping and getting run down by Cooter.
Franklin's crying fit.
Lafayette and Jesus's phallic date: Playing with sticks and balls. "That is not my thang," says Lafayette of being a cook. He is soooo much more.
Crystal to Jason Stackhouse: "There is no forever for us." Sure, it's a plot point designed to intrigue, but without it, he'd still be fucking someone else in a couple of episodes, no?
Talbot, when taking Eric on a tour: "Boys only." Talbot should really have his own travel show or something.
Franklin to Tara: "Will you be my vampire bride?" Did anyone else feel like it took her way too long to start playing him? When faced with a psychotic, sociopathic and codependent vampire, rule number one is humor him.
"Japanese erotica from the 16th century."
Viking Eric. Although his backstory is sooo familiar. The revenge plot is used far too often in tales like this; Eric's story — family killed, leaving our hero alone — is also Bruce Wayne's story, one of the vamps in Underworld, Keyser Söze etc.
Last, but certainly not least: Sookie has been practicing her Streetfighter special attacks. Haduken!
Earlier: True Blood Heals Heartbreak With A Hot Hunk O' Werewolf
True Blood: Vampire Sex Is Twisted
True Blood: Big Foot, Nazis, And Tender Moments
True Blood: "Conscience Off, Dick On"