Lots of stuff happened in last night's episode, but honestly, Alcide is such a tasty piece of mancandy, who can focus on anything else?
Even though it was kind of funny when Bill called to break up with Sookie and she said, "Shut the fuck up," it's so incredibly obvious that Soo-keh should forget all about Straight Outta Compton and kick it with White Fang. Bill, you've been Jacobed!
It seemed like the theme of the episode was "being forced to do things you don't want to do." Bill was being controlled by Lorena; Tara was a puppet/ventriloquist's dummy for Franklin; Lafayette was making the hard sell and Eric's daydreams of Sookie — well, wait. Did he want to be thinking those things or not? Confusing!
Additional highlights:
Eric FLYING. Even if it was just a fantasy. Hot.
G/O Media may get a commission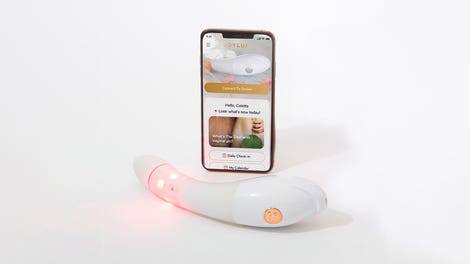 $50 Off
Joylux vFit Gold Device
Sookie in her biker outfit for Lou Pine's. Remember when Willow met her alt-verse vamp self in Buffy, and was like, "I think I'm sorta gay?" This reminded me of that.
Franklin coming back to Tara with flowers and an earnest "I've missed you" after tying her up and duct-taping her mouth shut.
"I'm a vampire, not an idiot."
"People love giving redheads tips."
"Brothercousins" and "Let's go RuPaul."
"Is this for me? It's skinny."
Seeing Debbie and expecting… more.
The Goody Osbourne name-drop!
Last, but not least, and certainly most poetic: Bill got a lapdance from Destiny.
Earlier: True Blood: Vampire Sex Is Twisted
True Blood: Big Foot, Nazis, And Tender Moments
True Blood: "Conscience Off, Dick On"
*If you didn't get a certain mp3 from a previous post, email me and I will try my best to get it to you — but be patient! Thanks.