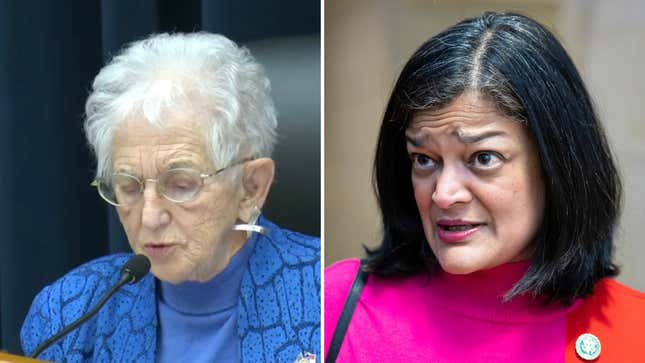 A congressional committee held a hearing on the first national anti-trans bill this year on Wednesday, marking both the culmination of and a terrifying start to transphobic advocacy on a national level. Unsurprisingly but frustratingly, no amount of facts, personal experience, or plain reason from Democrats on the House Committee on Education and the Workforce could dissuade their Republican counterparts from supporting the bill.

There's Nothing More American Than Baseball & Begging Elected Officials to Care About Climate Change
The bill—which seeks to amend Title IX by banning trans girls from playing on sports teams corresponding to their gender identity—is the first transition from state-level anti-trans legislation to federal legislation. Rep. Greg Steube (R-Fla.) introduced the bill last month and, because Republicans control Congress, they subjected us all to their increasingly visible transphobia by holding a hearing.
Democratic members of the committee did their best to illustrate how backwards it would be to amend Title IX (which guarantees gender equity in schools, typically deployed for sports) to target trans girls. Rep. Pramila Jayapal (D-Wash.) talked about her own daughter: "I am the proud mom of a trans kid, and it hurts me every single day to watch these attacks on trans youth, who are simply trying to make it through life and be who they fully are.
"When my daughter came out, it was not an easy process...What she continues to see around her, from politicians unfortunately, is a condemning of who she is. We cannot allow that to happen," Jayapal added.

Republicans were unmoved. Rep. Virginia Foxx (R-N.C.), the committee chairwoman, criticized the "perverted" use of of Title IX "to achieve the opposite of its intentions."
"As a mother and past educator, I abhor the increasing prevalence of biological men competing in women's sports enabled by the current interpretation of Title IX. The Biden administration's radical rewrite now denies equal opportunity to women," Foxx claimed, referencing the administration's 2022 proposed changes to protect trans students. (The process to change a federal rule is quite lengthy; the administration announced last month that the new rule will finally become public in May.)
Foxx continued: "The following should never be a radical statement: Men are not women. Women are not men. They certainly shouldn't compete against each other in any publicly funded arena."
Her colleagues were as equally unsubtle about their transphobia. "This is an issue of fairness. Allowing biological males to compete in girls sports puts women at a disadvantage," Rep. Mary Miller (R-Ill.) said. Rep. Bob Good (R-Va.) proclaimed that "Democrats reject that God created science of sex."
In response to this naked bigotry, Rep. Jamaal Bowman (D-N.Y) appeared to attempt to browbeat his colleagues—which ended up being fairly funny, at least by congressional committee standards.
"Why can't we just leave trans people alone? Let them be who are they are. Let them live their lives," Bowman said. He continued:
They're not bothering anyone. They want to go to school. They want to play sports. They want to hang out with their friends. They want to live their lives. Let them live their lives. We have an ugly history of discriminating against people who are different than we are, throughout our time in this country—whether they are Black, Latino, Asian, LGBTQ, poor, people with disabilities, women...And now trans people are the target.

...They're not bothering you. They're not taking your lunch money. They're not criminalizing your communities. They're not engaging in gun violence. They just want to live and be happy like anyone else.

Rep. Jahana Hayes (D-Conn.)—who, when she was a teacher, was named Teacher of the Year in her local district; Connecticut Teacher of the Year; and National Teacher of the Year in 2016—pointed out just how few kids these lawmakers are trying to target. In 2019, the Centers for Disease Control and Prevention estimated that only 1.8 percent of high school athletes identify as trans. And when Utah passed its ban on trans kids in sports, the governor found out that there were only four trans kids out of 75,000 competing in state-level secondary sports. (He vetoed the legislation, but the veto was overridden by the legislature.)

"As a teacher in my classroom, I can tell you about the countless times students came to me scared and lonely and trying to figure out what they were feeling...The job of educators is to make sure that all students, every student feels included," Hayes said. "This hearing, this legislation, these conversations further put a target on the backs of these students who are already in the scariest times of their lives."
It is one of the scariest moments for trans people in modern history. In less than three months, four states banned gender-affirming healthcare for trans kids. The number of states attempting to ban drag; to stop adults from getting gender-affirming care; or to prevent trans kids from playing on sports teams corresponding to their gender has only increased this year. Sadly, being transphobic is an easier sell for Republicans trying to drum up support before the 2024 election than the extremely electorally popular issue of abortion rights—which means it's the thing Republicans at all levels of government are going to continue picking.