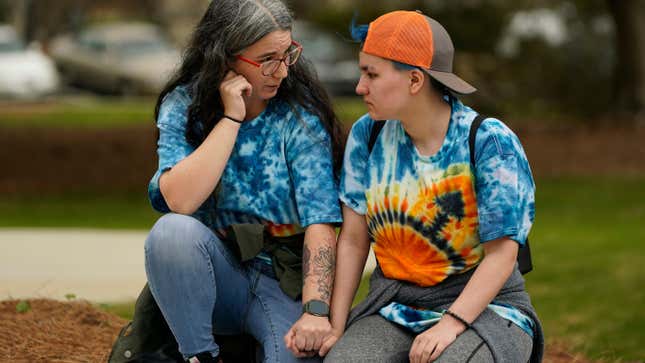 Update: Gov. Tate Reeves—a Republican who is suddenly supports expanding Medicaid now that a Democrat is gaining steam—signed the bill banning healthcare for trans children into law on Tuesday afternoon. Mississippi is now the third state to ban healthcare for trans youth this year alone and the fifth state in the nation overall.

"We will always protect the kids of our state," Reeves tweeted yesterday, announcing the signing.
Sure, Reeves. That's why Mississippi has one of the highest maternal mortality rates in the nation and the highest infant mortality rate in the nation.

Original story below:
Mississippi will become the third state this year to ban gender-affirming healthcare for anyone under 18 after the state Senate passed the legislation on Tuesday. The bill only awaits the signature of Gov. Tate Reeves (R), a ghoul who previously implied that kids who seek gender-affirming care are being used "as guinea pigs" by "modern progressivism."
The Regulate Experimental Adolescent Procedures (REAP) Act would ban standard treatment for minors seeking gender-affirming medical care, such as hormone therapies and puberty blockers, by outlawing "any entity, organization or individual that provides gender transition procedures to a person under eighteen years of age" from receiving public funds.
In practice this means a hospital that provides gender-affirming care for children couldn't receive state Medicaid dollars, and means that Mississippi will now join Utah, South Dakota, Arkansas and Alabama in passing laws that effective ban healthcare for trans kids. (Arkansas and Alabama's laws are currently held up in court, while bans in Texas and Florida have been enabled by administrative rules.)
During debate on the House version of the bill (which passed on Jan. 19), bill co-sponsor Rep. Nick Bain (R, duh) said a "wait-and-see approach" is necessary when it comes to the healthcare of trans youth, according to the Mississippi Free Press. I feel the need to repeat here that, despite what conservatives at all levels of government keep repeating, minors are not receiving gender-affirming surgeries like breast reduction or vaginoplasty. Instead, these bans mean parents can't find proper healthcare for their children. Instead, these children and their families become acutely aware that their very existence is not tolerated by the state.
"Mississippi legislators are positioning HB1125 as a measure to protect kids, when the reality is that this bill will do the exact opposite. Access to gender affirming medical care is a top indicator of healthy and positive outcomes for trans people," Mickie Stratos, president of the Spectrum Center of Hattiesburg, said in a statement. "To criminalize that care is a direct assault on the physical, emotional, and mental health of trans youth, and we will see negative outcomes for our trans youth and their families in MS as a result."
Mississippi is the latest state where rightwing lawmakers' relentless pursuit to make trans lives awful from birth until death has borne fruit, and there are currently at least 95 bills targeting some or all parts of trans healthcare that have been in other state legislatures this year alone, according to the ACLU. But this state-by-state assault on trans people is not one that happens in a single legislative session. Rather, Mississippi is at the forefront of conservatives' latest attack on human rights.