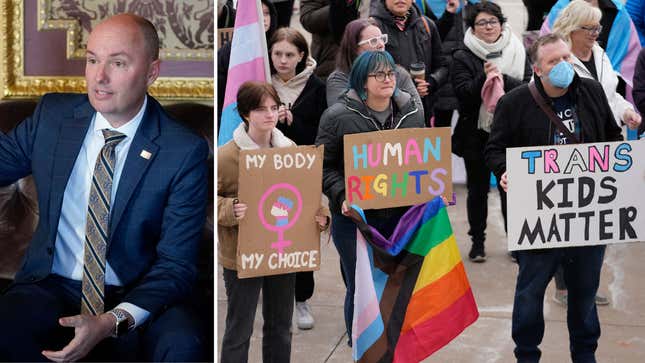 Utah has won the worst race to the bottom: On Sunday, Gov. Spencer Cox (R) signed the year's first ban on gender-affirming health care for trans kids. It's expected to be the first of many laws targeting trans children and adults' healthcare and lives that will pass state legislatures this year.

Berkeley Law Professor Calls Out John Hawley's Transphobia
Cox was praised last year when he vetoed a bill that tried to ban trans girls from competing in sports. (The legislature voted to override his veto and now the measure is tied up in court.) In a letter explaining his veto, Cox highlighted how few kids would be targeted by the sports ban, writing "rarely has so much fear and anger been directed at so few. I don't understand what they are going through or why they feel the way they do. But I want them to live. And all the research shows that even a little acceptance and connection can reduce suicidality significantly." But it appears that his compassion for those kids couldn't be extended to the entire population of trans children in Utah.
"Claims of protecting our most vulnerable with these laws ring hollow when lawmakers have trans children's greatest protectors – their parents, providers, and the youth themselves – pleading in front of them not to cut them off from their care," Chase Strangio, deputy director for Transgender Justice at the ACLU's LGBTQ & HIV Project, said in a statement on Sunday.
Bans like this passed in Arkansas and Alabama in 2022, but have already halted by federal court systems. But that hasn't stopped states from doubling down this year. A group of independent researchers counted 248 anti-LGBTQ bills that have been introduced across the country so far this year, with 238 specifically targeting trans people. This follows a steady increase of anti-trans bills introduced in state houses since 2018. "This is a war on trans existence," Alejandra Caraballo, an attorney who helped compile the data, tweeted last week.

G/O Media may get a commission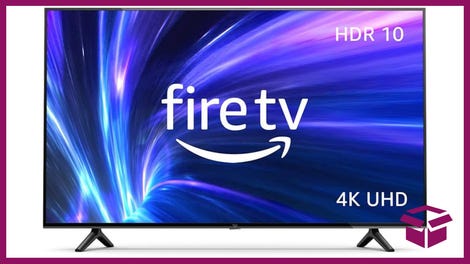 42% Off
Amazon Fire TV 50" 4K Smart TV
This legislative cycle is also deviating from the from the typical conservative playbook of initially targeting only minors, under the guise of protecting children: Bills in at least three states want to ban certain health care for trans adults well into their 20s. Legislators in Oklahoma, South Carolina and Virginia are hoping to stop physicians from prescribing hormone therapies and gender-affirming surgeries to people who are under 21. You'll notice there's at least three years of actual adults included in that age range.
However, Oklahoma is taking it even further: The Millstone Act, if passed as is, would ban trans healthcare for those under 26. On top of that, the bill's nickname comes from a Bible verse that says anyone who harms children will wear a millstone around their neck to drown them. So, this bill would not only ban safe healthcare for adults, but insinuate that people helping people live their authentic lives are endangering kids.
Conservative legislatures were never going to be content with only controlling the private health care of children. But now that the window has been opened to controlling the types of health care adults can access, the future of trans rights does feel particularly bleak.