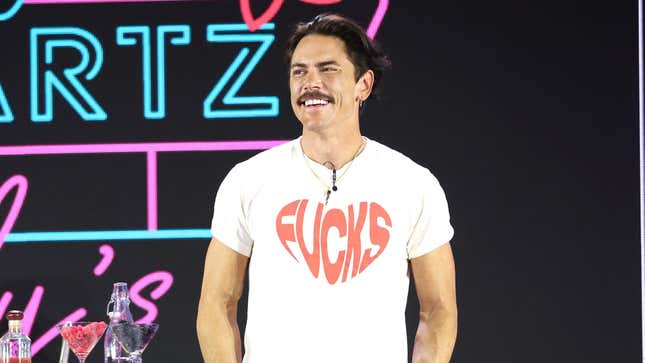 One needn't watch even five seconds of Vanderpump Rules to conclude that Tom Sandoval—otherwise known as the man who, seemingly overnight, became the most reviled Bravolebrity in history for having a longtime affair with co-star Rachel "Raquel" Leviss—isn't exactly known for delivering the profound-est of proclamations. For instance, were you aware that he's a "cyst" white man?
Raquel Leviss Told Us 'I'm Like, A Good Person' Just 48 Hours Before #Scandoval
Now, days after the show's "nuclear" reunion taping, Sandoval has waxed poetic on infidelity to paparazzi during a run-in at a strip mall: "Hindsight's always 20/20, man," he mused. "It's like when you look back at a situation, you think of all the things [you] should've, would've, could've done to make it better."
Frankly, I need this man's soliloquy on adultery about as much as I need his trumpet solos, which is to say, I don't. But kudos on his concision, I guess? He absolutely should've, would've, and could've just kept his goat cheese balls in his basket, but alas....
Sandoval then went on to further state the obvious: "Yes, I could've handled things way better. Of course."
In case you needed a short list of the things Sandoval (a 40-year-old man) could've done way better—apart from practicing monogamy—here are a few: He could've issued an immediate apology to his partner of nine (!) years (!) at the outset, as opposed to begging on behalf of his business; he could've not taken his rumored new girlfriend to the same restaurant he celebrated his nine-year anniversary with his ex-partner just months earlier; and he most certainly could've delivered this scintillating commentary wearing something other than a tie-dye hoodie and necklace that appears to have been beaded by an actual child (or Raquel). But hey, hindsight is 20/20, or whatever!
At the rate Sandoval's going, I wouldn't be at all shocked if he committed himself to a wellness program for cheaters à la Becky G's ex.