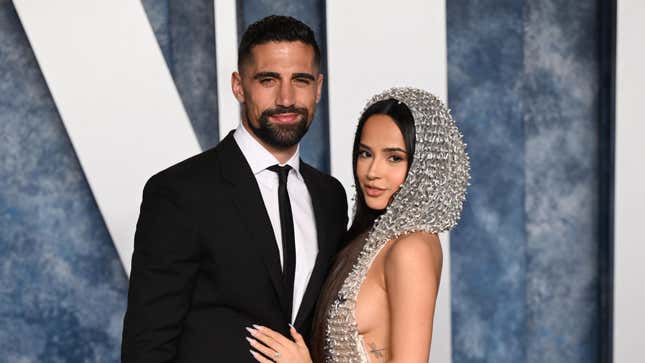 Another day, another hot, professional soccer player accused of cheating on his partner: Sebastian Lletget, fiancé and partner of six years to singer Becky G, was called out by a series of posts by an anonymous woman last week. The woman shared screenshots of DMs and videos of Lletget at a nightclub and promised she has even more evidence of him cheating. On Monday, Lletget finally responded with a lengthy Notes app apology posted to Instagram that's prompted a collective internet eye-roll.

The Cast of 'Jersey Shore: Family Vacation' Think All Roadtrips Are Shitshows
In addition to some run-of-the-mill word salad about "[holding] myself to a higher standard," Lletget chalked up the cheating allegations to "an extortion plot" stemming from a mysterious "10-minute lapse in judgment." That sure is one explanation for flirtatious DMs appearing to beg a woman for another chance. Now, the athlete says he's treating the incident as "a wake-up call" to stop "running from demons," concluding, "I have decided to commit myself to a mental wellness program to work on the parts of me that deeply need healing."
Hm. A mental wellness program for cheating? I wonder who he'll run into there—Gerard Piqué, perhaps? Jake Gyllenhaal? Adam Levine? John Mulaney? That one Try Guys dude?
I am once again thinking about how grating men's public apologies for cheating have become lately. They are really just firing up the ol' Notes app and saying anything these days. But I'll give I'll give Lletget this: His isn't the worst among them. At least he appears to have genuinely apologized Becky G. By contrast, Piqué gave an interview last week making clear that he's not sorry for allegedly cheating on Shakira and will "keep doing what I want;" the Try Guys' famous Mr. Wife Guy, Ned Fulmer, prioritized his fans in his apology note over his own wife; and Levine's Instagram story statement didn't even include an apology. Haha, nice!
It remains to be seen whether this mental wellness program for cheaters manages to cure Lletget of his itch to stray, but regardless, I'd really like to see a copy of the agenda.