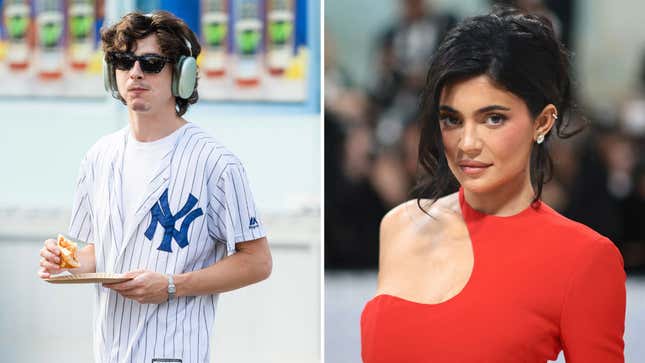 On Wednesday, according to a Life and Style exclusive, the whirlwind romance that allegedly was had gone like a whisper: Timothée Chalamet and Kylie Jenner were no longer. Love is dead, etc. etc. The actor, sources said, had "dumped" the influencer mogul after seven months of dating (read: Jenner's Range Rover showing up wherever Chalamet is, occasionally).
"She's telling people that things between them naturally fizzled out because they're both busy and traveling," an "insider" told the tabloid. "But friends are whispering that Kylie got dumped."
But the plot thickens: Hours after that report was published, TMZ disputed the Life and Style story, claiming that "multiple sources" confirmed the romance was still very much on. Of course, all of said sources remain anonymous—and likely have a famous last name—but they attest that the pair have simply been keeping things klose to the vest these days. Intrigue!
Rumors about the pair started swirling in early April via crowdsourced gossip hub Deux Moi (where else?). Anonymous tipsters said they'd seen the two mingling at the Jean-Paul Gaultier show at Paris in January and that there was tentative plans they would attend Coachella together. Spoiler alert: They did not! They did, however, share a series of photo ops involving Jenner's car, including one at a taco restaurant and another that saw Jenner pulling into Chalamet's driveway.

Of course, there was also what appeared to be a hickey on Jenner's neck, and some giggle-inducing comments from a "source" to Entertainment Tonight about how Chalamet fancied Jenner a "hands-on mom and a boss"— a compliment that's been patented by many a Kardashian insider when it comes to stories about who they're romantically linked to at the time. In case you've forgotten, a source told ET that Pete Davidson thought the exact same thing of Kim Kardashian back in January 2022. What a koincidence, no?
"Kylie is playing it casual, but her friends know this must sting," the source went on to tell Life and Style. "Timothée was the first guy she really spent time with after splitting from Travis [Scott]. She even introduced him to her family."

Ah yes, that's right. Some seriously grainy, some might say Big Foot-esque documentation also managed to catch Chalamet—and what was reported to be his sister, Pauline—at a barbecue with both Kendall and Kylie in June.
Meanwhile, earlier this week, Travis Scott, Jenner's former partner with whom she shares two children, seemed to diss the actor—and something of an MC, himself— on new track "Meltdown." In it, Scott raps: "Chocolate AP and chocolate the Vs/Got the Willy Wonka factory/Burn a athlete like it's calories/Find another flame hot as me, bitch."
Who's to say what the future holds for these suspicious sweethearts. If they're still "together," well, I suspect a public appearance is already on the kalendar. If we're to believe Life and Style's sources, then my sincerest Tim-pathies are with Jenner in this trying time.