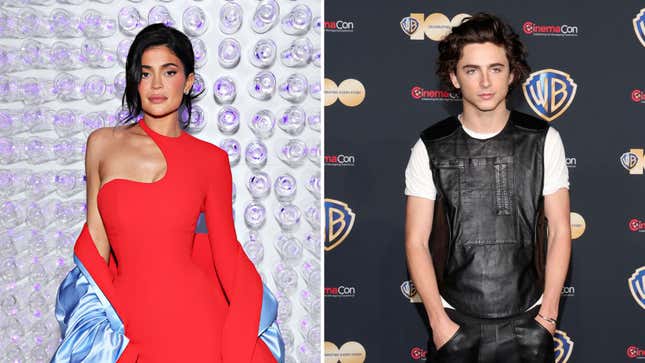 Um, it appears the rumored relationship between Kylie Jenner and Timothée Chalamet is not only real but, unfortunately, here to stay.
Page Six obtained the first images of the mega-famous duo together from earlier this month—also the first photographic evidence since rumors began percolating in April. Neither Jenner nor Chalamet's camps have confirmed the reports, so please, I beg of you, take these photos with an entire shaker of salt.

Back to it: The tabloid ran photos Thursday that reportedly show Kylie, Kendall Jenner, and Pauline Chalamet (Timmy's 31-year-old sister) at a "barbecue" a few weeks back. Timothée was not photographed with that grouping, though the site claims he was photographed in his car at the same outing. In additional paparazzi photos, a man and a woman—purportedly Chalamet and Jenner—can be seen holding coffee and heading into a house together.
The first issue with these images is the Pauline of it all. The woman in the photos identified as Chalamet's sister…looks nothing like Chalamet's sister who, as one of the stars of HBO's Sex Lives of College Girls, is somewhat high-profile and recognizable herself. Look at the profile! Look at the ear shape! The hair length! None of it is matching up! And if this isn't Pauline in the images, then claims that the duo was "mingling with each other's relatives at a barbecue" doesn't add up. Also, where is the barbecue? Show me a hot dog, cowards.
Second, all of the images shown of Kylie and Timothée are so blurry that for a moment I was convinced my eyesight was going. Their faces are either completely or partially blurred in each shot, except for one in which the couple both appear to be wearing tie-dye and the man's nose is rather bright and prominent.

Page Six says a source told them in April that the duo are "not serious," but reports they are now spending "every day together." Paparazzi, who have been following the pair religiously, say Jenner has even been staying at Chalamet's mansion in Beverly Hills "upwards of six days a week."

Very cool, if true. In theory, very happy for y'all. But for the time being, if seeing is believing, well, I can't see shit. Hopefully, someone will change my mind with a nice, unpixelated image soon.