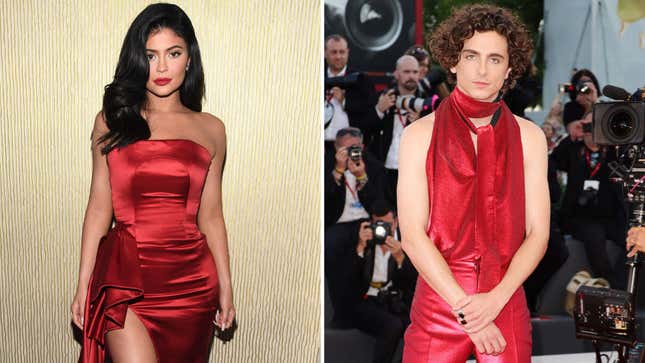 Crowdsourced anonymous gossip hub Deux Moi is holding the world's largest spoon and stirring the universe's most boiling pot. What unconfirmed rumor are they currently pushing that has sent the ultra-online busybodies into a tailspin? That Timothée Chalamet and Kylie Jenner are supposedly dating one another.
Taylor Lautner Doesn't Even Remember Saying 'Bella! Where the Hell Have You Been Loca?'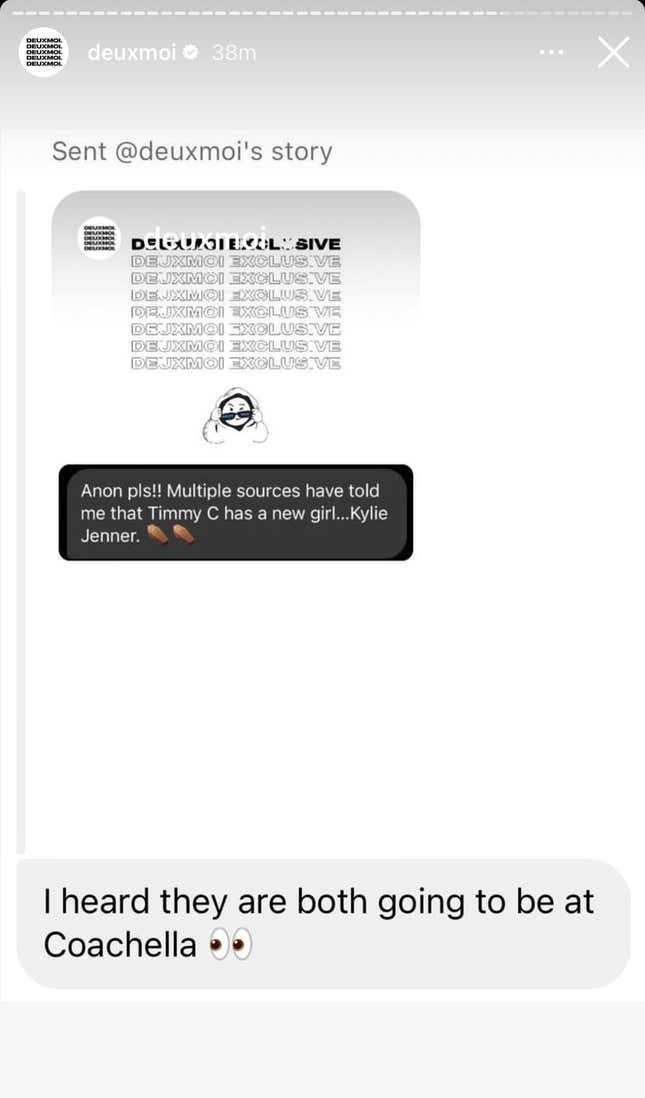 If you thought things couldn't get more disorienting than Kendall Jenner and Bad Bunny riding into the sunset on a single horse, then Kylie—who isn't one to get upstaged by her sister—has certainly raised (lowered?) the bar. Tipsters—who, once again, could be anyone from my own father who once referred to "Jake Gyllenhaal" as "James Gillyhall" to Mother Kris Jenner herself—alleged the two will be going to Coachella together next weekend. These rumors come on the heels of Kylie's on-again-off-again ex Travis Scott commenting "A beauty" on an Instagram post hawking Kylie Cosmetics mascara. I simply would not be surprised if this somehow gets linked back to Kris, who's always scheming over how to keep the fans on their toes.
Despite Deux Moi labeling these anonymous tips with their "read with caution" sticker, Twitter has taken the bait and is currently writhing around in agony. Of course, one has to wonder what our collective reaction says about the pair, be it true or not. (It's not—it can't be.) What makes this match so upsetting? For me, I simply don't believe the two exist on the same plane. Timmy sort of hovers above ground in a perma-state of Wes Anderson whimsy (occasionally he comes back down to earth to make out on a yacht) and Kylie has her roots firmly planted in Calabasas.
Just last week, Deux Moi peddled the false rumor that Reese Witherspoon and Tom Brady were an item following both of their divorces. Both of their reps had to come out and be like "WRONG!" even though I already knew in my heart that Reese would not date a man who is even remotely linked to the FTX scandal. She's a business-minded queen.

What remains resoundingly true amongst all of this hearsay is what Timmy said into the mic at the Venice film festival last year: "I think societal collapse is in the air." I think so, too.
Here is some REAL gossip for all your gossip hounds.
---