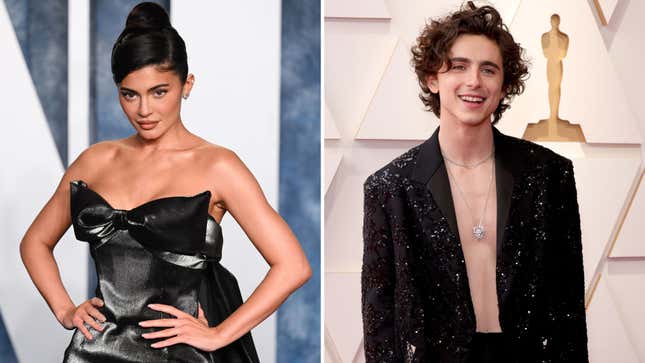 I'm going to need you to sit down and fasten your seatbelt. The faint rumors of a Kylie Jenner and Timothée Chalamet flirtation seem to be revving up. Yesterday, Jenner's Range Rover SUV was spotted pulling into Chalamet's driveway—no, that isn't a euphemism for anything, it's just exactly what happened.
Jennifer Hudson Achieves EGOT Status, is True American Idol
TMZ snapped photos of Kylie's car at Timmy's Beverly Hills home, but combination of his palatial estate and the SUV's tinted windows means we can't even confirm if she was in the car or not. Is popping by a neighbor's house evidence of a fling? Was she just borrowing sugar? Is Timmy going to be the next face of Kylie Cosmetics? Was there perhaps someone else driving the car hoping to fuel these middling dating rumors as her family's name falls out of the national attention span?

Rumors about this chaotic coupling started swirling about a week ago on crowdsourced gossip hub Deux Moi. Anonymous tipsters had said they'd seen the two mingling and that there's tentative plans they'll be attending Coachella together. While I've already expressed my doubts over Deux Moi's accuracy, I'm even more hesitant to embrace the Coachella rumors: I actually believe there's a strong chance Timothée looked Kylie straight in the eyes and told her they would link up there, but I'm wise enough to know the statistics on fuckboi followthrough, especially when it comes to "epic music festival" plans.
In January, the two were filmed interacting with one another at Paris Fashion Week. I suppose the video could be interpreted as a flirtatious interaction, but I also imagine these events are all just slightly horny celebrities bumping into one another and grazing each other's arms.

In any case, Coachella kicks off this weekend so I'll be sure to check with California's Highway Patrol to see what cars pull are driving into the desert and who's in each one.
---