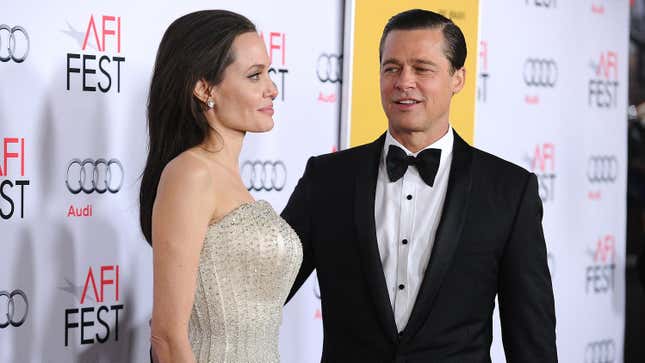 Mere weeks after Angelina Jolie's former investment firm referred to her ex-husband, Brad Pitt, as a "petulant child" in the long-running legal back-and-forth over their once-shared chateau, the pair are reportedly prepared to smash their sour grapes—notes of both tact and tang will no doubt be detected.
Man With Face Blindness has Married Two of World's Most Beautiful Women
On Thursday, the Daily Mail reported that new documents in the lovers-turned-loathers' battle royale over Château Miraval—the French winery they once owned and operated—show both parties have opted not to go to court and settle things in mediation instead. Jolie, in addition, is also willing to participate in a settlement conference, according to the filing.
Of course, it's been quite a contentious few years for Jolie and Pitt. In May, an exhaustive Vanity Fair report told the complicated story of their brief love affair with the vineyard nestled in the valley in the French village of Correns. There, far from Hollywood's intrusive, impractical conditions, the former couple fell deeper in love and dedicated themselves to fostering a normal life—or the obscenely rich people equivalent—for their growing family. That was until Jolie claimed Pitt verbally and physically assaulted her and two of their children aboard a private plane in 2016.
Ultimately, Jolie, who justifiably no longer wanted a stake in the château, sold her stakes in Miraval to Russian oligarch Yuri Shefler—of the spirits conglomerate Stoli Group—apparently against Pitt's protests. Last February, he sued Jolie alleging the sale was in violation of a previous agreement between the two. Pitt claimed at the time that Jolie intentionally "sought to inflict harm" by selling her part of Miraval to a "stranger" with whom she knew Pitt didn't want to go into business. In a June court filing, Pitt called Jolie's business decision "vindictive."
Meanwhile, Jolie's former holding company, Nouvel, countered that Pitt was a "petulant child" and accused him of "looting" Miraval in a court filing just two weeks ago. Nouvel, which specifically oversaw Jolie's stakes in Miraval, sought $350 million in damages from Pitt for his alleged misconduct at the helm of the winery. The firm has previously argued that Jolie initially tried to sell her Miraval stakes to Pitt, but could no longer move forward with that after Pitt "made an eleventh-hour demand for onerous and irrelevant conditions" in 2021. These conditions allegedly included "a provision designed to prohibit Jolie from publicly speaking about the events that led to the breakdown of their marriage," seemingly referencing the abuse allegations days before announcing their separation. Those accusations are detailed in an FBI report that was made public via Jolie's Jane Doe suit last summer.
I think it's safe to say that when it comes to the Miraval dispute, they've come a long...rosé. Sorry.