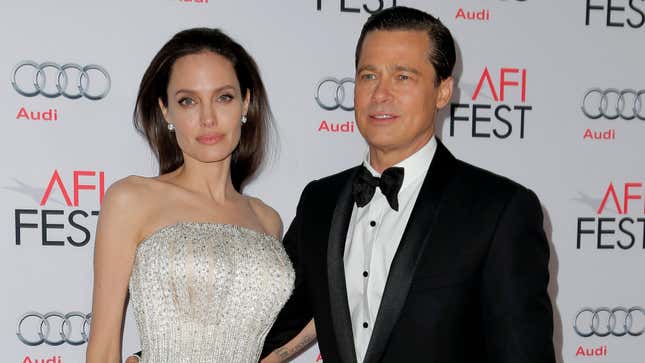 The legal cold war between Angelina Jolie and Brad Pitt over their once-shared French winery Chateau Miraval continues with no end in sight, as Jolie's former holding company, Nouvel, calls Brad Pitt a "petulant child" and accuses him of "looting" Miraval in a new court filing this week. Nouvel, which specifically oversaw Jolie's stakes in Miraval, seeks $350 million in damages from Pitt for his alleged misconduct at the helm of the winery, purposefully squandering its resources to financially punish Jolie before she sold her stakes in 2021.

Man With Face Blindness has Married Two of World's Most Beautiful Women
Last February, Pitt sued Jolie for selling her stakes in Miraval to Russian oligarch Yuri Shefler—of the spirits conglomerate Stoli Group—against Pitt's wishes, alleging this was in violation of a previous agreement between the two. Pitt claimed at the time that Jolie intentionally "sought to inflict harm" by selling her part of Miraval to a "stranger" with whom she knew Pitt didn't want to go into business. In a court filing from June, Pitt called Jolie's business decision "vindictive."
Nouvel then countersued Pitt in September. Lawyers for the company claimed Pitt had willfully squandered the tens of millions Jolie had personally invested in Miraval, and that Pitt and his associates "[seized] control" of the winery "in retaliation for the divorce and custody proceedings" to ensure that "Jolie would never see a dime" of its profits. The countersuit also claimed Jolie sold Nouvel to have "financial independence" from Pitt as well as "some form of peace and closure to this deeply painful and traumatic chapter of her and their children's lives."
In the new court filing, Nouvel doubles down on its previous claims: "Incensed that Jolie sold Nouvel to Stoli rather than him, Pitt has acted like a petulant child, refusing to treat Nouvel as an equal partner in the business." According to Nouvel, "Pitt wasted the company's assets, spending millions on vanity projects, including more than $1 million on swimming pool renovations, building and rebuilding a staircase four times, and spending millions to restore a recording studio."
Nouvel has argued in previous court filings that Jolie initially tried to sell her Miraval stakes to Pitt, but could no longer move forward with this when Pitt "made an eleventh-hour demand for onerous and irrelevant conditions" in 2021. These conditions allegedly included "a provision designed to prohibit Jolie from publicly speaking about the events that led to the breakdown of their marriage," seemingly referencing the allegations that Pitt physically assaulted Jolie and their kids on a private plane in 2016, days before announcing their separation. The allegations are detailed in an FBI report that was made public last summer.
Pitt and Jolie have been battling over Miraval for well over a year now, as Nouvel seeks damages for Pitt's "looting" of the winery and Pitt continues to demand a "trial by jury" to settle the dispute.
Last month, however, Pitt's camp claimed that his fight against Jolie over Miraval is somehow for their kids: "Brad is left once more fighting for his family to protect their assets," a "source close to Pitt" told Entertainment Tonight.
A "source close to Jolie" seemingly fired back, also in a statement to ET: "No matter how many times Mr. Pitt amends his complaint, he cannot escape from the fact that he verbally and physically assaulted Ms. Jolie and their children—even choking one of the children and striking another." An attorney for Jolie also seemingly referenced the abuse allegations in a statement to CNN last month: "Still today and in the seven years since that fateful plane ride, he personally has never publicly denied that it happened," the statement read. "The reality is that Pitt refused to complete the Miraval sale with Jolie unless she agreed to being silenced about the abuse."