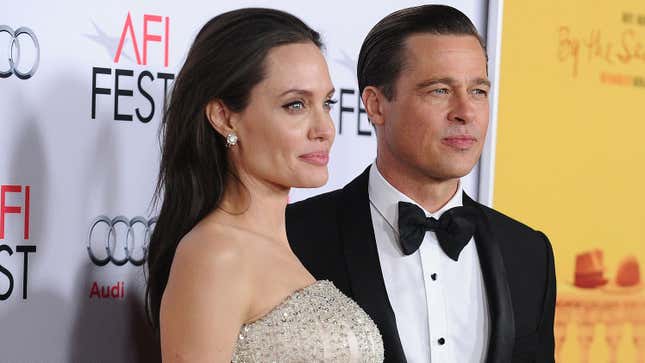 Brad Pitt has filed new court documents characterizing ex-wife Angelina Jolie as "vindictive" for "secretly" selling her stakes in the couple's shared French winery Chateau Miraval in 2021 to a Russian businessman without Pitt's knowledge, Entertainment Tonight reports. In the docs filed Thursday in Los Angeles Superior Court, Pitt is demanding a trial by jury to settle the legal dispute. He implies Jolie's sale of Miraval is to the detriment of their children, claiming that Jolie promised amid their separation that the winery would remain "an investment and business [their children] will inherit."

Man With Face Blindness has Married Two of World's Most Beautiful Women
Pitt has previously asked for a trial by jury without success. Lawyers for Jolie have claimed she only sold her stakes in Miraval to another party over Pitt after Pitt tried to require her silence on what happened at the end of their marriage as a condition of selling to him.
Pitt and Jolie first bought Miraval in 2008, with both investing millions into the estate, and each owned 50% of the winery through their personal holding companies. Amid their divorce proceedings, finalized in 2019, Pitt and Jolie have both said in court filings that Jolie initially planned to sell her stakes in Miraval to Pitt. But these plans changed, Pitt claims in the Thursday court filing, "in the summer of 2021, amid a heated child custody dispute with Pitt," which prompted Jolie to "[terminate] those discussions and secretly … sell a 50 percent stake in the family home and family business."
Pitt first sued Jolie over the sale of her stakes in Miraval to Yuri Shefler of Russian spirits conglomerate Stoli Group last February, claiming she intentionally "sought to inflict harm" by selling her part of Miraval to a "stranger" with whom she knew Pitt didn't want to go into business. In the court documents filed Thursday, Pitt claims he only learned of the sale to Shefler via a press release announcing Stoli was "thrilled to have a position alongside Brad Pitt as curators" of Miraval rosé. His court filing emphasizes that Shefler's ties to Vladimir Putin will be damaging to the business.
A countersuit filed against Pitt by Jolie's holding company Nouvel in September offers a different version of events: Her side claims Pitt squandered the tens of millions Jolie had invested in Miraval and that Pitt and his associates used underhanded tactics to "seize control" of the winery "in retaliation for the divorce and custody proceedings" to "ensure… Jolie would never see a dime" of its profits. The countersuit further claims that Jolie had initially tried to sell her stakes in Miraval to Pitt, but this went awry when "Pitt's hubris got the better of him" and he "made an eleventh-hour demand for onerous and irrelevant conditions." These conditions included "a provision designed to prohibit Jolie from publicly speaking about the events that had led to the breakdown of their marriage."
Per an FBI report that was made public last summer, in 2016, shortly before Jolie and Pitt's separation, an intoxicated Pitt allegedly physically assaulted Jolie and their kids on a plane. Jolie has never spoken publicly about the abuse allegations detailed in the FBI report, but per Nouvel's countersuit, the demand from Pitt that she enter a binding agreement to not speak about what happened before their separation was a dealbreaker for her. Pitt, meanwhile, is leaning into the narrative that his legal fight against Jolie over Miraval is more about family than business. "Brad is left once more fighting for his family to protect their assets and his partnership with [winemaker] Marc Perrin," a "source close to Pitt" told ET. "Brad won't back down from bullies and won't abandon his [business] partner."
A "source close to Jolie" fired back, "No matter how many times Mr. Pitt amends his complaint, he cannot escape from the fact that he verbally and physically assaulted Ms. Jolie and their children—even choking one of the children and striking another."
"Still today and in the seven years since that fateful plane ride, he personally has never publicly denied that it happened," the source added.
God forbid this thing go to trial.