For a brief day and a half the world thought it had rid itself of the romance between a grown man who pronounces his name like a baby and a teen with a mansion. We were not so lucky.
Ana Gasteyer Satirizes the Girl Boss in 'American Auto'
The now-legal relationship between Kylie Jenner and Tyga was perhaps notable when Kris Jenner was allowing her 17-year-old daughter to date a 25-year-old father, but now it's just another headache-inducing celebrity relationship that exists for the whole purpose of simply existing.
The coupling of Kylie Jenner and Tyga in and of itself is not particularly interesting, but oh, you should see what it has spawned. Amber Rose and Khloe Kardashian publicly sparred about the (in) appropriateness of Kylie and Tyga's pairing. Part of the tension of that led to that fight no doubt stems from the fact that Kanye West, Khloe Kardashian's brother-in-law, was very publicly in love with Amber Rose (no matter how much he tries to deny it).
Recently, Tyga's ex-fiancé and the mother of his child released a graphic music video with her probably current boyfriend, Future, on Tyga's birthday. I can't confirm that this was done on purpose but I can assure you that Blac Chyna was certainly aware of the date.
G/O Media may get a commission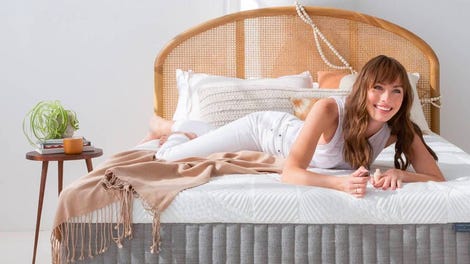 Sleep Sale
Sleep Sale - Brentwood Home
Is this all sounding very high school? Oh, that's because it is—rich and quasi-famous people high school. With the help of the brilliant Bobby Finger I have decided to get really high school up in here with a relationship web chronicling the expansive ties and dating histories that can be traced back from Kylie Jenner and Tyga's relationship.
---
Tyga and Kylie Jenner
Tyga is a grown man who left his wife and child and immediately started dating teen Kylie Jenner off the record because she was only 17 years old at the time. The couple recently broke up only to reconcile shortly after because I'll be damned if the Kris Jenner Publicity Machine isn't effective.
Tyga and Chanel Iman
Chanel Iman agreed to date Tyga in 2008. They announced their relationship in a May Vogue spread about models and their short boyfriends. I don't know either.
Tyga and Blac Chyna
Blac Chyna was cast as the female lead in the video for Tyga's (only) popular 2011 single, "Rack City," beginning their relationship. They had a baby named King Cairo in October, 2012. In December 2012 the couple announced that they were engaged. They are no longer engaged.
Blac Chyna and Future
On October 3rd, 2015, TMZ reported that rapper Future and Blac Chyna were doing some or other which each other. As the rumors heated up, Future decided to act like an asshole. But it's all cool now because they made a music video.
Future and Ciara
Rather surprisingly, Future and Ciara began dating in late 2012. In May 2014 they had a son who they also named Future even though Future isn't even Future's real name. They were engaged in October 2013 but broke up in August 2014 when Ciara learned that her unreliable lean-drinking fiancé had been cheating on her.
Ciara and Bow Wow
This pair dated for about a year before breaking up in 2009. The relationship did spawn a musical collaboration and a very 2000s music video that will live in infamy.
Bow Wow and Angela Simmons
The formerly lil rapper and Rev Runs' daughter have apparently had a rather dramatic relationship for something around nine years. That roller coaster includes a pregnancy (not Angela's), an engagement and an Instagram shout-out.
Angela Simmons and Rob Kardashian
These two were A Thing sometime in 2012 when they hung out a lot and presumably discussed the joy of using their parents' names to make money. There wasn't much confirmation of a relationship but you don't get pedicures with and give awkward red carpet interviews about just a friend.
Rob Kardashian and Rita Ora
Hey, did you know that Rob Kardashian has an MBA? Go figure. This pairing began sometime in 2011 and ended spectacularly in late 2012 with Rita Ora probably cheating on Rob and him handling it like a slut shame-y man baby.
Rita Ora and Travis Barker
This relationship is likely still going on considering that it began about two months ago. This relationship makes a lot of sense when you think about it.
Travis Barker and Paris Hilton
This may have just been "a fling" but back in 2006, it was an important fling.
Paris Hilton and Brody Jenner
Another "fling" for Paris Hilton. The mid to late 2000s were good to Paris.
Ciara and Amar'e Stoudemire
Around May 2011 the couple confirmed that they were dating. By the looks of photos, their relationships largely consisted of them being long, lean attractive people together. They were together for about a year. Almost immediately after the relationship ended, Amar'e Stoudemire proposed to his ex-girlfriend and mother of his four children.
Amar'e Stoudemire and Amber Rose
It was but a brief pairing—one denied by their reps with the old "just friends" line, meaning they were definitely together for a minute.
Amber Rose and Kanye West
Remember when Kanye West licked Amber's bald head like an ice cream cone and then tried to act like he wasn't completely infatuated with her? 2008 to 2010 were simpler times.
Kanye West and Kim Kardashian
Probably the most beautiful union between two extreme narcissists we'll ever witness.
Kim Kardashian and Nick Cannon
Nick Cannon has dated what seems like an impossible number of incredibly beautiful women. Nick Cannon also likes to remind people that he dated an impossible number of incredibly beautiful women and really, can you blame him? On bad days, I like to imagine a world where Nick Cannon and Kim Kardashian never broke up.
Nick Cannon and Nicole Scherzinger
I really don't even know.
Nicole Scherzinger and Lewis Hamilton
You know when you don't know much about a person or what they do for a living or why they're famous but you know a lot of details about their nearly eight year on and off again relationship?
Lewis Hamilton and Kendall Jenner
There's a possibly that these two were actually "just friends." There's also a possibility that at 30-years-old, Lewis Hamilton didn't want to be publicly linked to a 19-year-old.
Amber Rose and James Harden
These two were certainly doing something around February 2015.
James Harden and Khloe Kardashian
Khloe and James (who I just learned is somehow only 26-years-old) began dating this summer and are still together even though Khloe and Lamar Odom are still married on a technicality and she showed up at the hospital following Lamar's overdose like a pretty basic, decent human being.
Khloe Kardashian and French Montana
For the better part of 2014, Khloe Kardashian and French Montana dated so that Khloe could publicly recover from her divorce and so French Montana could try to increase his appearance fees. But then he gave Khloe a Jeep and everyone realized that this just wasn't going to work.
French Montana and Trina
These two dated in 2013 and apparently lived together for a minute. Considering the timing of the two relationships, Trina claims that Khloe "stole" French Montana from her even though who would go through the effort of stealing French Montana?
Trina and James Harden
This little love square is completed by Trina and James Harden's 2011 relationship.
James Harden and Maliah Michel
This coupling began, as all great love stories do, with James Harden paying $100,000 to go on a date with Maliah, a popular Houston-area stripper.
Maliah Michel and Drake
Because Drake is completely powerless against a brown girl with a cute face and a big butt. (Seriously, google "Drake Girlfriends.") He even rapped about her in a song so you know it's real.
Drake and Serena Williams
Although it was almost certainly a staged romance for publicity, it was the greatest staged romance for publicity the world has ever seen.
Serena Williams and Common
Remember how Common and Drake had an ongoing rap battle over Serena's love? If you don't remember, please let me be the one to tell you that it involved Common referring to Drake as "Canada Dry."
Common and Taraji P. Henson
They were together between 2005 and 2007 and Common's mother loved her and I really wish this had worked out.
Taraji P. Henson and Lamar Odom
This was a brief affair in 2009 but it ended right before he met Khloe Kardashian. It was rumored that Lamar wanted to propose to Taraji a week before he met Khloe, who he then proposed to a month later, perhaps proving that a proposal from Lamar should be taken with a bit of caution.
Lamar Odom and Khloe Kardashian
These two met in August 2009, married in September 2009, filed for divorce in December 2013 and finally signed the papers in July 2015.
Drake and Rihanna
I know it probably won't happen, but if either of them ever gets married, a part of me thinks it could only be to each other. It might just be because I love this video so much. For more details, please reference this other overly complicated relationship web I spent hours creating.
Rihanna and Chris Brown
Ugh. Again, here.
Chris Brown and Karrueche Tran
See above and above again.
Karrueche Tran and Ray J
Like many of the couples on this list, "relationship" would be a strong word to describe whatever went on between these two. However, considering that both of them love messy situations, it seems safe to say that something went down—or they at least made it look like something did.
Ray J and Kim Kardashian
Frankly the only reason we're even here in the first place.
Rihanna and A$AP Rocky
In the fall of 2013 Rihanna let this man spend private time with her for a couple months.
A$AP Rocky and Chanel Iman
Beginning in fall 2013, this relationship lasted much longer than I thought it would. It included Chanel Iman again declaring her love for a rapper with a Vogue spread.
A$AP Rocky and Rita Ora
As I have always imagined most things will, this ends with Rita Ora.
---
Contact the author at kara.brown@jezebel.com.
Art by Bobby Finger. Images via Getty.