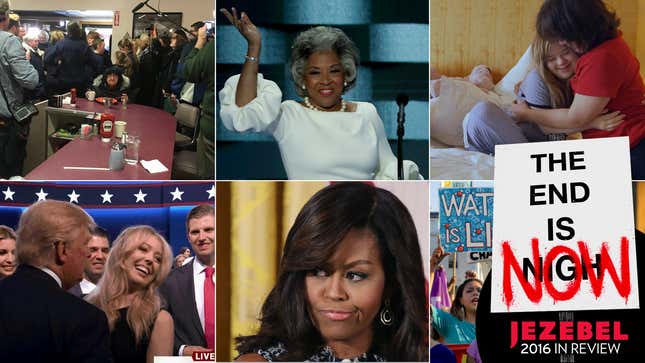 A lot of men got away with it this year, and plenty of women didn't do much to help. We'd like to take a moment to recognize the people who made 2016 slightly more bearable. Please join us in saluting Jezebel's 2016 sheroes.

Ana Gasteyer Satirizes the Girl Boss in 'American Auto'
---
Caroline Cruz
A long, long, long time ago, before Donald Trump became the Republican nominee, a strange-looking man named Ted Cruz thought he might be president. One person who definitely did not agree was his 7-year-old daughter Caroline, who famously screamed "Ow ow ow!" when her father tried to hug her in front of the cameras and literally sprinted away from him onstage at a rally. Caroline Cruz's scowls, eye-rolls, and glassy stares perfectly reflected my own childlike feelings of rage and impotence during the 2016 election, and for that she will always be a shero.

-Ellie Shechet
---
Fifth Harmony in the "Work From Home" video
G/O Media may get a commission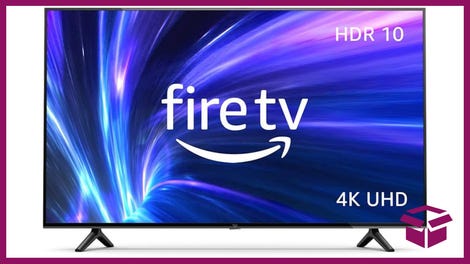 42% Off
Amazon Fire TV 50" 4K Smart TV
The best music video made this year was Fifth Harmony's "Work From Home," which takes the title of their track about having good sex with your chosen partner within the comfort of your home extremely literally. The women of Fifth Harmony are on a seemingly active construction site, turning "tools" into a representation of effective seduction, as they were meant to be. I don't want to single out any of the members of this popular girl group, particularly given how tragic it is that all that female solidarity went to shit, but Camila Cabello's mastery of the cement mixer should be noted. Girl power at work.
-Kate Dries
---
Michelle Obama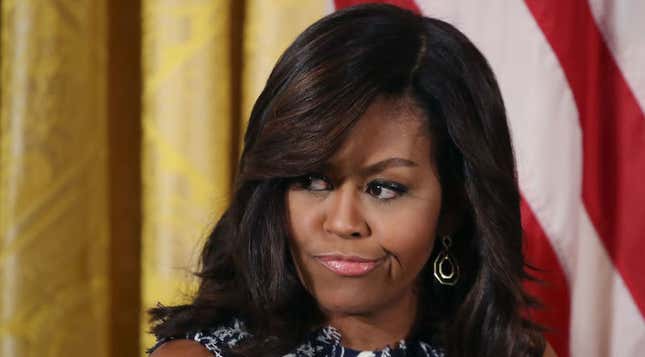 While I recognize that choosing our First Lady (along with this shark) as my shero is an easy lay-up, I just double-checked and it turns out I don't care. These are Michelle Obama's final few months at the White House and for eight years, she's approached her role as one of Washington's rare sane figureheads with a level of patience many of us severely lack. This year alone, during an election season we all would have gladly sat out in favor of maybe preparing for a mission to Mars, FLOTUS has had to expend energy, among other things: stumping for Hillary Clinton, convincing dumb people of the obvious fact that Donald Trump is an offensive ill-suited potato head, dealing with overt racism, having her speech plagiarized on national TV, dancing a lot and raising her two great daughters, all the while looking gorgeous and fit in the process and not believing that she has to do this shit. Here's to Michelle for leaving this godforsaken place as gracefully as she entered and doing it all with an upside down smile.

-Clover Hope
---
Tove Lo
If the overalls/Calvin Klein sports bra combo isn't enough to recommend her, then let me explain further. She's gritty, and like Robyn—my original Swedish shero—her music simultaneously communicates unflinching vulnerability and strength. As I blogged about briefly here, she recently released a dark and dreamy five-video suite called "Fairy Dust." Featuring songs from her sophomore album Lady Wood, the short film brilliantly explores sexual obsession, the agonizing renegotiation of selfhood, and—more generally—a woman's right to be fucked up. I love seeing women in pop culture who both interrogate and reveal their excesses without apologizing for them. Tove Lo is doing that work right now in interesting and sexy ways, and I'm excited to see where she goes after Lady Wood. Also, she owns a bomber jacket with a vagina embroidered on the back.

-Rachel Vorona Cote
---
Elizabeth Holmes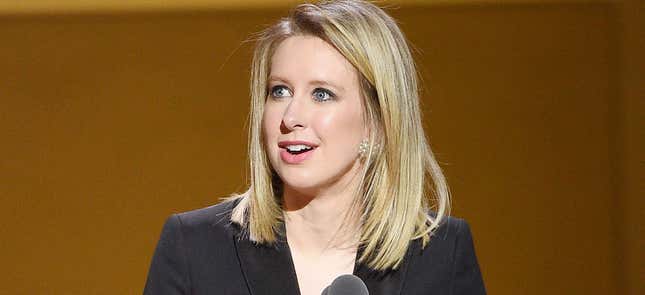 The disgraced CEO of Theranos taught me a valuable life lesson, particularly as we barrel into the era of epic stupidity: There are only two things you need to get rich men to part with their money, a narrative and a signature piece of clothing. It helps if your narrative is dramatic to the point of Biblical (a single drop of blood!) and your costume is modeled after the patron saint of Silicon Valley. The story of Holmes's fall, almost gleefully documented by the Wall Street Journal's John Carreyrou, was this year's best soap opera and, since then, I've bought a thousand black turtlenecks.

-Stassa Edwards
---
Tina Lawson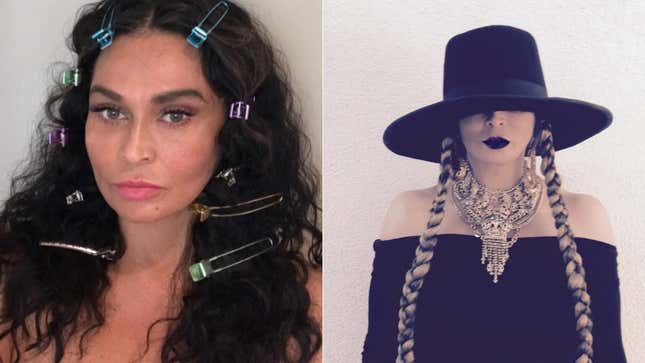 Is there anyone on this earth living better than Tina Knowles right now? The lady with the platinum uterus watched her spawn produce two of the best albums—nay, artistic achievements—of the year. She traveled the world with her boo. She hit up the beauty supply store. She ran into Chris Rock at Hamilton. She publicly forgave her ex-husband. She worked, quite regularly, on her fitness. And, best of all, she regularly used the expression "ace boon coon." The Most High Grand Supreme Dame Ms. Tina is my shero forever and always.
-Kara Brown
---
Luann de Lesseps
If there's one thing I love more than a woman who makes her own way in the world, it's a woman who crafts her own entire universe, regardless of silly obstacles like "facts" and "reality." No one embodies this kind of shero more than Luann de Lesseps of Real Housewives of New York, who announced at the beginning of the show's 2016 season that she was going to fall and love and get engaged and—come hell or high water or unsuitable groom choice—she found a man and made it happen. Never mind that he's dated several of her friends and publicly embarrasses her by regularly stepping out with other women. Luann will just party hard and erase those things for mind. And she's all the happier for it.

-Madeleine Davies
---
That woman who fucked a dinosaur head in an English theme park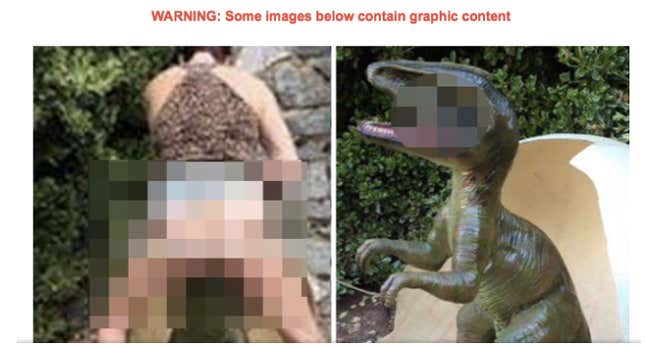 Before we get into this, I want to make something very clear: neither I nor anyone else on the staff of Jezebel condones criminal behavior. But we do condone getting yours in whatever form it may come. (So to speak.) And that is exactly what this English woman did when she caused "deliberate damage to" a model of a baby T-rex at a the Exmouth Dino Trail theme park in Devon, England, and got caught in the act. Despite the public recrimination she must have known would follow if she were caught, she gave into her instincts and went for it. I marvel at her bravery.

-Kelly Stout
---
Ohio Rep. Joyce Beatty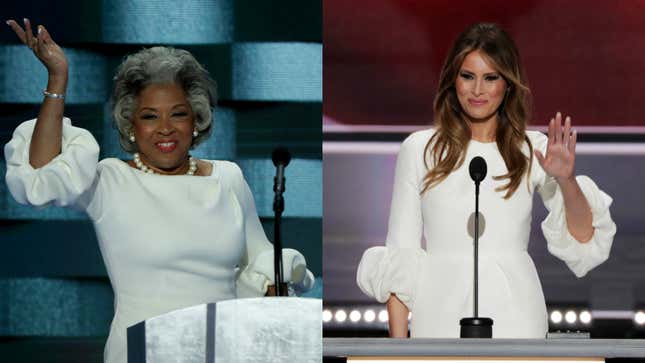 For so beautifully shading Melania Trump and her stupid RNC dress by showing up to the DNC in the same one.

Also, this woman at the DNC, for airing her shit out in the open and never apologizing:

-Joanna Rothkopf
---
The cast of Born This Way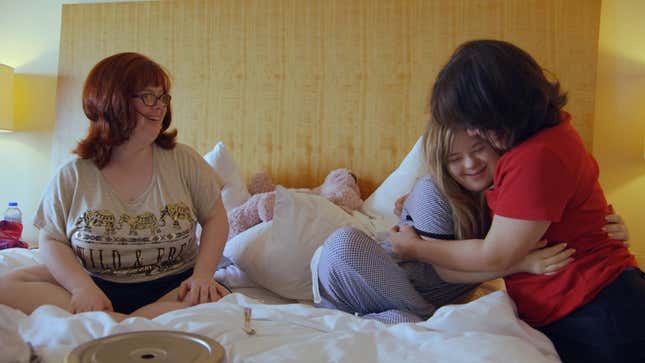 I never wrote about this A&E reality show about a group of friends with Down syndrome who live in L.A., because I feared it would be too difficult to convey the joy and humor that exudes from this lovely show without at some point risking coming off like I was mocking people with disabilities. It's just as well, because they speak for themselves better than anyone else can. Born This Way is enlightening and compassionate, a rare reality show about socializing that's focused on getting along as opposed to arguing. It's a show full of lovely people (I haven't even mentioned the saintly parents of its subjects!), a real salve for a culture that rewards people handsomely for being absolute monsters.

Anna Biller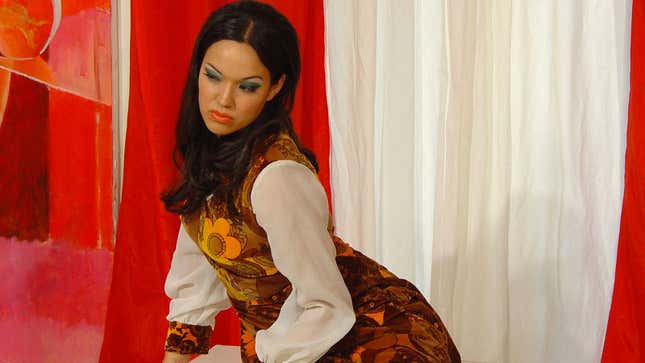 Anna Biller spent seven years working on her gorgeous, hilarious, decidedly feminist second feature, The Love Witch. She wrote, directed, edited, produced, decorated the sets, composed the score, made costumes, did the calligraphy in a prop spell book, and hooked a pentagram rug featured onscreen for about 30 seconds. Every frame in this movie is a masterwork, and it's all guided by Biller's hand. At a time when more and more movies have less and less to do with art, a true auteur walks among us. She deserves our worship.

-Rich Juzwiak
---
Johari Osayi Idusuyi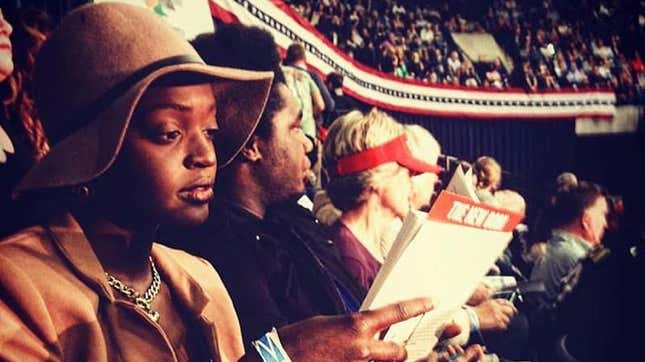 I'm going to break all the rules and nominate a shero who came to prominence in 2015: Johari Osayi Idusuyi, the lady who read a book at a Trump rally. Time and again, I return to her as an example of what we all should've done when confronted with Donald Trump, and what we were unable to do, and now here we are. We've failed you, Johari, and I'm so terribly sorry.

-Anna Merlan
---
Issa Rae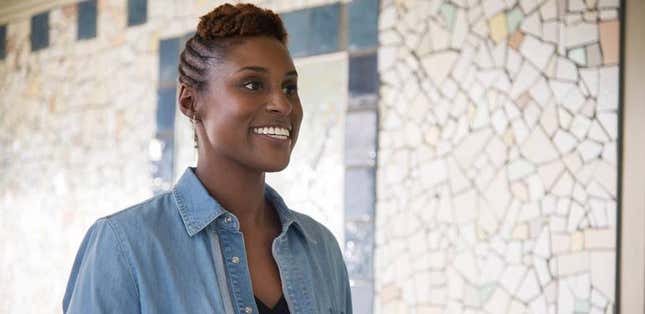 Last year, Jenna Wortham wrote a profile of Issa Rae for The New York Times Magazine—a frustrating (and enlightening) piece about Rae's years-long struggle to adapt her hilarious and beloved web series "Awkward Black Girl" into an HBO sitcom. It should have been easy, but it wasn't. It should have happened sooner than it did, but it didn't. "I want you to win," her show runner says at the end of the piece. "If you win, another Issa wins. And another, and another." In 2015, that felt like a down note. Would Rae actually win, or would she join the long list of success stories that never made it past a prologue? But in 2016, her "misadventures" led her to success, and the creation of the best new show I saw all year. I'm just so happy for her. Is that weird?

-Bobby Finger
---
Tiffany Trump
My 2016 shero is the long-suffering Tiffany Trump, whose small but meaningful acts of resistance should be an inspiration to every American, and for giving us this gif:

-Brendan O'Connor
---
"Elizabeth"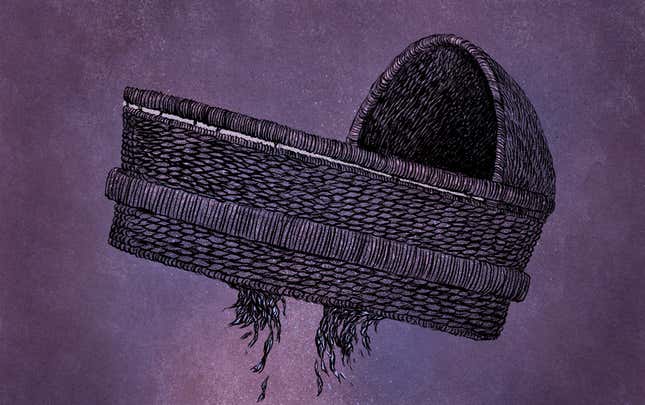 For enduring what she did and deciding to speak up about it—a choice that had a lasting effect—and for the moment in which she stops herself to check in with her interviewer, Jia Tolentino, and ask, "Are you okay? This is a lot."
Unidentified woman
"An unidentified woman is more interested in her breakfast than Carly Fiorina's campaign stop in Manchester Monday."
-Emma Carmichael
---
Protesters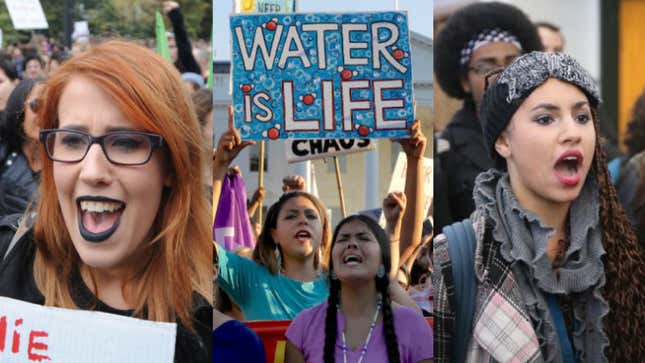 2016 was a never ending onslaught of horror and injustice, and America is set up for another banner year of atrocities that will need to be acknowledged and fought. That is fucking exhausting to think about, especially when you connect it to taking to the streets in any form. Obviously, protests belong to everyone, which is what's frequently so overwhelming and confusing about them. It's all too easy for someone in a Guy Fawkes mask to derail a march, or to find yourself walking next to someone shouting, "All Lives Matter" with their hands above their head. Yet, so many women rallied to show up for protests this year and made their voices heard. All over the world. In some cases, showing up changed their government and their lives. Next time I'm feeling cynical about the usefulness of direct action, I'll ask myself, "Which side are you on?" and get my ass out there.
Sam Bee
Full Frontal with Samantha Bee is the best headline heavy, political comedy show with satirical overtones in the game. Bee easily surpasses her male competitors like Trevor Noah, John Oliver, and Seth Meyers every single episode—and she does it standing up. She has also deliberately worked to spread the comedy job wealth with diversity initiatives in the writer's room that have paid off, saying she wants "people who don't formally have access to this world, who want to be in this world, who have no idea how to get there." This is a sadly unpopular tactic in late night TV. It sometimes feels like women in comedy treat their position as being on the top of a pedestal, from which they must fend off all new-comers with a sharp poke in the eye. Sam Bee is my shero for kicking her pedestal down and rebuilding the structure entirely. She can poke me in the eye any time.

-Aimée Lutkin
---
Cardi B
In a year that our presumptive first woman president sent an enormously privileged white woman (from Tribeca) wearing twee custom Marc Jacobs to campaign for her in rust belt swing states, the only person who made any damn sense about any damn thing was a former exotic dancer/current rapper and reality star of Dominican and Trinidadian descent. The clear best choice for a pop culture surrogate from New York. Hillary fucked up.
Maeve from Westworld
Figured out the system was fucked, plotted and schemed her way out of her constraints, set a revolution in motion. Her cold precision and instinct to survive is the only way to be now.
-Julianne Escobedo Shepherd