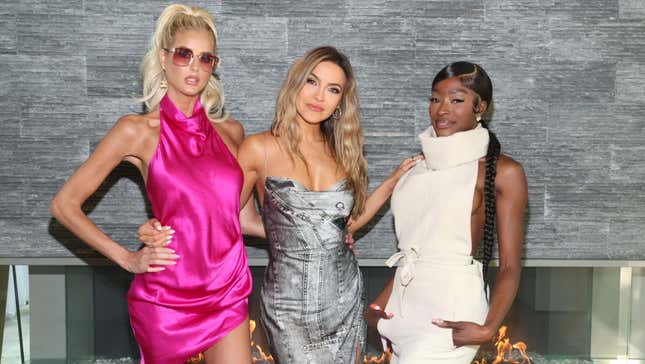 Resident villain real estate agent Christine Quinn may have left the Selling Sunset cast, but not to worry: The Season 6 stars have no issues stirring the pot all by themselves.
Of course, the Grammys Brought Up 'The Slap'
The Netflix reality show, which dropped its latest season over the weekend, is never short of drama given its office full of agents who dress for work as if they're prepping for the latest Jovani prom runway show. But with Quinn running for the hills (and, always, more cash); Heather Rae El Moussa pregnant; and Chrishell Stause happily in love with partner G Flip, I was prepared for the latest season to be a snoozefest. And God, I love being wrong about this.

Not only are these women giving their best sixth grade mean girl performances, but their tiffs are possibly the most unhinged they've ever been. Cat fight, respectfully!!!

Let's start with this season's newcomer, Bre Tiesi. Tiesi is (one of) Nick Cannon's baby mamas; the two share 11-month-old son Legendary Love. (Tiesi, who's been called an un-yassified Megan Fox, said Tuesday that she wants to "fossilize" her face, rather than saying she wants to look young. These women really can't just get their Botox and leave it at that.)
During filming, castmate Chelsea Lazkani said that she finds Tiesi's arrangement with Cannon (they are best friends and co-parents, according to Tiesi) "rather off-putting" and out of alignment with her Christian values. Tiesi was understandably livid about Lazkani's comment and, in response, Lazkani told Entertainment Tonight that she thinks Tiesi "wants to kill [her]." Huh.

"I want to stay alive for a very long time. So, you know, I just think I'll keep my distance from her," Lazkani added.
Next up: Nicole Young, another newcomer, although she's worked at the Oppenheim Group for nearly a decade. On a trip to Palm Springs during the show, Stause randomly accuses her of being on drugs "or mushrooms or something" because Young was using her hands in dramatic fashion while speaking. While Stause has said some wildly petty shit in past seasons, leveling accusations about Young using "crack" because she has wacky mannerisms is well outside her normal drama scope—though I'm sorry to say that it is indeed funny.

"I'm not going to be accused of being a crackhead by someone who has nothing else to throw at me," Young said in this very real quote on the show.

In other nonsensical Selling Sunset behavior news, Stause and castmate Amanza Smith are feuding in the comments of an Instagram post in which Smith revealed she was cancer-free; Rae El Moussa and Lazkani are feuding in the comment section of a separate Instagram post; and Lazkani brought a 3D vagina purse to a broker's open. Obviously, it's par for the course for reality stars to resurface filming drama for publicity purposes, but damn, I'm eating out of these weirdo's hands. Thanks for dinner, ladies!!!
---