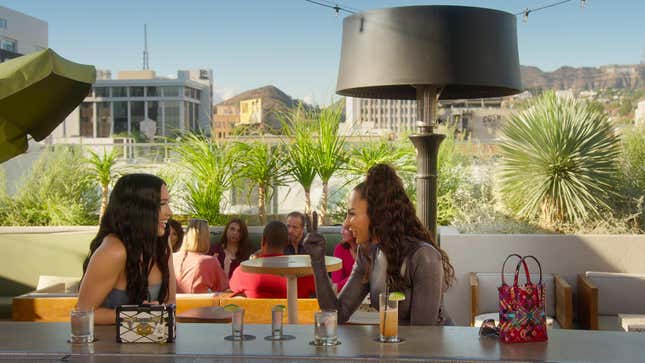 Selling Sunset returned to Rokus everywhere on Friday, which means we finally got to hear from the only one of Nick Cannon's many partners who also happens to be a real estate agent! Bre Tiesi—who joined the cast for this season—said that child support is an issue that comes up with the father of 12 (though at the time of filming, he was probably only on child number eight).
Watch Alex Jones Realize He's About to Get Busted For Perjury
While filming on a chic Los Angeles rooftop, costar Amanza Smith asks Tiesi if it's true that child support stops after 10 children. "That's true," Tiesi says. "The way it works is like, after 10, the court can basically say he can't afford to pay child support. Or because he is who he is, they could say, 'We know you can afford X amount for each household.'"
But perhaps the most juicy tidbit surrounding Tiesi and Cannon is whether or not they're still together. "My situation's interesting," Tiesi tells Smith. "I don't know if I would say I'm single, I've been in—I don't want to call it open, but open relationship."
Another cast member then asks if they are polyamorous. "I don't know about that," Tiesi says. (Not the ideal answer, in my humble opinion.) "I just know we had a baby. We're really happy, so I'm really happy in my relationship now."
Later in the season, cast member Chelsea Lazkani explains that Tiesi found out off camera that Cannon would be having yet another child with another woman. "She was very surprised and she was very upset," Lazkani tells her colleagues.
Page Six reported that the upsetting birth was that of baby number nine, with LaNisha Cole, in September 2022. Since Tiesi's and Cole's births, Cannon has had children with Brittany Bell (also in September 2022), Abby De La Rosa (November 2022), and Alyssa Scott (December 2022). Many of these women have multiple children with Cannon.
Tiesi's relationship to Cannon continues to spark drama throughout the season. Lazkani (the one who revealed Tiesi's feelings) says she thinks Cannon could be "a master manipulator" using all these women, but then weirdly distances herself from Tiesi: "I just think we're fundamentally so different and ultimately the way I live my life is very different to her, as a Christian, so I don't know if we will ever be super, super close friends."

The invoking of Christianity as a reason not to be friends with a random real estate/reality show colleague made me guffaw, but apparently it struck a real nerve with Tiesi. "You don't need to agree with my situation, this is my situation," Tiesi tells Lazkani at a later dinner. "I'm not going to have people in this office talk about my family. I'm not."
Later, Tiesi says she's done talking about Cannon and her family. "I understand the whole world is so concerned with my relationship, and you're just another person, fine, but mind your fucking business then," she declares. "All I'm saying is respect me. Don't talk about my business. If you're going to, we're going to have a problem."
OK then, I guess this item talking about her relationship is over then!